Are you American? Have a computer? Congratulations! Your elected officials are working overtime to make sure you have no privacy and no rights... all in the name of your security! The House of Representatives just passed CISPA, affording the government horrendously invasive powers over its citizens. And it gets better... the bill that was passed ended up being far worse than originally thought.
The Obama administration has threatened to veto CISPA (apparently the Special Interest groups they suck up to don't have a problem with it)... but forgive me for failing to be shocked if this ends up getting turned into law anyway. In an election year, President Obama can be only be counted on for doing only one thing... doing whatever he has to do to get re-elected. If that means CISPA gets passed, I'm sure CISPA is going to get passed.
Look, I fully support tracking down cyber criminals, cyber terrorists, cyber pedophiles, and cyber stalkers. Criminals should be brought to justice, end of story. But not by completely trashing the privacy, security, and freedom of American citizens! CISPA gives the government a grotesque amount of power over its people. Power that's just begging to be abused. Because if history has taught us anything, it's that power corrupts, and absolute power corrupts absolutely... no matter what the original intent. The fact that 248 politicians in the House of Representatives were either too fucking stupid to learn from history or too fucking evil to care speaks volumes about where we're at as a country. Forget about whether its Obama or Romney that's going to destroy America... THIS is where we start to fall, and it's a bipartisan effort!
Though what passes for "freedom" these days has me wondering if I should bother being this upset.
It's been tough for me to keep up with my online life this week as I've been dealing with crushing headaches, but Anissa (one of my favorite people on earth) mentioned a YouTube video where a guy with family ties to a Catholic high school was asked to speak at graduation... but got subsequently un-invited when they found out he's gay. In his video response, the guy mentions that he was "found out" because people at the school saw photos on his Facebook page.
And so I tracked down Dominic Sheahan-Stahl's page where I was expecting to see images of him having gay sex in the middle of an elementary school playground during recess. But instead I found this...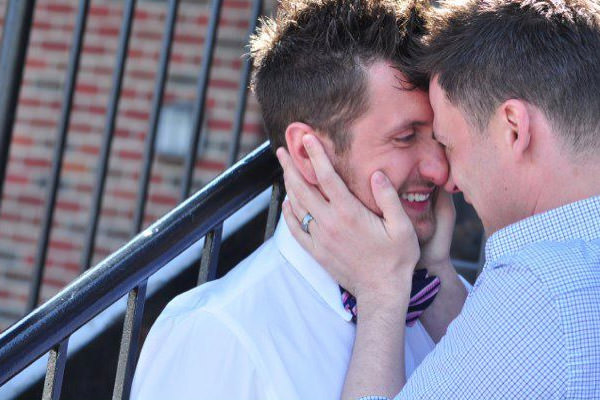 Oh yes. We just gotta protect society from that.
We simply cannot have two happy people in a relationship. What kind of example would that be for the children?
I tell you what... most days I find myself thinking that dying at age 50 would be just about perfect. I've done more in my life than most people ever will, so that should be enough for me, shouldn't it?
But then I hear about stupid bullshit like this and find myself hoping I live to be 100 years old so I can look back at this period in history and just laugh my ass off at how stupid and backwards society was. I mean, seriously, who gives a shit whether this guy finds his happiness in life with sausage or taco? The only people who should care are people interested in his sausage.
While everybody else should just be concerning themselves with is what's in his heart...
What a shame. Sounds like this is exactly the kind of person you want speaking to a graduating class.
Anybody who has ever said "FREEDOM ISN'T FREE!" is absolutely right. We paid for our freedoms dearly, and continue to pay for them every day. Which is why it's always shocking to me how people can be so quick to just piss them away. Whether it's by supporting a society where people are not allowed to speak because of what genitals are on the person they love... or by supporting a government that would steal their freedoms away in plain sight.
I just don't get it.
Which is why I'm no going to exercise my freedom to post this blog entry... while I still can.