After my dentist check-up this morning, I went to meet friends for lunch. When we arrived at the restaurant, I noticed my iPhone was missing. I knew that I had it when I left the dentist, but had no idea how I could have lost it. Using the "Find my iPhone" app on my friend's iPhone, I saw that my iPhone was back at our initial meet-up point. I don't know how, but I dropped/left it there.
I was relieved, but also... a little freaked.
How would I explain losing my iPhone if I actually lost it?
OFFICER: What do you mean you lost your iPhone?
DAVE2: I dunno! I had it, then suddenly it was gone!
OFFICER: Gone? You don't lose something so precious as an iPhone.
DAVE2: I did! I swear it!
OFFICER: What are you hiding? Did you kill your iPhone?
DAVE2: No! I would never! I love my iPhone!
OFFICER: Why don't I believe you, Mr. Simmer?
DAVE2: =sob!= A DINGO ATE MY iPHONE!!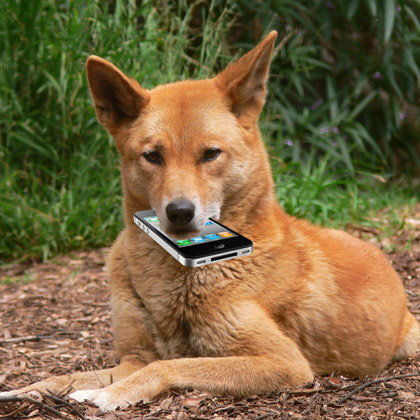 Wikipedia dingo photo by Benjamint444
And speaking of iPhone, there's some kind of bullshit going on concerning a new SIM card standard that Apple is wanting. From what I can tell, it's a much, much smaller card than usual, which will give Apple more room to add cool stuff to their phones or make them smaller.
But competing phone companies like Motorola, Nokia, and RIM are crying foul. They want THEIR new idea for a SIM card to be the standard, and are saying Apple's idea isn't as good. So they're all appealing to some kind of ruling body for SIM cards to try and get Apple's card blocked.
I can tell you right now... if I were on that ruling body, I would totally have one thing to say to Motorola, Nokia, and RIM... SHUT THE FUCK UP! IF IT WEREN'T FOR APPLE, WE'D STILL BE USING YOUR OLD SHITTY MOBILE PHONES, INSTEAD OF THE APPLE-INSPIRED PHONES YOU'RE MAKING NOW...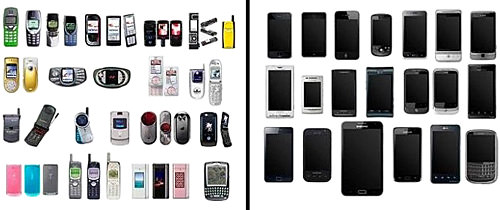 Mobile phones BEFORE and AFTER the iPhone... Image taken from Digeratii
In all honesty, any "ruling bodies" should give Apple whatever the hell they want. Apple is the company that's driving the mobile phone market now, and everybody else can just get out of the way. Then Motorola, Nokia, and RIM can go back to copying what Apple does next instead of fucking up where Apple is wanting to take us.
Ooh! I'm more of an Apple Whore than usual today!
I guess that's what the trauma of almost losing your iPhone can do to you.
30 DAYS DRAWING CHALLENGE: Draw a Place You'd Like to Go...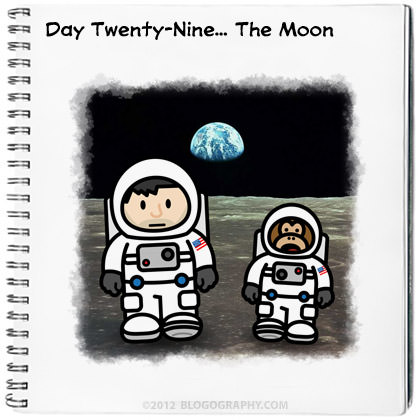 THE MOON, BABY! But I'd settle for Antarctica. Or India. Or even Cambodia.