I was pretty indifferent when I heard that they were making a movie from The Hunger Games books. Sure I liked the novel quite a lot, but I was in no hurry to see it in the theater. Maybe because I thought the second book wasn't as good... and the third book was disappointing... and I felt done with The Hunger Games.
But here it is, and I felt compelled to see it. I'll be vague and fairly spoiler-free, but if you really want to avoid any discussion of the film until you've seen it (or read the books), I'd skip down to my final "30 Days Drawing Challenge."
In summary... an enjoyable enough film, but a big step down from the book upon which it's based...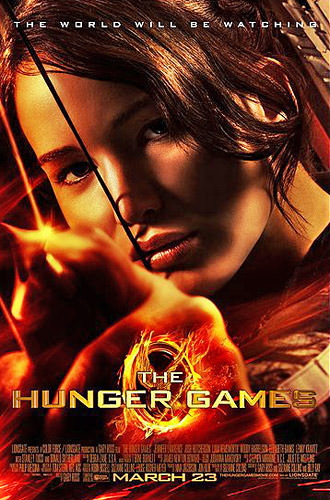 In the future the US has collapsed, sea level has risen, the world has been reshaped, and civilization has been replaced with "Panem" a new nation divided into twelve districts. As punishment for having risen up against the government, each district holds an annual lottery where a boy and a girl are offered up as "tributes" in a battle to the death where only one shall survive.
Which sounds kind of familiar if you've read/seen Battle Royale, but whatever. The long and short of it is that the plot of both works is pretty fucked up, seeing as how young kids are going around killing each other.
Anyway... the tribute from District 12 is Katniss Everdeen, who volunteers to take the place of her young sister who "won" the Hunger Games lottery. She is offered up along with a guy who's a vague acquaintance from her past, and the game for survival is on. Death and destruction ensue.
The thing that made the book such a good read is that it regularly punches you in the gut as you made your way through the story. It's edgy, personal, disturbing, relentless, and violent. It has mad pacing and a plot that drives ahead like a sledgehammer. By comparison, the movie falls flat. Most of the events are there, but they've been smoothed out until they lack any sort of edge. The sense of danger never feels very high. The second half of the film where the action should be coming to a head was actually kind of boring. And, worst of all, it never felt very personal.
As expected with a film adaptation, stuff was changed and left out... some of it inexplicably so. But what really pissed me off was how they altered the ending. The filmmakers were clearly more interested in setting up a sequel rather than following the disheartening end-beat of the source novel. This sucks ass, because it completely sabotages the story and robs a major character of their emotional journey. It was a cheap trick and a lame way of trying to make a more "likable" finish.
As for the casting, I didn't think it was as bad as many Hunger Games fans felt it was. I thought Katniss and Peeta were well represented. I thought Woody Harrelson and Lenny Kravitz were great casting choices. Stanley Tucci gave a great performance for a character that didn't really have a great performance in it. Elizabeth Banks frickin' WAS Effie Trinket, even though the character had a chunk missing from her back-story. Cinematography didn't seem as epic as I would have thought, but the film didn't really suffer from it. Direction and editing were capable, if nothing exceptional... probably stemming from the watered-down PG-13 script.
Ultimately, I recommend the book, and half-heartedly recommend the film if you've read the book. I don't recommend the movie if you haven't read the book, as it's missing too much to really hold up on its own (so read the book first!).
And... it's all downhill from here. The second book has some interesting stuff to draw from, but I don't think the third (and final) novel will adapt well at all. But, given the amount of money this flick has been making, that's not going to stop anybody from trying.
30 DAYS DRAWING CHALLENGE: Draw a Congrats Banner for Finishing...
Well that wasn't quite the big bucket of fun that I thought it would be... I guess I probably shouldn't start stuff like this when I have a vacation in the middle. Oh well. It gave me something to blog about a few times when I didn't have anything to blog about, so there you have it.