I should know better than to keep watching the Republican debates.
But like the glutton for punishment I am, I tune in with the faint hope that I'll hear something new... or interesting... or inspiring... or even just a tiny bit smart. This country has big problems, and I'm still waiting to hear from somebody who can figure it all out.
But that person sure ain't one of the Republican candidates for president. So not only am I wasting my time, I'm also exposing myself to near-fatal levels of bullshit.
Like listening to Rick "Piece of Shit" Santorum once again vomit up some of his outrageous crap...
President Barack Obama actually went to France a year or so ago and was with Nicolas Sarkozy and said that, "Here I am with the French Prime Minister, our best ally in the world." Now think about this. Name one time in the last 20 years that the French stood by us with anything. But in Barack Obama's eyes, that makes them our best ally, because they fought what was in the best interest of our country.
The levels of stupid here are just too legion to even contemplate. Fortunately, I don't have to, as Politifact did an excellent job of debunking this fucked-up statement. The truth is that France has been a true ally to this country for a very long time. They deserve a lot better than to be diminished and dismissed by a piece of shit politician looking to score cheap points.
In a time when the USA has too many enemies in too many places, we need to remember who our friends are...
Despite my loathing of Santorum's never-ending hypocrisy, hate, exaggeration, and outright lies, a part of me still wants to believe that a candidate for President of the United States of America surely must want what's best for this country in their heart. But how can I in this case?
Either Rick "Piece of Shit" Santorum is so evil that he would purposely damage our relationship with a long-time ally just to get votes out of people too fucking stupid to question his lies... or... he himself is so fucking stupid that he doesn't even know when he's lying any more...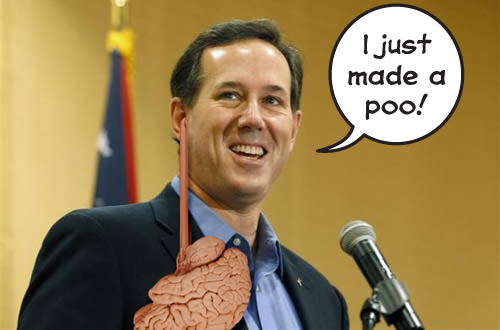 Photo taken from Reuters
If you want to find somebody fighting what is in the best interest of our country, Rick, all you have to do is look in a mirror. Everything that's wrong with America is staring back at you.