Yesterday morning was a mad rush to get to work. I had been attacking my to-do list since 4:00am, and really need to get to the office so I could get everything sent out. This meant skipping breakfast, throwing my crap into my backpack, then storming out the door.
Where I proceeded to drop my iPhone on the pavement.
And then accidentally kick it across the parking lot when I bent over to pick it up.
So now my beautiful iPhone has a giant crack running down the front along with assorted chips in the glass...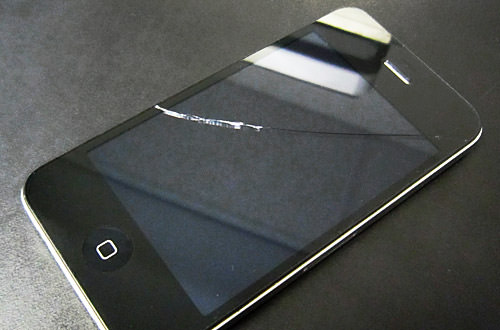 Not a pretty site.
What's odd is that this is the first time I've damaged an iPhone in the five years I've been buying them. Over the years I've dropped them numerous times... I even dunked one in a waterfall... but they've never been worse for wear. Which is odd, because before I got my first iPhone, my mobiles were breaking all the time.
I'm rough on phones, yo.
So, after drop-kicking my current iPhone, I honestly did expect to pick it up and have it be fine. To see that big-ass crack there shouldn't have shocked me, but it really did. Oh well. Given the abuse I heap on these things, it was bound to happen eventually. The good news is that everything is still working fine.
And now my iPhone is off to the good people at iResQ so they can replace his face. Don't ask me how I'll manage without it until Friday... I honestly don't know... but I'm sure plenty of comfort chocolate pudding is in order.
= sob! =