After work I had to go to the grocery store.
And while I hate shopping of any kind, I'd have to say that shopping for groceries is the worst. Probably because, unlike the joy of shopping for sayyyyyy... a flamethrower, nobody likes to shop for groceries. They're expensive and boring. What's to love?
But I needed hamburger buns and chocolate milk, so off I went.
Where I had a more miserable time than usual thanks to some really bad parenting going on.
Usually when I see parents who don't seem to know what they're doing with their children, I refer them to my best-selling book, Minding Your Kids in Public for Dumbasses...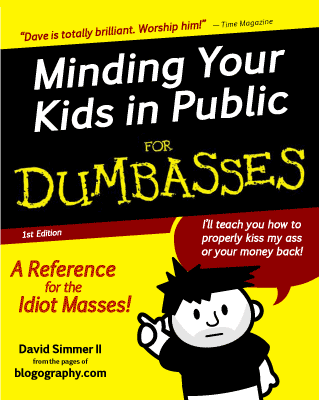 But, because I am feeling generous this evening, I am going to provide an excerpt with some critical insight on child-rearing for FREE! Yes, that's right... I'm giving away FREE PARENTING ADVICE! Just one of the many benefits of being a Blogography reader, yo.
---

CHAPTER SIX: SHOPPING
Here is a blueprint of a typical grocery store. And here's you shopping for frozen pizza back in the frozen foods aisle...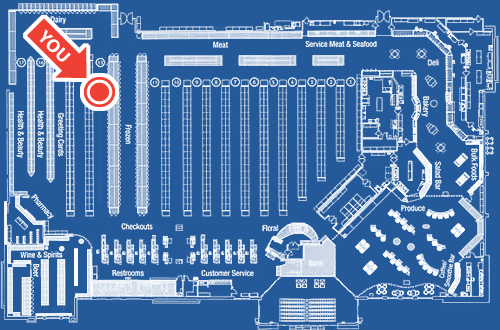 And here are your kids way over here going ape-shit in the bakery aisle...

GUESS WHAT? YOU FUCKING FAIL AS A PARENT!
NOW PUT DOWN THAT DAMN PIZZA AND GO MIND YOUR FUCKING KIDS, YOU STUPID ASSHOLE!
Otherwise they might get abducted.
Though this is probably not a bad thing. Then at least somebody would be watching them.
---

No need to thank me. Knowing that I'm making civilization a better place is enough for me!