It's been a really tough week to keep up with my sewing classes but, since I ended up coming home so early yesterday, I spent most of last night getting caught up...
...AND PLAYING WITH MY BRAND NEW SEWING MACHINE!!
My dad saw my sewing struggles on my blog and decided to give me an early birthday present... a Brother SE400! It's pretty sweet, does just about everything you could ever want, and sews like a dream with dozens of computer-controled stitches. As if that weren't enough, it can do embroidery as well...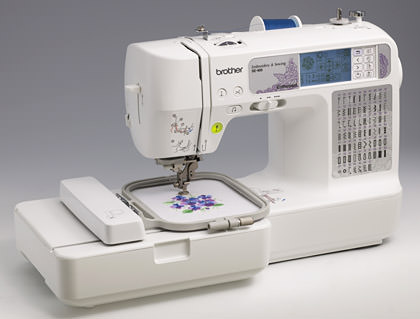 It's going to take a while to figure everything out, but I'm digging it so far!
The first project I had to work on was a "Drawstring Tote Bag." I thought it looked kinda like an army duffle bag, so I decided to buy some cammo fabric and make something I could use in one of my AnySoldier.com care packages. It holds three rolls of toilet paper perfectly...
The next project was a "Relaxing Eye Mask" filled with rice that you can microwave or freeze. I had a big problem trying to get the tie-straps turned inside-out, so I ended up having to make them really huge so I wouldn't get stuck...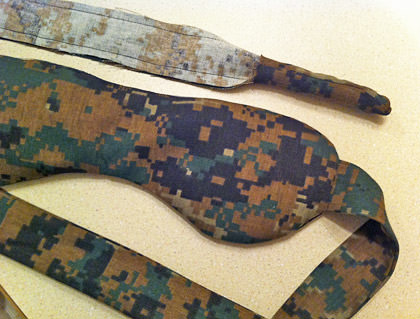 Still works okay though...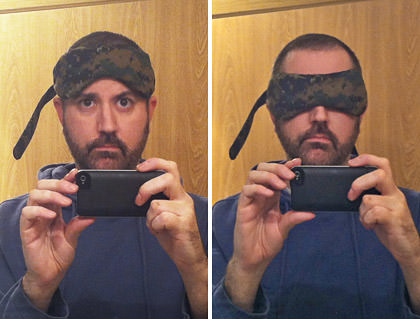 The last thing I had to do was practice stitching around shapes appliqué-style. My new sewing machine makes stuff like this a snap because it feeds fabric so beautifully and can make such perfect stitches...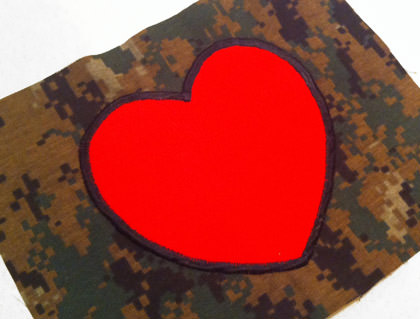 I may have went a little too dense on the stitch-length though... I burned through a spool of thread in no time flat.
Our next project is an apron with ruffles on it. I have given up all hope of making it look like something a guy like me could wear, as I am not nearly macho enough to pull off ruffles. Oh well... you don't need an apron to heat up a microwave TV dinner, so it's all good.
Now I really should unpack my dirty clothes. Otherwise my next sewing project will have to be a suitcase, because my current one is starting to smell.