I was kinda raised Catholic. And while I had already started pulling away from the church by the time Pope John Paul II came along, I was a big fan. He spoke dozens of languages and worked tirelessly to travel the world to use those skills to build good relationships with other faiths. He had respect for all people and believed strongly in the basic concepts of dignity and human rights. And while I may not have agreed with some of his more antiquated, traditional, and fundamental views, I always admired his attempts to find common ground in the face of disagreement. He was a remarkable man and I'm still a fan today...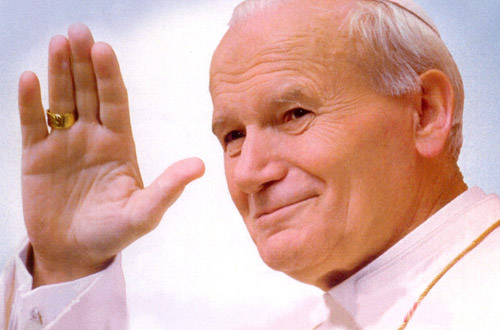 Which is why I am so disheartened with his successor, Pope Benedict XVI...
He's systematically destroyed much of the good will that Pope John Paul II had built up between Catholics and the rest of the world. And while I have respect for Pope Benedict's position as Supreme Pontiff, the way he's hurt the church with the crazy-ass shit he says has been heartbreaking. He lays the groundwork for abhorrent Catholic radicals to have the power they do. Even though their hateful crap contradict polls which show that most Catholics are fairly progressive on issues like same-sex marriage.
So what benefit is it to everyday Catholics when these extremists decide to force their faith-based interpretation of "morality" on the rest of the world?
I wonder.
When I see the news of kids committing suicide because they are ruthlessly persecuted and victimized by the environment created by the likes of Rick "Piece of Shit" Santorum and Maggie "Repugnant Hypocrite" Gallagher ... my view of Catholicism is badly tarnished.
And when I see the continuous stream of shocking headlines associated with the church, I have to wonder if these hateful morons shouldn't be casting a judgmental eye on their own house before condemning the houses of others.
Headlines like this one...
ROMAN CATHOLIC CHURCH'S PEDOPHILE INVESTIGATOR JAILED FOR POSSESSING THOUSANDS OF CHILD PORN IMAGES
Oog.
The Catholics Come Home television commercial I just saw (which caused me to write all this in the first place) is supposed to be reaching out to former Catholics by letting them know that their church is waiting for them. That they are wanting to help them return to a faith-based journey of true peace, happiness, and purpose in life.
They are speaking to people like me...
...who is someone that would never in a million years return to the Catholic Church as it exists today. Not when the people who so prominently represent the church are people who repulse me.
Well... not all of them repulse me.
There is at least one prominent Catholic today I admire quite a lot: Stephen Colbert. More on him in tomorrow's entry.