Buckle up and strap in, another edition of Bullet Sunday starts... now...

• Fight! As Florida's Republican Primary draws near, the battle between Newt Gingrich and Mitt Romney is really getting nasty. Partly because the attack ads flying back and forth are pretty harsh... but mostly because nasty-ass Rick "Piece of Shit" Santorum is still hanging on the election like a nasty-ass used condom stuck on the side of a nasty-ass trash can...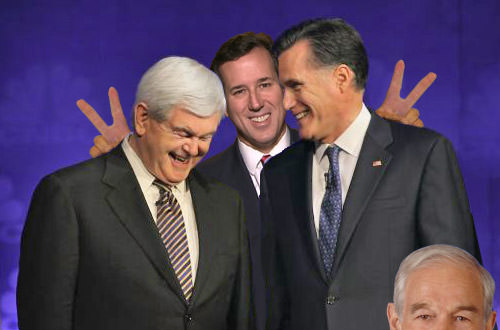 Heeeeeeere's Santorum! — Photos by Scott Olson/Getty and ABC
I wonder how Gingrich and Romney are going to get rid of him? Maybe they could look into how to get shit stains out of underwear and give that a try.

• Hobbits! LEGO announced that they have a license for new sets based on The Lord of The Rings. I dare say that I am actually more excited about this than I was when they got the Batman license (if such a thing is possible)...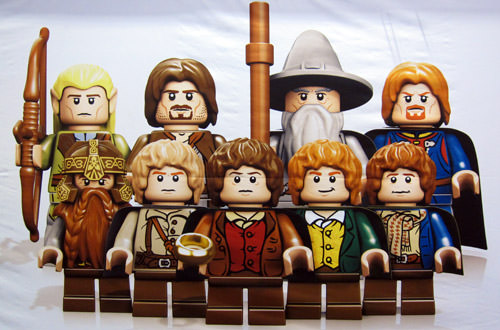 Photo taken from Brickset!
When the LEGO Lord of the Rings video game comes out, I will be deliriously happy.

• Noooooo! It's not all good news in the world of LEGO though... the incredible LEGO UNIVERSE massive multi-player online game is shutting down at the end of the month...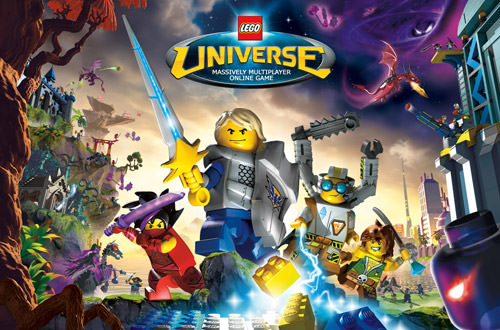 The game is really well done and a lot of fun but, unfortunately, I rarely had time to play it. I wish that they would take all the game assets and release it as an offline adventure game, because there was a lot of good stuff in there.

• Mode! A friend sent me this video of a guy and his two kids performing Depeche Mode's awesome song Everything Counts. So epic it hurts...
Here's hoping that they take on People are People as a follow-up.

• Render! My work requires that I be able to render 3-D images from time to time. 3-D itself is fairly easy, and there are apps that make it dead simple to do basic stuff. Where the challenge comes is doing 3-D rendering well. This requires some very good tools that usually come with a steep learning curve. I started out with a program called Electric Image Animation System to render, because that's what Industrial Light and Magic used when they re-did the special effects for the Star Wars films. I needed a 3-D modeler, so I had to learn Form-Z. Eventually EIAS got its own modeler, so I learned that. After a while EIAS dropped their modeler. This pissed me off, so I dumped EIAS and learned Cinema 4D. But Cinema 4D didn't render as nicely as EIAS, so I went back to EIAS and learned how to use modo for my modeling. Eventually I got sick and tired of jumping back and forth between EIAS and modo and dumped both of them for NewTek's all-in-one package called Lightwave 3D. Lightwave was moving to a cool new technology called CORE, and I wanted in. But then NewTek dumped CORE so I dumped Lightwave 3D. Not wanting to start all over again, I went back to EIAS and modo. But then modo started adding its own rendering and animation tools that were really sweet, so I dumped EIAS. Now I use modo for everything and love it.
Except... in the background there has always been Maya, a hideously cool 3D package that I've always lusted after but could never afford. For even a basic Maya setup, you're paying $3500 minimum (and the license upkeep is equally pricey). But yesterday I was offered a Maya license for a project that's coming up. So now I'm torn. Do I really want to take the time to learn a new program all over again? The answer to that is ABSOLUTELY! I have never shied away from learning something new, and this is a dream come true. The problem is that I don't have time to take the time to learn Maya, so I had to decline this most generous offer.
Nothing quite like watching Reality walk into the room and crush a dream right in front of you.

And on that happy note, the weekend is over.
Wah!