I'm not a very material guy. At least not anymore. I'd rather spend my money on traveling than on "things." As long as I have my MacBook Pro, my iPhone, and my camera, I'm pretty indifferent about any other stuff I've accumulated. So much so that for the past several months I've been getting rid of the clutter in my life by the box-full. About the only thing I want to buy is a new improved MacBook Pro, new improved iPhone, and new improved camera.
And then...
It's a frickin' onesie! It's baby pajamas for adults! How genius is that?
Even the name is genius... FOREVER LAZY!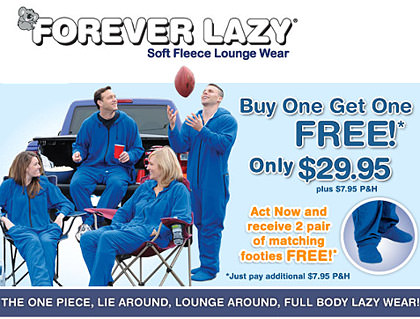 Who doesn't want to be forever lazy? Sitting around the house eating junk food and watching television. And when that gets to be too much for you, you can just take a nap right there on the couch because you're wrapped in a blanket already. About the only effort you have to put out is when you poop. But wait... they even made that easy!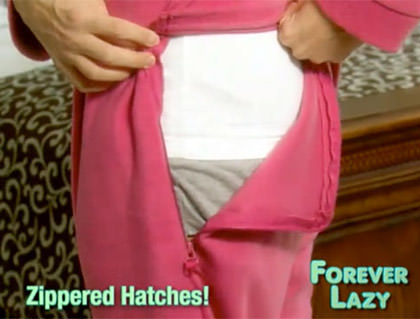 So now I'm torn. If I want to eventually upgrade my MacBook Pro, my iPhone, and my camera, then this isn't an option. It's not like the money to do all that is going to fall from the sky once I stop working to be Forever Lazy.
I need to find a way to make money at being a lazy asshole that doesn't have to think or make sense and can sit around being stupid as a hell all day long...
Hmmmm... wonder where I can find a sweet gig like that?