Well, poop.
I was reeeeeally looking forward to Eddie Murphy hosting the Oscars. They might have actually been worth watching next year. Now its not going to happen.
Anyway...
Last night after a marathon work session, I decided to check my news feed one last time before bed. The breaking story of the night? Adobe is killing Flash Mobile.
Which is sweet vindication for Steve Jobs and Apple, who recognized a turd when they saw it. Now if only we could kill this stupid crap on our desktops and laptops, I'd really have reason to celebrate. I am beyond tired of my MacBook's battery bleeding out and the fan kicking in every time I come across a website running Flash content. I tried disabling it and using "Click-To-Flash," but there are sites I use for work which require it, so until it just DIES (or web developers wake up) I'm stuck.
And speaking of dying, the Republicans had yet another debate and this happened...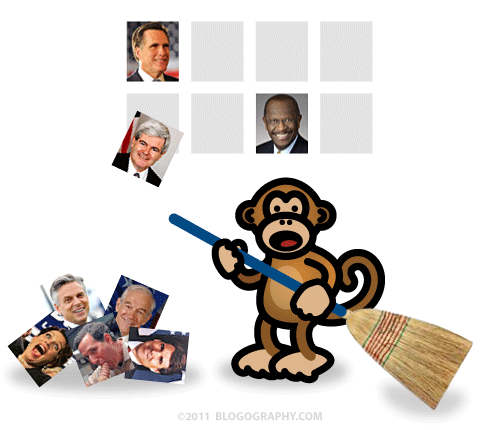 Rick Perry, who actually had a chance at one point, crashed and burned hard when he said he was going to get rid of shit, but couldn't remember which shit he wanted to get rid of. The media firestorm over this flub has been kind of harsh, but the guy is just nuts when it comes to speaking in public (in general) and debating (specifically) so I guess it was only a matter of time. He's done.
Jon Huntsman actually did quite well, I thought. But boy is he the bastard red-headed step-child of the Republican party. It's a real shame too, because he is a level-headed guy that seems to steer clear of the radical side of the GOP pool. If he had some real backing and was given half a chance, I think he might be a good opponent in the 2012 election. But he doesn't. He's done.
Ron Paul continues to alternate between insightful commentary and crazy-talk, which wouldn't be a show-stopper at this debate if it weren't for the fact that he turns into Debbie Downer every time he opens his mouth. He just can't seem to inspire people, which is kind of an important part of being president. Even worse? It's a critical part of winning elections. He's done. Unless he is tapped to be the Vice Presidential candidate on the ticket. As Joe Biden has repeatedly shown, inspired leadership is apparently totally irrelevant to the VP position. Plus... Paul has a fanatical following which could make him an asset to the race.
Michele "Bat-Shit-Crazy" Bachmann and Rick "Piece of Shit" Santorum were always done. Their continued presence is turning the GOP into more of a joke every minute they're allowed to have a seat at the table. I can only imagine that this is some kind of strategy by whomever is running the show. No matter how badly The Chosen One (=cough= Romney =cough=) messes up, people can still point and laugh at Bachmann and Santorum's ridiculous antics. Talk about the living embodiment of a lightning rod... they make excellent distraction fodder for Democrats to focus on. But what happens when they go away?
Newt Gingrich continues to impress me despite the fact that I still disagree with most all of his politics. And the reason he impresses? The guy is a top-notch politician. And I think he is absolutely correct when he says that he would be lethal in a debate with President Obama. But, as much as I would love to see that, I just can't imagine it actually happening. Gingrich keeps holding on because he's garnered a lot of respect in his arena. But he can't hold on like that forever. Ultimately, he has to sway his party and, despite having one of the more articulate, non-wavering, clear voiced visions I've seen here, he's not doing that. Maybe it's his numerous past scandals holding him back. Maybe it's his reluctance to speak in 30-second soundbites. Maybe he just isn't what the majority of Republicans want in a candidate. I honestly don't know. He's almost done. Personally, I think he's make a good choice for the VP slot (can you imagine him debating Vice President Biden?).
Herman Cain keeps losing ground with me but, not surprisingly, he keeps gaining ground in his party. Even putting aside the current sexual harassment scandals swirling around him, I just don't get it. Tonight he proved that not only is he crazy, he's also a disrespectful piece of shit (and quite possibly a sexist asshole...Princess Nancy?!? Seriously? THIS is a presidential candidate?). Look, you will get no argument from me -none- that our tax system is fucked up and needs a complete overhaul. But this 9-9-9 stuff is just insane. Cain himself confirms that many Americans would end up paying more in taxes under it. Since then he's adjusted it to be a 9-0-9 tax plan if you're under the poverty line, but details remain sketchy all around. This is not surprising because everything Cain comes up with is sketchy and undefined (he makes Obama's vague statements in the past election look crystal clear). He has to be done soon... seriously. And despite his popularity, I can't fathom any presidential candidate adding him to their ticket as VP. He's just too dangerous a gamble. Nobody knows how the sex scandals are going to play out, and you never know what crazy-ass-electrified-fence wackiness is going to come out of his mouth next. What disturbs me so badly here is that he thinks he's making a serious effort to win the presidency, when his actions show he just can't be. Can he?
Mitt Romney is all but assured of the nomination. He would have to kill a puppy with his bare hands while receiving oral sex from a donkey during the Super Bowl Halftime Show in order to be passed over at this point. A part of me gets it. The guy feels presidential. He may actually have a decent shot in the election. But what the hell? The Republicans crucified... crucified... Barack Obama over his occasional flip-flopping, yet Mitt Romney is the fucking king of flip-flops. You literally never know what the hell the guy stands for because the only consistent thing about him is his inconsistency. Even worse? He then proceeds to lie about it. Badly. It's as if he doesn't realize that people record everything he says. As if all that weren't enough, he's a Mormon, which would usually be the kiss of death. A lot of Christians refer to Mormonism as a cult for heaven's sake (Google it and stand back in awe!). Given the Christian Conservative backbone of the GOP, Romney's high standing in the race is surprising to say the least. In all honesty, I don't think he's a challenge to President Obama in 2012. Well, unless Obama kills a puppy with his bare hands while receiving oral sex from a donkey during the Super Bowl Halftime Show. Then he might have a chance.

My hopes of a candidate emerging to present a serious challenge for the presidency are diminishing quickly. The last thing I want is for President Obama to go unchecked and win the election in a cake walk. He's caved or backpedaled on a lot of things I really care about, and my frustration levels are growing (despite progress made in other areas I also care about). I want his feet held to the fire on his continuing lobbyist connections. I want answers on what happened to this "transparency" we were promised. I want some of his decisions challenged in a way that only a strong opposition candidate can provide. I want a real debate.
Apparently, I want too much.