Hey, look! Bullet Sunday is actually on a Sunday this time!

• New 52. I was on vacation when my copies of DC Comics' 52 new books arrived, so I am only now having time to read them. So far I'm a bit underwhelmed. Sure some books have a decent start and are offering good bang for your buck, but most of them just more of the same. Not that they're all "bad" per se, it's just that they don't seem worthy of a company-wide relaunch like this. Sadly, I'm not surprised. What is surprising to me are the books which have surprised me. #1 on that list was All-Star Western featuring Jonah Hex...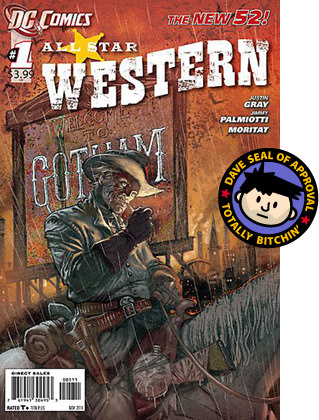 As I have no interest in Westerns or lead character Jonah Hex (and didn't appreciate the $3.99 price tag), I almost passed on All-Star Western. But I ended up buying it anyway so I'd have a complete "New 52" set. And thank heavens, because this is easily one of the best titles of the bunch. What the writing team of Gray & Palmiotti have created is more a brilliant murder-mystery story than a Western. But even better is that they have found a very clever way of giving the reader insight into Jonah Hex that makes him a fascinating and fully-realized character. The art is a bit more crude than I usually care for, but Moritat's style is perfect for this book and I loved it. If you were a fan of Baker Street, this is the book for you.

• Steve Jobs Day. After too many false starts, I've pretty much given up trying to write down my thoughts about Steve Jobs. I'm at a loss for words, and I'm never at a loss for words. Ordinarily, I'd be kind of worried, but somehow I'm okay with it...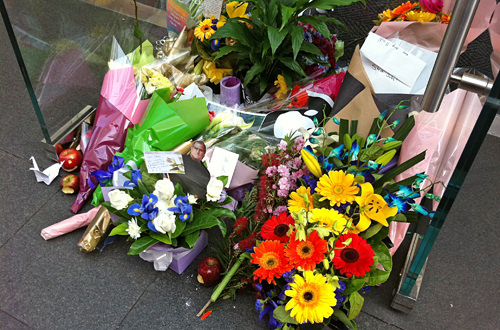 Flowers left at the Sydney Apple Store in remembrance of Steve Jobs after his death.
The governor of California proclaimed today to be "Steve Jobs Day" which was kind of nice. But to anybody with an Apple product, every day is "Steve Jobs Day."

• Televised. Am I missing all the good new television shows? I set my DVR to record everything fresh, but pretty much hate every single new show I've seen. The lone exception would be 2 Broke Girls, but not hating something is a long ways from actually liking something. On one hand, I'm grateful for the time this will free up, but on the other hand... I'm a television whore, and this really sucks. Here are the only shows I'm interested in this season...
Castle (ABC • Mondays @ 10:00). It's an entertaining and well-written murder-mystery show with the perfect cast, plain and simple.
How I Met Your Mother (CBS • Mondays @ 8:00). Surprisingly, I'm not bored with this show yet. So long as they give us a new Robin Sparkles appearance every year, I'll stick with it.
Raising Hope (FOX • Tuesdays @ 9:30). Love this show. Consistently funny with a dream cast.
Sons of Anarchy (FX • Tuesdays @ 10:00). When it comes to television drama, this is a tough show to beat. I don't really like the direction its heading, but I can't stop watching.
Modern Family (ABC • Wednesdays @ 9:00). I keep getting really close to dropping this show because it's quickly running itself into a rut, but the characters keep pulling me back.
Happy Endings (ABC • Wednesdays @ 9:30). My favorite show on television right now. Not as quick and riotously funny as the first season, but still entertaining as hell.
Revenge (ABC • Wednesdays @ 10:00). The only show worth a crap from the new season. Emily VanCamp makes revenge look so delicious.
Grey's Anatomy (ABC • Thursdays @ 9:00). I think I'm finally growing bored with Grey's, but Shonda Rhimes always manages to pull some surprises out of her battered hat, so I'm hanging in there.
The Big Bang Theory (CBS • Thursdays @ 8:00). Just as I grew tired of this show, they brought in Mayim Bialik as Sheldon's foil, Amy Farrah Fowler. Genius.
Community (NBC • Thursdays @ 8:00). This show deserves a much bigger audience than it's getting. Frickin' brilliant and hilarious television week after week.
Parks and Recreation (NBC • Thursdays @ 8:30). Quickly losing me, but I love the cast so I stick around.
Fringe (NBC • Fridays @ 9:00). Sci-fi that's literally too good to be true. I have no idea how it keeps getting renewed, but I'll keep watching.
Rules of Engagement (CBS • Saturdays @ 8:00). A consistently amusing show that's probably getting close to ending because it's so badly treated by the network.
The Walking Dead (AMC • Sundays @ 9:00). Time will tell if they can match the brilliance of last season without Darabont at the helm. I'm hopeful.
I'm also buzzing through Gossip Girl because Elizabeth Hurley is on it, Survivor when it doesn't suck, and a big chunk of the awesome USA Network shows when they bother to air new episodes (Psych, White Collar, Burn Notice, Suits, and Fairly Legal). Ditto for the excellent FX series Justified which starts back up in January. Still addicted to Dexter, The Big C, Boardwalk Empire, and Game of Thrones... but since I don't get HBO and Showtime, I've been buying them on iTunes (when available) or waiting for the DVD.
I know that sounds like a lot of television but, considering how much TV is out there, it's pretty pathetic.

And now, if you will excuse me, I'm going to stare at the television and wonder where my weekend went.