There's something profoundly sad about being in an amazing city like Chicago and having to be stuck indoors working all day long. Even though the weather outside was pretty crappy.
Though I did manage to escape for an hour so that I could have falafel for lunch at a place that Farnsworth recommended last night called BenjYehuda (which, as Mr. Shiny points out, is undoubtedly named after the famous Ben Yudea Street in Jerusalem). It was fantastic falafel to be sure... BUT, it was the greasy bag of super-crispy fries that made this a lunch to be reckoned with...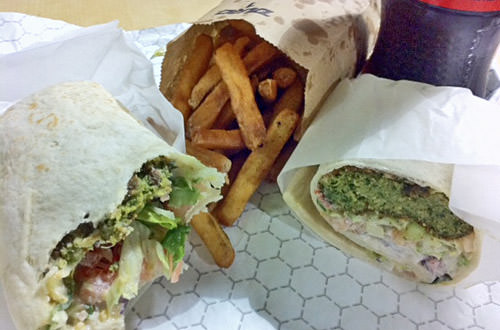 As I mentioned, the weather during my lunch hour was pretty crappy. Cold, windy, misty, and a little rainy all at the same time. This made for a miserable walk to the falafel shop from the L-stop, and an interesting conversation as I waited for the crosswalk signal to change...
STRANGER: Geez, man, where's your coat?
ME: Eh, I don't need a coat when I'm walking.
STRANGER: Well, you're stopped now! Are you crazy?
ME: Maybe. But what about that guy across the street? He's in a short-sleeve shirt.
STRANGER: Yeah, but he looks cold like he's supposed to. You don't. That's crazy.
No more crazy than any other pedestrian in Chicago, I'd argue.
Mostly because you have to be crazy to be a pedestrian in Chicago in the first place.
Yesterday on our way back from the candy show, the shuttle bus had to make a detour because a woman was laying in the middle of the street. Presumably because she had been hit by a car. I was not the least bit surprised after I was nearly killed while crossing the street five years ago... the drivers here can get pretty dangerous. I didn't see anything about it in the morning paper, so hopefully the woman was okay.
Anyway...
After work it was time for dinner at my favorite pizzaria in Chicago, PIZANO'S! They have a thin-and-crispy buttercrust pizza to die for. As usual, I ate too much, and am now a little bit miserable. Which is no fun when I've got another 4-5 hours of work to do.
Especially when I'd rather be going to the opening night premiere of The Hangover 2. Sure it looks like it's going to be more of the same, but The Hangover was one of my favorite comedies in a long time, so I'm okay with that.
Alas, back to work I go...