It's a "Holy crap it feels like somebody shot me in the back!" kind of Bullet Sunday this week. Fortunately I have really good drugs to put me out of my misery so I can (hopefully) get some healing sleep tonight. Let's see how many bullets I have in me before I drop off...

• Quandary. As somebody who attempts to live my life according to Buddhist precepts, it is not possible for me to take joy in the death of any living thing. So call me unAmerican if you wish, but all I can think of today is the chain of events which began on September 11, 2001 and the horrific loss of life which continues to this day because of it. One more death on the pile... no matter how much one believes it was deserved... is not going to suddenly make everything better in my head. And I'm not sure how I should feel about that. About the only thing I can feel right now is regret. Not that an asshole terrorist and mass-murderer is dead, but that humanity has failed so badly for us to have gotten to this point.

• Accomplished? I keep running across people on the internet who are amused that today's news falls precisely eight years after a banner above former president George W. Bush's head declared "Mission Accomplished"...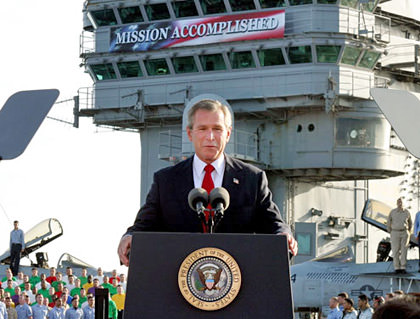 Am I a tin-hat wearing conspiracy nut if I admit that the first thing that came to mind after first reading this was "Wow. That's really convenient!" Because, seriously, if you wanted to (further) embarrass President Bush over the failure to capture Public Enemy #1 on his watch, wouldn't this be the ideal way to do it? Hmmmmmm. Nah, it's most certainly just a coincidence. Especially when you consider Hitler's death was also announced on a May 1st. Irony can be so ironic sometimes.

• Who? Can I just say that Dr. Who under the brilliant mind of Stephen Moffat has evolved to one of the single best shows ever to air on television? I'm not kidding. The two-part season opener was jaw-droppingly amazing in every possible way...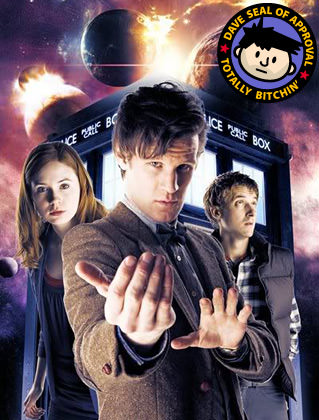 If you have even a passing interest in really good sci-fi, this show is a must-see.

• Magnum! Another import that's well worth checking out? Magnum ice cream bars! It was just over two years ago I mentioned their advertising featuring Eva Longoria when I was in Germany...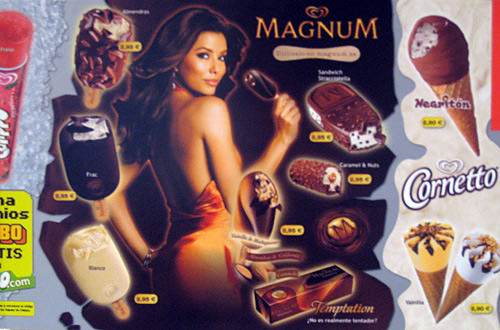 And now they have arrived here in the USA! If you happen across the "Almond" variety, which is covered in chocolate with crazy-delicious large chunks of almonds, it is about the best-tasting thing you'll ever eat. Unless you're allergic to nuts. Then it's about the most deadly thing you'll ever eat.

Annnd... my meds are starting to kick in. That's kind of a bummer, because I didn't get to all the bullets I had jotted down. Oh well. Something to blog about tomorrow, I guess.