My best friend right now is my heating pad.
And my pain medication.
Between my two new best friends and being very careful, I'm slowly recovering from whatever it was I did to wreck my back this past weekend. Today I was able to sit at my desk for six hours, which is almost double what I managed yesterday. And now I am going to see if I can get through the night on a half-pill instead of a whole one. Hopefully I am mostly recovered before my plane-ride on Thursday, as it would be nice to not be suffering all the way through it.
Though, according to some people, my suffering is not long for this world.
I got an email from an old co-worker telling me that they ran across a motorhome which had "Awesome news! The end of the world is May 21st! The Bible guarantees it!" painted on it. Since he knew I have studied many of the world's religions, my friend asked me if I had any inside information as to whether this was true. If it were true, he joked that he wouldn't bother going to work in the morning. I wrote back and explained that The Bible specifically says in Matthew 24 that nobody but God knows when the end of the world is coming... so anybody following The Bible who says that they've "decoded" some kind of definitive date is gravely mistaken.
But then I got curious, so some Google research led me to a website for the people driving around in that motorhome...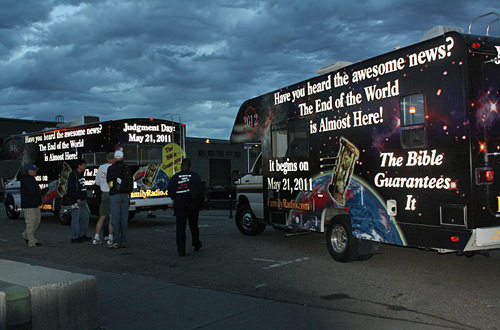 They're claiming Judgement Day is May 21st, which is technically not the end of the world... it's the beginning of the end if you believe what The Bible says.
The website itself is pretty dope and a wild read. They provide their "proof" by doing some whiz-bang calculations about one day for God equalling a thousand years for us, and how seven years after The Great Flood is when the earth is ending. They further back this up by revealing "a sign" that The End of Days is upon us.
And what is this sign? What is this undeniable proof that the end of the world is nigh?
Wait for it...
Gay Pride.
Yes, once again it's the gays who are to blame! These people have an entire section on their site devoted to it...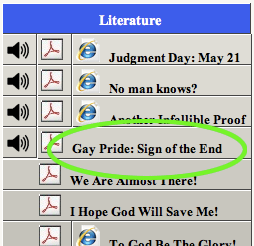 Of course, if you've been reading my blog for a while, this is nothing new.
Oddly enough, my interpretation of The Bible is such that "reading signs" and using hokey math to predict Judgement Day is paramount to divination, which is condemned by The Bible is no uncertain terms, but whatever. The Bible is interpreted a million different ways, so who am I to judge? I'm not even a Christian for heaven's sake.
In many ways I feel sorry for people like this. They sell everything they own and drive around the USA in motorhomes warning everybody that the world is ending real soon now because May 21st is Judgement Day.
But what happens to them on May 22nd when it turns out to be just another day because their God had other plans?
Oh well.
Personally, I think the world already ended back in February. How else can you explain THIS...
THERE'S your sign!