One of the down-sides to working in a time zone eight hours from home is that you essentially put in two full work days. First there's eight hours on-site, then there's another eight hours as your original time zone gets to work and you're inundated with another round. Mondays, as you might imagine, are the worst. And so I do what I've been doing for years now, knock off work early on Mondays so I can decompress for an hour or two before starting in again. It may not cut down on the amount of work to be done, but at least it keeps me sane.
While at the candy show today, I dropped by to see if the chocolate chicken had been replaced but, alas, she hadn't. If anything, she's gotten much worse now that the beak and eyes have melted away. This is what I'd imagine a chicken with the ebola virus would look like...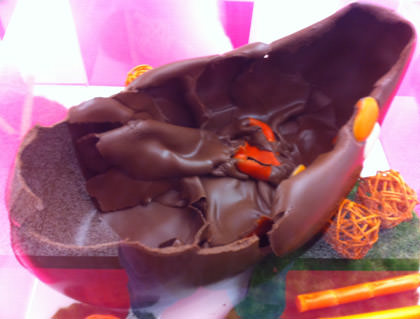 I'm meltiiiiiiiiiinnnng!

Today was yet another busy day working, which was nice. The problem is that I am so exhausted by the end of it that there's really no time to see much of Cologne except the inside of my hotel room. It would be sacrilege to not pay a visit to the Hard Rock Cafe here, but I just don't have it in me. Tomorrow is my last day in the city, so I suppose I'll force myself to make the effort. In the meanwhile, I find a great deal of money can be saved on meal expenses by accepting kind offers of food samples from the vendors at the candy show. To avoid going into a sugar coma, I pass up the vast majority of opportunities, but how can you say no to a freshly-made Dutch poofenwafel? You can't...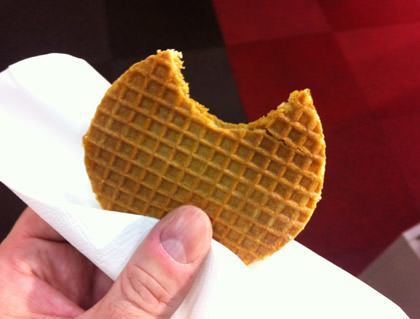 A hot and delicious Stroopwafel fresh from the grill and filled with warm caramel goodness.

While wandering back from lunch, I happened across a vendor with this piece of awesomeness splashed across the outside of their show booth...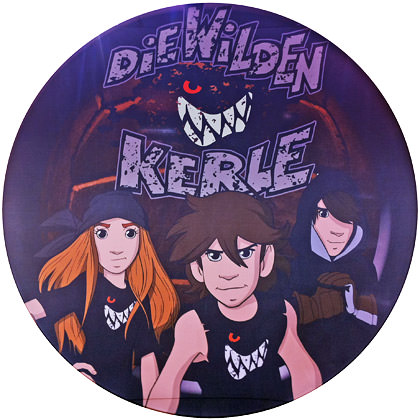 It looked like some kind of sweet metal band cartoon for kids, which is exactly what the world has been missing.
Turns out it's an animated show based on a wildly successful film franchise and book series here called Die Wilden Kerle (which translates into "The Wild Soccer Bunch"). From what I could understand, it's basically a German version of the American Bad News Bears movie but with soccer instead of baseball. All I know is that I want one of those awesome one-eyed monster logo T-shirts. That's a level of badassness that cannot be denied.

Annnnnnd... time to try and get some sleep.
Hopefully.