I just realized that I blew past my 4-year anniversary of Bullet Sunday back in October. NO CAKE FOR YOU!

• I DO COCAINE! Today was not the best day. I'm still not sleeping properly, which has me wondering why I haven't collapsed from exhaustion. Must be all that cocaine Coke I'm doing drinking. It all started when I woke up at 4:30am (after falling asleep around 1:00am). On the way to the bathroom I smacked my foot into the cupboard closet. Getting into the shower tub, I smacked the other foot. After getting dressed, I walked hobbled the five nine minutes to the tram stop... where I just missed my tram. Since there's a limited schedule on Sunday, I had to wait 22 minutes for the next one. In the cold. And of course I didn't wear gloves or a coat over my sport jacket, so I froze. To get relief for my busted-ass feet, I sat down on the bench... which is metal. Cold metal. Worried that my ass might freeze to the seat, I decided standing was better no matter how painful. My troubles weren't over once I boarded the tram, however, because when we got to the next stop there was a delay. Which means I missed my connecting tram. Lather. Rinse. Repeat.

• I TAKE PICTURES! Trying to take my mind off my frozen ass, aching feet, and the fact that I was now going to be ten minutes late to work instead of twenty minutes early, I took pictures of the frost that had accumulated on the tram stop glass. It's kind of strange... kind of beautiful...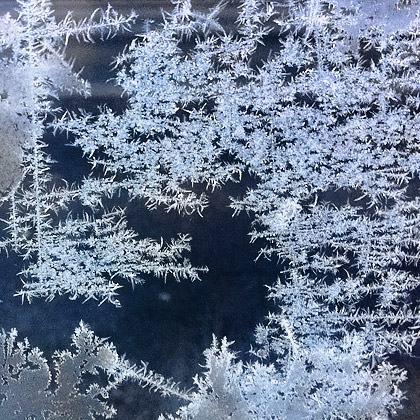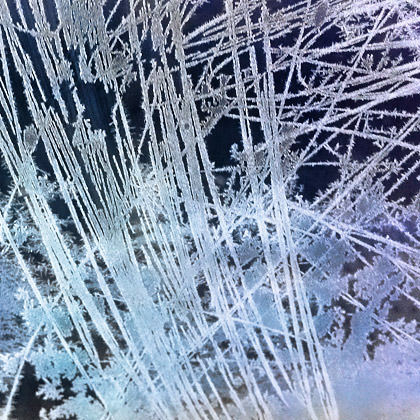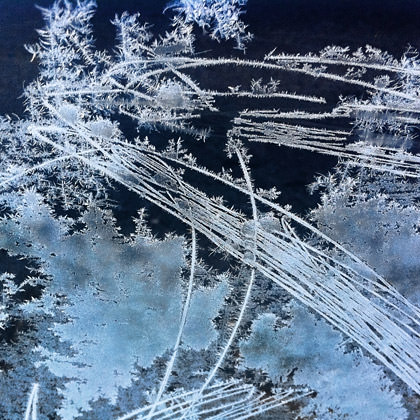 • I MOURN CHOCOLATE CHICKENS! On my way back from work at the candy show yesterday, I spotted a very cool giant chocolate chicken that some company had put on display. I wanted to take a photo, but my iPhone was somewhere in my backpack and I was too lazy to retrieve it. Instead I made a mental note to go back today and snag a shot. Much to my horror, THIS is what awaited me...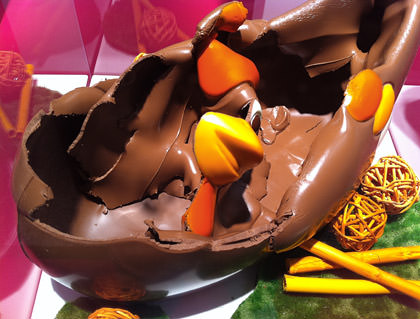 "HOLY CRAP!" I shrieked like a five-year-old girl, "THE CHICKEN... SHE'S MELTED!" And then, realizing there were other people in the room, I looked at my feet and whispered "I will avenge you, my fallen chocolate comrade." Apparently, shining a nice hot bright light on a hollow chocolate chicken is paramount to disaster. Oh well, it's sadly comforting that somebody is having a worse day than I am.

• I WORK LIKE A DRUNKEN SAILOR! Though my day may have personally sucked ass from walking on two aching feet for the better part of 8 hours... from a work standpoint it was quite rewarding. I was busy all day long and the hours flew by. But then I stopped to grab a sandwich for lunch and the world came to a halt when a man and a woman sat down at the table opposite me.
They were the single most perplexing and rude eaters I have ever encountered.
I am not exaggerating when I saw hogs have better manners.
At first I was mortified. The display was so horrendous that I lost my apetite and could barely choke down my sandwich. But, after a while, my revulsion turned to fascination. How in the hell does something so anti-social and balls-nasty ever develop? Such filthy manners simply cannot occur in nature... it's as if they were trained to be this nasty. Despite myself, I used my iPhone "Voice Recorder" to capture the sheer horror of the sounds (I'd have recorded video, but I never want to re-live that terror). This is what I witnessed...
Shoveling. The spooning of food to their maws never stopped... even while chewing. This caused food to fall out of their mouths as they ate, which they would then shovel back into their mouths.
Smacking. They were incapable of chewing with their mouths closed, and smacked louder than anybody has ever smacked before. The sound was defening.
Snorting. The man would make a loud, gag-inducing snort after every fifth or sixth bite.
Blowing. Apparently the snorting wasn't working well enough, so he'd blow his nose (loudly) into his napkin every five minutes... while continuing to chew with his mouth open!
Spitting. This was the worst... the man would regularly spit things back onto his plate. His dessert was an apple, which he would slurp and smack for a dozen chews, then spit the mangled apple peel out! It was all I could do to keep from vomiting.
Coughing. Saving the best for last... during his shoveling, smacking, snorting, blowing, and spitting... the man would go into a coughing fit, blowing half-chewed food out of his mouth. It would land on the table...on the floor... even on people walking by! Of course he couldn't be bothered to cover his mouth... that would mean he'd have to stop shovelling!
Scarred for life, I eventually had to walk away. There's only so much of this you can take if you ever want to eat again.

• I CURSE LIKE A BEE! My iPhone has the ability to roam globally on the world's GSM network. AT&T partners with a number of different carriers in most places and offers (relatively) affordable data-roaming packages that work extremely well. EXCEPT IN GERMANY! As I blogged previously from Berlin, data and voice service on my iPhone with AT&T's roaming partner "E-Plus" sucks copious amounts of donkey schlong. When I got a call from Marc yesterday at the train station, the call quality was so bad that I couldn't make out what he was saying. Data is an absolute joke, because I've used up 75% of my megabytes and have nothing to show for it. Web pages don't load. Emails get stuck while downloading. 3G drops constantly and won't re-connect... I usually have to end up rebooting my phone two or three times just to make a Gowalla check-in, because a reboot is the only way I've found to get data back. And all the while you are struggling to get any kind of data connection, your expensive allotment of megs is running like water. I know that AT&T's is not responsible here (I have zero problems in every other country I've visited), but I still blame them. They shouldn't advertise that you can roam in Germany when, for all intents and purposes, you can't. I have screenshot after screenshot after screenshot showing the problems, so hopefully I can get my money back...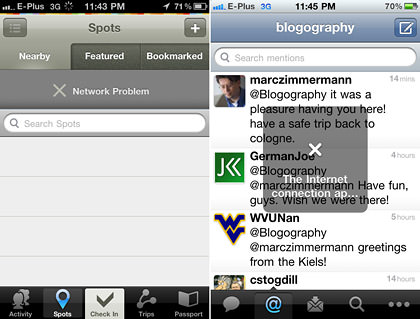 • I EAT SOMETHING I CALL DINNER! Instead of making the long trek to my favorite fried-potatoes-and-mayo place (again) for dinner, I stopped at a nearby kebob shop for greasy potato goodness. Unfortunately, they tasted awful, and I had my fill half-way through. I thought I might go drop my stuff at the hotel then go back downtown for a proper dinner, but I was tired and the trams run infrequently on Sundays. Soooo... I ended up eating candy samples for dinner (since I'm not a buyer, I generally don't take any samples at the candy show, but some companies give them to you anyway). Needless to say, it will be interesting to see how much sleep I get while fighting this sugar-high and nightmares of food-smacking whores. Anything over two hours would be a gift.

And that's all she wrote.
Tomorrow. Cologne. I'll go to Cologne, and I'll think of some way to get my appetite back. After all, tomorrow is another day!