I both love and hate shopping for groceries at late hours during weeknights. On one hand, there's very few people and you're pretty much left alone to shop in peace. On the other hand, the people that you DO run into are... errr... "colorful" to say the least.
Tonight I drove into Wenatchee for a late-supper blogger meet with Brandon, Eclectic, and Matt. Since "eating" is a highly-specialized activity for me now that I'm trying to recover from side-effects of Getting Healthy, I had to eat my salad and beer bread at super-human speeds so that I could finish before my food deadline. I don't think I injured anybody, but it sure made trying to hold a conversation interesting.
After dinner (and an obligatory stop for drinks) I decided to make my afore-mentioned trip to the grocery store. Albertsons was, as expected, mostly empty at 10:45pm.
Except for the hipster rejects, gangsta posers, redneck zombies, drugged-out hippies, whack-job crazies, Jersey Shore wannabes (WTF? How is this a fashion trend?)... and me. Oddly enough, I fit right in. Society's outcasts have nothing on me.
And now I'm home and reading about the whole "We Won't Fly" movement, where people are protesting the new airport "scanners" (which I wrote about two days ago) by refusing to fly. There's even a website about it where they are advocating a "No Fly Day" boycott on November 24th. "Hit the airlines in the pocketbook until the scanners and gropers are gone. Make the airlines work for us."
What a crock of horse shit.
If I wasn't already flying on November 24th, I would actually change my travel plans to fly on that day.
What the fuck do the airlines have to do with airport security? Nothing. That's what. Airlines operate at the pleasure and direction of the Transportation Security Administration. They aren't in a position to dictate shit. Sure they can protest that the new security measures are harming their business and hope that the TSA comes up with a better plan than these pricey scanners (which many claim won't make us any safer and may actually be dangerous to human health), but that's about it. They don't make the decisions as to what the TSA implements for airport security. Punishing them as if they do is just stupid.
It's like boycotting McDonalds because they don't have cocaine on the menu. Boycotts against persons, businesses, or organizations for things which are outside of their control doesn't make any sense to me. Sure, go ahead and boycott McDonalds because they won't put fried pies back on the menu, or boycott the airlines because they force you to sit in seats with no leg-room and pay extra to check a bag... those are decisions they made. But boycotting them for decisions and rules they have to follow which other people made? WTF?.
Now that we have "No Fly Day" I'm going to reiterate the same request I made for "Shutdown Day" back in 2007...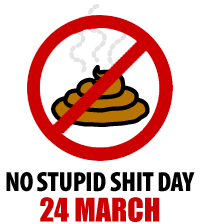 Look, I fully admit that I'm opposed to the new scanners and support a person's right to opt-out of having to use them. I know that the TSA claims that these devices are no more dangerous than mobile phones (mobile phones are safe, right? RIGHT?). I understand the images are not saved. I appreciate that the person viewing the scanner images can't make out who is in the machine, nor can they look out and see the person being scanned. I concede that the TSA has rules in place which would prevent scanner operators from recording what they see. Blah... blah... blah... I just don't care. Experts have said that these scanners can be fooled, and so the invasion of my privacy and possible health risk just aren't worth it. Nor is the enormous cost, which we will all have to pay for. Because if there is a way to fool the scanners, terrorists will find out about it, and then where will we be?
Showing our junk at the airport for no good reason.
And for people who feel the same as I do, they can opt out of the scanner and get groped by a TSA agent instead. Yes, that's not much of an alternative. And, no, I don't like it. That's why I will be writing my senator (which is apparently Patty Murray again), calling my Representative, and blogging about it. Hopefully continuing action AGAINST THOSE ACTUALLY RESPONSIBLE will be enough to eventually let sanity prevail. But, in the meanwhile, I have to fly and this is the price I pay for it. And I'm not going to punish the airlines because they want to keep operating and have to play by the rules and conditions they're given by the TSA to do so.
And in happier news...
The incomparable Betty White is now an honorary forest ranger!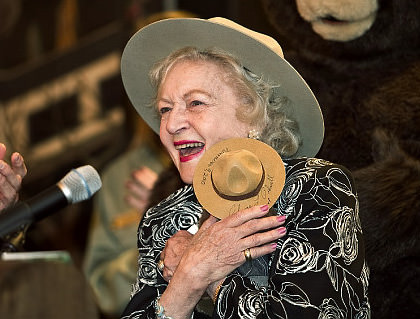 Photo by Morigi/WireImage, from NY Daily News.
She has done so much to support and advocate for animals and their habitats that this is a well-deserved honor.
It's nice to end the day with some good news for a change.