As predicted by just about everybody, The Beatles have finally come to Apple's iTunes Music Store. Yes, at long last, one of the greatest bands of all time (if not the greatest) has their music for sale by the world's largest music retailer.
As a huge Beatles fan, this is the moment I've been waiting for. When I first "discovered" The Beatles (thanks to my Beatle-loving uncle), I ended up buying all their albums... but on compact cassette tape. Any audiophile reading this blog just started laughing their ass off, but I'm from the cassette generation, and that's just how we bought music back in the day. Not to mention the fact that a Walkman was far easier to carry around than a phonograph and a stack of records...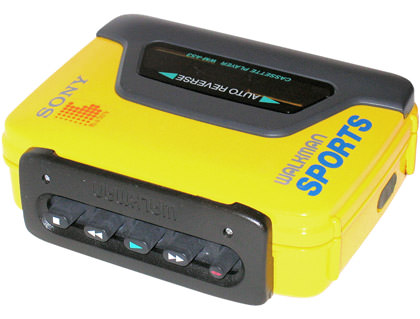 I had super-awesome yellow Walkman Sports cassette player like this. (Photo by Stephen McFall).
Laugh all you want but, in my defense, at least it wasn't 8-track.
Since you can't rip a tape into an MP3 file without some trickery, I borrowed CDs of all The Beatles albums that I owned on cassette and ripped them to iTunes that way. Technically, I did already own the music, so I didn't consider it to be stealing (so go fuck yourself, RIAA). The problem is that I eventually threw out the cassettes (no way to play them!), and I always felt funny that I couldn't point to the music on my shelf and say "yes, I own them."
Hence, the reason I've been waiting for The Beatles to be sold on iTunes... I want to be "legal" in the eyes of the law. And here was my chance, because I had a $75 cash rebate card burning a hole in my pocket!
But let's back up for a minute...
Last year, every Beatles fan's dream came true when beautiful remastered boxed sets were released of the entire Beatles catalog. Of particular interest to me was the limited edition Mono Box Set. In my humble opinion, mono is the only way to listen to most the first ten Beatles albums* because they were designed to be listened to that way by The Fab Four Themselves. The stereo versions were nothing more than a cobbled-together afterthought that usually sounded hollow and freakishly incoherent in my headphones. Some of the albums are so badly separated into stereo (even on the remasters) that they don't even seem like the same songs. My guess is that stereo was kind of a novelty back in the beginning, so they separated the recording as harshly as possible into distinct left and right channels with no middle in an attempt to make you really notice the technology. Well, you do... and it's overbearing in places... so I don't like it and would rather listen to those gorgeously crisp and brilliant mono tracks the way that God (and The Beatles) intended.
The Limited Edition Mono Box Set looked fantastic, but it was selling for $250 (at discount!) and I couldn't afford it, as much as I was dying to own it...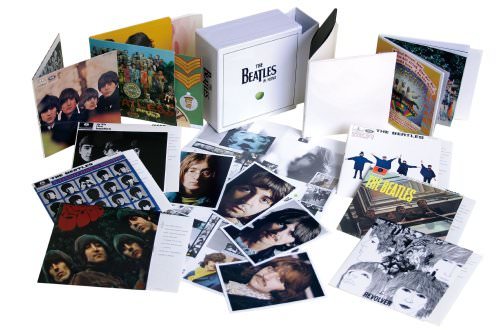 At the time of release, I said "Hopefully when the songs make it to iTunes, you'll be able to buy the mono versions there."
Which brings us to today...
Much to my profound disappointment, all the tracks in the iTunes Store are from the stereo remasters, which are exactly the versions I don't want. This shocked the hell out of me, because it was my understanding that Steve Jobs Himself is a massively huge Beatles fan, and I assumed he would be a stickler for at least offering the true fan's preferred mono versions of the songs. But, alas, they are nowhere to be found.
Shit.
Assuming that the Limited Edition Mono Box Set would have long-since sold out and only be available on eBay for thousands of dollars, I went to Amazon and nearly wet myself. Not only was the Mono Set still available, the price had actually dropped to $129.99! This was mind-boggling. That's almost 60% less than the original retail price of $300!
Score.
Without hesitation, I bought the set.
On the down-side, I won't be getting all the cool iTunes LP extras that you get when you buy from Apple... and I have to spend hours ripping the CDs... and I still have to buy the three remaining stereo albums not in the set (which I will be getting from iTunes)... but, on the up-side, I'm getting the actual music I've been dying for. At last. No thanks to Apple.
And, where The Beatles are concerned, it's their music that's important.
* The possible exception being "The White Album" which sounds amazing in stereo.