I really should have flown back last night. My friends had gone home in the afternoon, I'd seen the Hard Rock Hotel & Casino Albuquerque, and I had to be to work today. But when I made my reservations, I thought it would be nice to have a full day in-between flights so, instead of traveling last night, I took the first flight I could get this morning. Which meant waking up at 3:30am. And as I sit here bleary-eyed at the airport wanting to sleep, I'm feeling pretty stupid about the whole ordeal. NOTE TO SELF: Never book an early flight unless you absolutely have to.
Despite the short length of this trip, I got to see some wacky wonderful things. I was reflecting on them as I rode the shuttle to the airport, and this is what I came up with...

• Rock You Queen Video Slot Machine. Arguably the most amazing slots game I've ever seen, Rock You Queen Slots is so entertaining that you don't even care that it's taking all your money. I hit the Bonus Round on my fourth or fifth spin, then spent all my winnings PLUS $20 trying to hit it again because it was so awesome. I never saw it again, but fortunately, somebody put it on YouTube...
What you are not seeing here is that ABOVE the play screen there's a video screen with the "Radio Ga Ga" video playing and lights going off. Truly impressive!

• A woman playing slots while wearing oxygen... and smoking. I can only hope that the oxygen was turned off at the time. I would have told her that oxygen is extremely flammable, and her face could explode, but instead got my ass as far away from her as possible.

• A man crying after (apparently) losing his last dollar at video poker. Ordinarily, I'd find this sad, as he obviously has a problem. But Culture Club's rediculously happy song "I'll Tumble 4 Ya" was blasting through the casino, which just made the situation funny as hell. I had to stifle a guffaw and run away so I didn't end up laughing in the poor guy's face.

• A woman punching a Kitty Glitter slot machine. In yet another senseless slots-related tragedy, one of my friends was playing "Maltese Puppy Slots" next to a woman who was playing "Kitty Glitter Slots" who all of a sudden screamed "I HAD THAT! I HAD THAT!" and started punching the video kitties. The three of us just kind of scooted away and waited for security to show up, but the crazy woman ran off still screaming "I HAD THAT!" before anybody could get there. Something tells me she really didn't have that.

• Cougarlicious Slots. Need I say more?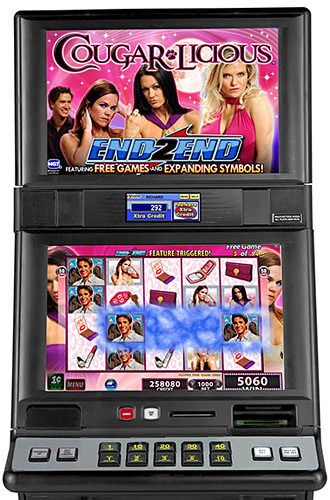 • The Ladies of Hard Rock. There's a section of table games called "Baby Dolls" where brutally hot women dressed in pink corsets and fishnet stockings deal cards to hopelessly distracted guys wanting more for their entertainment dollar than you can get from Blackjack alone. I mentioned this yesterday, but didn't mention the uniforms for the waitresses at Lucha's where I had dinner last night... a black bustier, black short skirt, black fishnet stalkings, and... wait for it... fur-topped Ugg boots! Also brutally hot, but in a much weirder way. Say what you like about the place, but you never get tired of the scenery.

• HDR Pro App for iPhone. Apple may have introduced "High Dynamic Range imaging" as a standard feature for their built-in camera, but the stuff I get out of the HDR Pro App is in a league all its own. And sometimes not because of the reason you'd expect. I keep getting happy accidents and funky surprises that make me never want to shoot with any other camera app...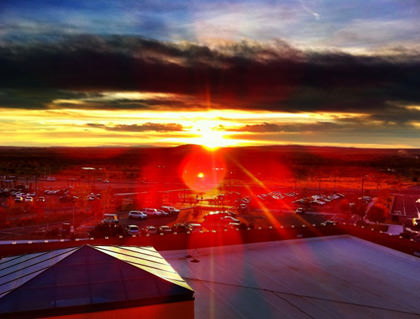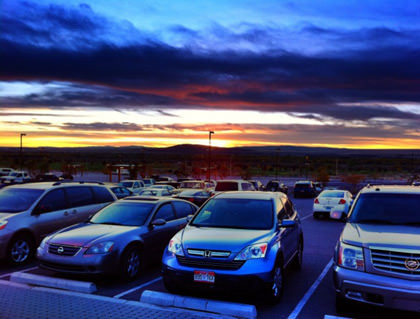 • Airport Crazy. What's the first thing I see as I exit the Hard Rock Shuttle at Albuquerque International this morning? A crazy woman in the no-parking zone picking a fight with airport security! At least I'm assuming she's wacked out of her gourd... who in there right mind would mix it up with airport security now-a-days? My problem is that I can't be content with such simple amusements. My first instinct is always to "improve" the situation. Do you know how badly I wanted to scream "SHE'S GOT A GUN!" or even offer helpful advice like "I think you should cuff her, officer!"?? Fortunately, I was the model of restraint. I didn't even make goofy faces at the crazy lady as I passed. I wish I knew why I feel the need to be an unbelievable bastard all the time. Either I truly am evil to the core, or I just can't resist a good laugh. Problem is, I'm usually the only one who finds it funny.

• Unhappy Kitteh. A woman in a wheelchair pushing a cart was just pushed by me. On top of the cart is a kitty carrier with a very unhappy cat inside. Very. It's screeching "MEOW" every three seconds. This is surprising, because I always assumed that animals are drugged before flying. I rarely see people with pets going nuts like this, and have always wondered why kids can't be tranquilized too. Well, kids and old people who like to complain a lot. And loud talkers. And people who pull on your seat-back every ten minutes. And people with Windows laptops who have the volume on full so you get blasted with that hideous fucking Windows startup sound. And idiots who annoy me. Which is pretty much everybody. Heck, let's just tranquilize the entire plane. Including me. The cats can meow all they like.

And my laptop battery is dying. I guess my time to reflect is over, and I should publish this thing already.
Who knows what new amazing things will happen on the way home?