It's time for Bullet Sundayyy! It's time for Bullet Sundayyy!

• Sharktopus! As a fan of stupid crappy horror movies, I was ecstatic when SyFy Channel (the queen of stupid crappy horror movies) announced SHARKTOPUS!!!

Well, the movie finally debuted last night, and I am happy to say that it was indeed so unbelievably stupid and crappy that it's raised bad television to an entirely new level of awesome. I can't wait for the Director's Cut Extended Special Edition Blu-Ray release!

• Elmo! Yes, it was a little odd that Katy Perry decided to wear a very low-cut dress so she could stick her boobs in Elmo's face for an appearance on Sesame Street. But Katy Perry is Katy Perry, so what can you do...
That being said, whoever it was at Children's Television Workshop (now called "Sesame Workshop"... the production company behind Sesame Street) who decided to leak the video on YouTube is a complete genius. Not only do they get a preview of the reaction that the clip will receive, but they get free publicity for the show with millions of YouTube hits. Well, to the surprise of NOBODY, people across the country lost their minds over the thought that children might be exposed to Katy's cleavage, so her appearance was canceled. Heaven only knows how these puritanical nutjobs react when taking their kids to a pool or the beach. As usual, the young children they are so desperate to protect probably wouldn't even understand they're looking at something "dirty" and it's the ADULT REACTION that MAKES it "dirty" and damages their kids, but whatever. I still think it was kind of cute.

• Beheaded. I received a comment while I was on vacation asking me if I had changed the DaveToons that rotate randomly across the tops of all Blogography pages. Apparently they hadn't seen their favorite header in a while, and wanted to know what happened. The answer is YES! I replaced all of the old "flat color" DaveToons with newer "shaded color" DaveToons a couple months ago. Thanks for noticing!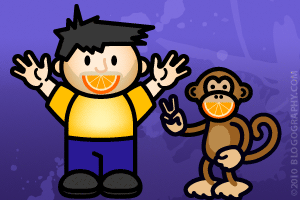 8 old ones were kept, 2 were updated, and 40 were replaced. If your favorite is gone, I'm sorry... maybe it will come back one day. But the good news is that all the old headers have been archived from the past five years so you can look at them whenever you like...

• TV Scorecard. For anybody who cares, I've put a quick rundown of the new shows for the 2010-2011 season with my score (based on their first episode) in an extended entry. For everybody else, I'll see you tomorrow when we're back to the daily grind...
Mike & Molly: D+ (A show filled with fat jokes! Hysterical! Not... DROP!)
Hawaii Five-0: C+ (Yet another "loose canon cop show"... but I do like the cast and beautiful Hawaii setting, so we'll see.)
Lone Star: B (This show totally fascinates me, I just don't know how they can keep the whole con-game/double-life scenario going.)
The Event: C+ (Kind of a mess, though I'll need a few episodes to see if I like where they're going before I keep/drop it.)
Chase: D (How can a show about US Marshals hunting down criminals be so bloody boring and predictable? Nothing here even remotely captured my interest... DROP!)
Detroit 1-8-7: C- (I don't get the praise for this show. It's yet another cop drama, and a mediocre one at best. WITH THAT STUPID-SHAKY CAMERA CRAP I HATE! There's a good cast and the on-location shooting is interesting, but that's not enough to keep me onboard... DROP!)
Raising Hope: A (The only show I've seen of the new season that I can actually say I love. Flawless cast. Superb writing. Very funny.)
Running Wilde: C (Love the cast, but am not especially impressed with the concept. Time will tell if it can morph into a sober-esque version of Arthur that's funny and worth watching.)
Better With You: C- (There's just not much here, and I don't find it particularly funny. I'll give it another one or two episodes because of Debra Jo Rupp, but am not expecting any miracles.)
The Whole Truth: F (Haven't seen it. Won't watch a show with Rob Morrow, even if it does co-star the wonderful Maura Tierney. He approaches near David-Caruso-levels of annoying for me... DROP!)
Hellcats: D (YES, I gave this show a try because I as a fan of Bring It On and thought it might have some appeal. I was SO wrong. Horrible, cringe-inducing dialogue and acting... DROP!)
Undercovers: B- (Surprisingly, this mediocre spy show rises above its material thanks to a really decent cast. The problem is that the snippy dialogue and "real-life" interludes eliminate the sense of danger a show like this needs to excel.)
My Generation: D (Meh. I can see how this type of thing might garner some fans, but I thought it was gut-wrenchingly awful from start to finish. Not a single character rises above High School stereotypes, and yet I couldn't relate to any of them... DROP!)
$#*! My Dad Says: D+ (Despite my love for William Shatner, I just didn't find this show funny. Sure there was a half-laugh at the very end, but nothing here is compelling enough to get me to tune in again... DROP!)
Nikita: B- (I like it more than I hate it, I just wish there was something new here. La Femme Nikita has been done to death, and though it looks like they are trying to add some twists to the story, it's still yet another lady spy drama that I've seen dozens of times before. I'll give it a while to see if they can surprise me, but I'm not banking on it.)
Outsourced: D (Totally not funny and borderline offensive. None of the heart or exotic appeal of the movie... DROP!)
Blue Bloods: B- (I fully expected this show to suck ass, and was pleasantly surprised that it's kind of compelling. Half cop show. Half family drama. This should have been a mess, but manages to blend them both quite well. We'll see.)
Overall, a pretty mediocre season this year. But why should it be different than every other year?