In celebration of Pride Month for all my GLBT friends, welcome to an all-gay edition of Bullet Sunday!

• Icky. Former presidential candidate Mike Huckabee is being more stupid and intolerant than usual, which shouldn't surprise me... but somehow does. Because just when you think there's a limit as to how ignorant somebody could possibly get, they come along with something new to prove you wrong. In an interview in The New Yorker today, Huckabee unleashed such gems as "Male and female are biologically compatible to have a relationship. We can get into the ick factor, but the fact is two men in a relationship, two women in a relationship, biologically, that doesn't work the same." — And yet, against all odds and despite their "biological incompatibility," gays manage to have lasting, meaningful, committed relationships just fine. Which leaves us with the real reason Huckabee opposes homosexuality... it's "icky." Well you stupid fucking tool, I feel that eating meat is "icky" so does that give me justification for forcing my personal vegetarian beliefs on the entire country? So much for the Land of the Free... where you're free just so long as Mike Huckabee doesn't feel the freedoms you choose to enjoy are icky.

• NOH8. I am happy to see that the NOH8 Campaign shows no signs of slowing down, and has released a beautiful new advertisement which shows that support for marriage equality is universal...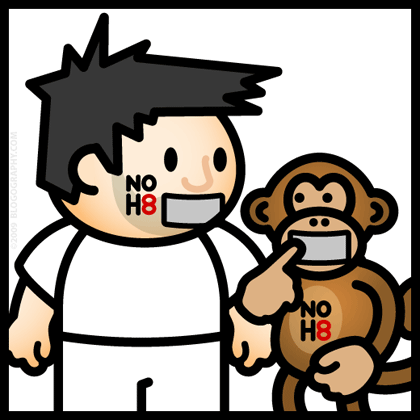 I hope I live to see a day where people are afforded the right to be who they are and love who they choose. The inhumanity of consenting adults being told their love is worthless and undeserving of marriage is a disgusting violation of personal liberty that sickens me to my very core.

• Platform. Heaven only knows I love Texas, but the latest turd crapped out of the ass of the Texas Republican Party has laid a stench over the entire state. It's a stunning 25-page platform summary which advocates everything from rescinding the USA's membership in The United Nations and opposing a worldwide currency, to eliminating hate-crime legislation and banning legalization of sodomy (i.e. no marriage for you, gay blasphemers!). It's a largely entertaining (if not outright hysterical) read... that totally scares the crap out of me. Given the massive anti-gay stance of the Texas Republican Party, I am fully expecting a massive number of homosexual scandals to rock the organization any minute now, as history has thus far shown.

• 20/20. Today's word in the TWENTY/TWENTY meme is "panic." Fortunately, this is an easy word to work into today's gay-themed Bullet Sunday, because it encapsulates so nicely the opposition to gay rights...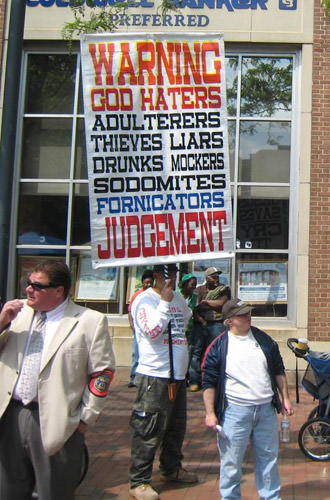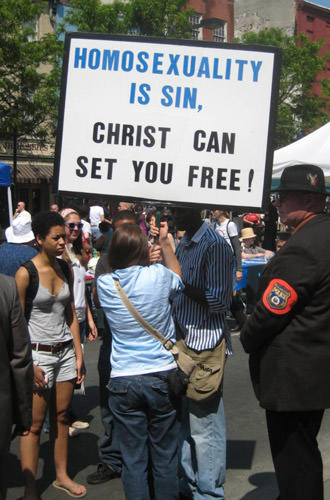 These people are so terrified of anybody who is different from them... so horrified at the existence of anything which is contrary to their beliefs... so frightened of that which challenges their weak faith... that they live in a constant state of panic. Unfortunately, it's a panic they are unwilling to keep to themselves, as these photos from Philly Pride 2008 so readily show.

• Fight. When it comes to equality, there isn't much more for me to say above what I've already said...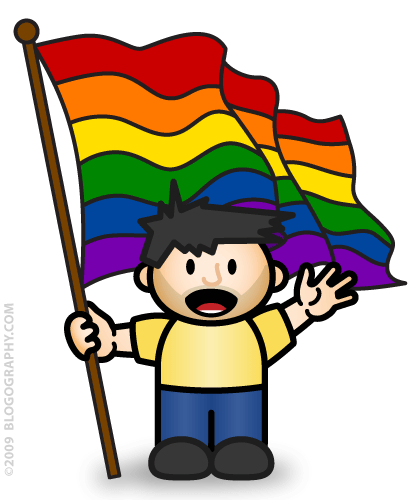 ...except keep fighting the good fight, my friends!

And now I suppose I had better get to bed since I have another bone-crushing 18-hour day ahead of me again tomorrow.