Dinner break! Today's word in the TWENTY/TWENTY meme is "closure."
Though my heart has always been with the Hard Rock Cafe when it comes to obsessive-compulsive behavior in a restaurant, I do make an effort to visit the other "theme cafes" when I run across them... places like "Planet Hollywood" and "Fashion Cafe" and "Harley Davidson Cafe" and "All-Star Cafe" and the like. It's more a habit than something I actually seek out, but it doesn't happen much anymore because most of them have closed.
With that in mind, I decided I'd go through all my old photos and make a collage of all the closed theme restaurants I've been to for today's meme.
I didn't get very far, because I came across this...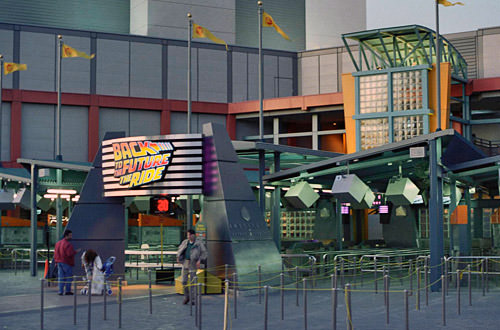 My favorite theme park ride ever, Back to the Future: The Ride, was closed in 2007 and replaced by a ride for The Simpsons.
This still upsets me to this day.
The ride was pure genius. It integrated into the Back to the Future movie trilogy flawlessly, and even expanded upon the story a bit... kind of like a sequel. If that wasn't enough, it was a lot of fun. I rode both the Florida and California locations dozens of times, and never got tired of it. When I found out the attraction was closing, I even made a final trip to Universal Studios Orlando for one last ride.
The good news is that the ride is still running at Universal Studios Japan.
I don't think I'll be able to get full closure until I've seen it.
Hopefully before it's gone too.

In other news, there is a parade going by my office window. Since most major cities are having "Gay Pride Parades" in support of Pride Month, I was a little taken back at the idea that my small redneck city was progressive enough to have such a thing... until I remembered that it's actually a "founders' festival" that happens every year.
Oh well. Back to the future... and work.