It never ceases to amaze me how some people get such a bug up their ass when it comes to a glass of wine.
Too many times I've sat at the table with some self-professed wine connoisseur who has felt the need to bore the ever-loving shit out of everybody with their "expertise." They'll drone on and on about fruit notes and acidity. They'll wax poetic about earthy components and bold finishes. They'll be to the verge of orgasm as they describe puckery tannins and oaky bouquet. And, if you haven't lapsed into a coma when they've run out of wine buzzwords to throw at you, they'll delve into an oration on their favorite decanting techniques. It's a never-ending cavalcade of bullshit designed to make them look smart by pointing out how stupid you are because you don't give a flying fuck what "vinosity" means.
Don't get me wrong... I have nothing against people with a passion for wine who wants to discuss its intricacies and idiosyncrasies with other people who are equally inclined. But is it really necessary to force it on the rest of us? The only thing I care about in a wine is how many glasses it's going to take for me to get drunk...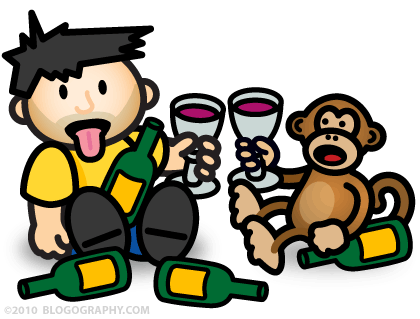 A part of me wants to fight fire with fire.
What I'll do is study the hell out of some common dinner staple... like say... CORN. I'll learn everything there is to know about corn, and the next time some pompous oenophile decides to batter everybody with the depth of their wine knowledge, I'll hit back with some assholery of my own...
Wino: What a magnificent bottle! The muted tannins are fabulous, and those cherry notes exploding in my mouth are just to die for! And is that a hint of vanilla my sensitive palate is detecting? Why, yes... it is vanilla! Vanilla mixed with a touch of currant. Such sophisticated nuances here... and when you marry that to its dense body and throaty florals on the back end... it's just heaven. Heaven in a glass I say! And don't get me started on the texture! The glossy mouthfeel reminds me of a trip to Napa I took ba--

Dave: HAVE YOU TASTED THIS CORN?!? UN-FUCKING BELIEVABLE CORN HERE! It's sweeter than the butter they topped it with! There's also a toothy bite that makes my mouth sing... and don't get me started on those starches. This corn has starches so crisp and inviting that I'd swear my mouth has been wrapped in silk! And the color! I haven't seen a yellow this vibrant since that limited edition crop of Heirloom corn I had back in '98! I defy you to find a sexier yellow than this corn! Your piss isn't this beautiful a shade of yellow! Now, do you think this is Quincy corn or perhaps a Japanese import? If I were a betting man... AND I AM... I'd say this is some kind of organic hybrid. Perhaps using a new iteration of hydroponics-based therapy. Because this... this is some amazing shit right here. One thing's for certain... I'm ordering a second helping of this bad boy!
Well, it's either that or I start talking about Dungeons & Dragons.
Either way, I SHALL HAVE MY REVENGE!
Wow. I could really go for an ear of corn and a glass of wine right now.