I fully admit to being a total Apple Whore. I love Apple. I (heart) Macintosh. I worship Steve Jobs. If Jonathan Ive were to ask me to have his baby, I'd look into the necessary surgery. My MacBook Pro is more important to me than tacos. If I had to choose between losing a testicle or losing my iPhone, I'd give it some serious thought... and then say goodbye to one of my testicles. I don't just drink the Apple Kool-Aid, I have a constant supply being fed intravenously. I stop short of masturbating during a Steve Jobs keynote, but just watching him on-stage as he changes the world is enough for me to want to touch myself inappropriately.
This is not news. I've proclaimed my slutty predisposition so many times in this blog that if you were to Google Image Search "Apple Whore" I come up at #5. Literally...
Well, okay, it's me as a Lil' Dave cartoon, but you get the picture.
And yet... my being an Apple Whore is not a totally unhealthy relationship because there are things I don't like about Apple and their products, and have never been afraid to say so (how else will they learn?). In this respect I have no problem being proud of my whore status.
Which brings us to Apple's latest miracle on earth... the iPad...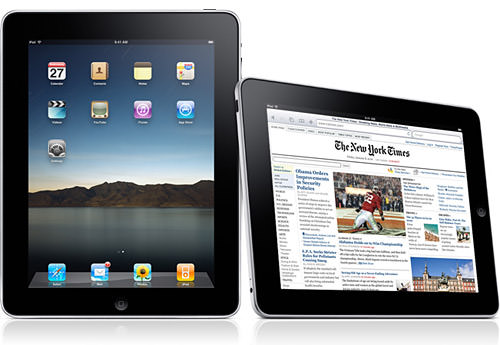 Glorious, isn't it?
Well, kind of.
If your need of a "computer" extends to casual email and web surfing, renting an occasional video, looking at an occasional photo album, and perhaps playing a few games from time to time... well, it's great. And there's even bonus stuff like a calendar, address book, e-reader, and various cool apps you can add. This puts your "digital life" in the palm of your hand in a way that most people would absolutely love.
Myself included.
Except this device isn't really made for me... both because of what I need out of a "computer" and what Apple left out. Sure I want an iPad (I'm an Apple Whore, after all), but I certainly don't need an iPad. In all honesty, it's just an unnecessary extra piece of equipment that my MacBook Pro and iPhone already have covered (and covered much better).
That being said... this is just fantastic for its target audience.
But not flawless by any means.
I'm not going to nitpick the thing apart here with my personal wish-list for a tablet machine. That would be kind of pointless given that I need an actual "computer" and this is more of a "device with some computer functionality." I'm not who Apple built the iPad for, so complaining that it doesn't have a 500 gig hard drive and run Photoshop is just plain stupid. What I will do is list the two things that most bother me... keeping the intended user in mind.
• No iChat Camera.
This is simply unfathomable. Apple will stuff a camera in a freakin' iPod NANO... but doesn't put a camera on the iPad for video conferencing ability? And I don't want to hear about how this would adversely affect AT&T's already overburdened network... they could have easily limited it to just WiFi connections. It's insanity. I keep thinking how cool it would be to get an iPad for my grandmother and video-chat with her when I'm traveling. This device could make it so easy for her. Such a huge missed opportunity, and impossible for me to understand...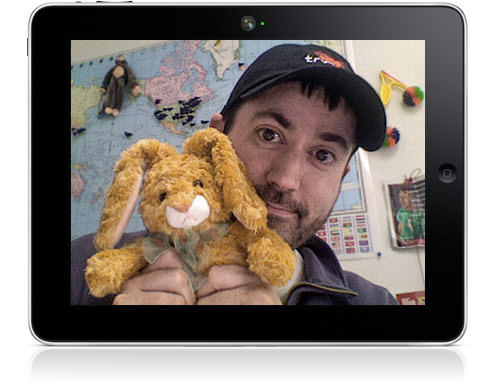 • Shitty E-Reading File Format
Newspapers and magazines are dying because they can't survive in a digital world where people expect everything to be free. Apple had a golden opportunity to address this with their iTunes book store for iPad, but then dropped the ball because they went with the shitty "ePub" file format. Sure it's great if all you want to do is shove book text to the reader like a Kindel. But forget about having any decent formatting tools. This pretty much kills any magazine, comic, or book which requires any kind of layout for proper visual presentation. It's most certainly a decision based squarely on helping book publishers create content with a format they already know, but I can only hope that Apple eventually adds an "iMagazine" reader and backs it with PDF-like control over elements for everybody else. I was hoping... praying... that Apple would come up with something that would allow indie publishers the same kind of ability for magazine sales that indie musicians have with iTunes for music sales. Alas... not. Not yet anyway. Sure there are third party apps that can do something similar, but they don't have the power and ease of iTunes distribution behind them. Heck, I'd be happy if Apple just allowed some kind of PDF conversion to run through the iTunes Store for document sales, that would be fine. But we get nothing? Sad.
If just those two things were addressed, I'd feel a lot better about pronouncing iPad a triumph. Yes it would be nice to have some other stuff... an external memory slot... removable battery... 100% DRM-free media... a GPS... multi-tasking OS... color e-ink non-glare screen... free network access for purchases... and on and on... but those can all be explained away logically for one reason or another (whether I agree with the reasoning or not). I just don't see how leaving out an iChat camera and lacking a decent publication format can be put in that same boat. I honestly feel they belong there, or else the iPad is incomplete.
In the final analysis, I just don't know. The "iMagazine" stuff could be easily added... but a camera (if it ever comes) is a second generation hardware feature that early-adopters will miss.
Still, if you're just looking for a way to handle email, surf the web, and play with apps, I admit the iPad is an attractive alternative to a netbook. The fact that Apple put so much into polish and ease of use is just icing on the cake.
But that's always the case for Apple, and why I continue to be an Apple Whore.