Reading reactions to Apple's iPad announcement yesterday has been the best entertainment I've had in ages... and I've seen Avatar in IMAX 3-D.
The thing that as become crystal clear to me as I wade through the massive amount of hatred and disappointment is this: People. Just. Don't. Get. It. Most of the computer trade and the geek culture is at a boiling point because the iPad isn't a "real computer" and they can't play Flash content, multitask apps, make a phone call, or any number of other things. But that's like complaining that your new DVD player can't make toast... it's simply not designed for that. The iPad is a digital lifestyle device that is internet-enabled. And, even though it can do many of the things people use computers for, it was never meant to be a computer.
And that's perfectly okay. As I said yesterday, the iPad isn't for me either. I've got my MacBook Pro and my iPhone which are made specifically to meet my needs.
As I also said yesterday, the things I have a problem with have to do with what the iPad IS not what it ISN'T. It IS supposed to be a communication and connectivity device. Therefore it SHOULD have an iChat front-facing camera to compete in this arena. It IS supposed to be an e-book/media reader. Therefore it SHOULD have better layout abilities in its iBook file format to accommodate magazines, comics, picture books and the like.
And maybe that's coming in iPad 2.0, I don't know. But they're glaring omissions in an otherwise beautiful device... for its intended audience. And that would be people who just want a simple, functional, easy-to-use device for handling their media and doing occasional web surfing and email. The apps, games, and extras are just a bonus to make it an even more useful a tool for its intended audience.
And beyond.
And that could potentially be many, many individuals once that "target audience" is understood to be people who aren't looking for a computer in tablet form, but something else.
I can think of lots of people who don't really want or need a computer, but would love to have a compact device just to store their photos and share them with people. And iPad makes one heck of an amazing photo album, easily able to organize thousands of photos and display them beautifully with ease...
I can think of lots of people who don't really want or need a computer, but would love to be able to rent an occasional movie for an airplane trip. And iPad makes one heck of a media player... with a video rental store built right in! It's a better-looking movie viewer than any portable DVD player I've seen (and far less hassle for renting DVDs), that's for sure...
I can think of lots of people who don't really want or need a computer, but would love to have an easy way to look up things on the internet from time to time. And iPad makes one heck of a web browser, bringing intuitive access to the internet in a way that is natural and understandable...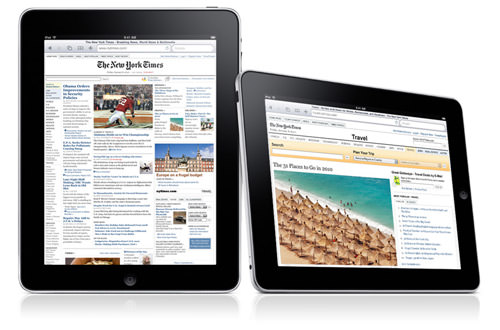 And that's just the tip of the iceberg. The fact that iPad can do so much more above and beyond these things... all so elegantly, intuitively, and easily... is a very big deal. It's a multifunctional device which can be expanded to do amazing things with the thousands of apps that are going to run on it. So dismissing iPad as nothing more than a "giant iPod Touch" is hardly a negative. iPod Touch is too small to be truly practical for many of these things anyway. Even in cases where the portability is more desired than practicality, there are still some instances where the larger screen of the iPad would be sweet indeed... such as running the amazing Ask Dave! app SUPER-SIZED...
The only question is whether or not all those people for which this device would be perfect will be willing to buy one. That's a very good question, and I just don't know. Something tells me a decent number of them will.
And once the apps start coming down the pipe which expand the iPad into areas people aren't expecting? I'm guessing it's going to be perfect for a lot more people than what most everybody who is predicting failure might think.
Apple is undoubtedly counting on it.