Oh boy! It's Bullet Sunday once again! This will have to be a quick one, because I have got a lot to do before I fly out again on Friday.

• iTunez! I have a laundry list of things I hate about Apple's "iTunes Music Store" (particularly after the last shitty upgrade they forced on us)... but dealing with App Store update insanity is currently the thing pissing me off most. It's just so damn irritating the way that the process never... NEVER... makes things easy on you. You're constantly being interrupted with bullshit alert messages that are so astoundingly stupid that you have to wonder if Apple is being staffed by morons. Take, for example, the "You Are Downloading Age-Restricted Materials" alert...

Yes, I know. And the reason I know is that I get this dumbass alert EVERY TIME I UPDATE MY APPS! Can't iTunes REMEMBER that I'm an adult so I don't have to go through this shit each time? And what's truly asinine is that the apps themselves are not adult-oriented... it's just that they access the internet where adult-oriented stuff might pop up. And it's not like underage kids are going to see this and go "Oh, I'm only 16, so I guess I'd better stop the update" either. I feel safer already!
And what about mystical crap like the "You Have Already Purchased This Item" alert...

Yes, you stupid pile of FAIL!, I want to download the shit I've purchased! Why WOULDN'T I want to download it. ESPECIALLY IF IT'S AN UPDATE TO SOMETHING I ALREADY PURCHASED?!?! I mean, SERIOUSLY?
And then there's my FAVORITE message. It's the "The Item You Tried to Download is No Longer Available" alert...

If it's no longer available, then why try to download it? But the biggest problem? THEY DON'T TELL YOU WHICH FUCKING APP IS THE CULPRIT! The error appears again and again and again until you manually download each app until you figure out which one is no longer available so you can manually delete it from the session. It's about the stupidest damn thing I've ever seen out of Apple. IF IT'S NOT AVAILABLE, THEN STOP TRYING TO DOWNLOAD IT YOU WORTHLESS PILE OF CRAP!! Can't you just eliminate it from the update session AND STOP BOTHERING ME?!? Completely stupid. BEYOND completely stupid. This is a bug of epic Microsoft proportions, and a total embarrassment to Apple.
The iTunes Music Store is so hopelessly idiotic now that it begs the question... DOES APPLE EVEN BOTHER BETA-TESTING SHIT ANYMORE? EVER?!? This is amateur hour stuff, and it's starting to really piss me off.

• Gleek! After listening to the non-stop raves from practically everybody, I finally broke down and watched the latest episode of Glee on Hulu entitled Wheels. Before I get into the horrors I was subjected to, I should preface this review(?) by saying that I can't stand musicals. It freaks me out when people suddenly break into song and dance for no particular reason, and the ... unreality... of it all drives me bat-shit insane. From what I understood, Glee was different because it was about kids in glee club, so there's context for all the singing and dancing crap. Except... the first thing I see? Some guy in a wheelchair starts mangling Billy Idol's Dancing With Myself then, you guessed it, starts wheeling around his school where nobody seems to notice that he's singing his guts out the whole time. Nobody says a damn thing...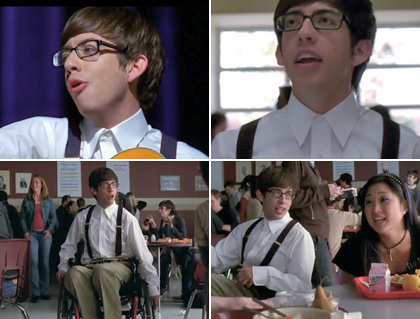 It's not at all freaky that nobody notices I'm singing!
Guy in the wheelchair kind of set the tone for the "Breakfast Club" theory of random casting, except they took it to the next level. Handicapped Kid, CHECK... Jock Kid, CHECK... Gay Kid, CHECK... Bad Boy Outsider Kid, CHECK... Black Kid, CHECK... Asian Kid, CHECK... Spoiled Jewish Princess Kid, CHECK... Stupid Blonde Kid, CHECK... Pregnant Kid, CHECK... Down Syndrome Kid, CHECK... it goes on and on and on. It's as if they told the casting director "Give me one of everything!" so it would make the writing as easy as possible. Which makes sense when you start noticing that everybody gets double-duty BONUS FEATURES!! Pregnant Kid, for example, is also Slutty Bitch Popular Christian Kid, who is terrorizing her current boyfriend to pay her for pregnancy support when she knows that the real father is actually (drumroll of un-shock) Bad Boy Outsider Kid! And don't forget the teachers! Lawful-Good Glee Club Teacher simply must have his stereotypical nemesis with Chaotic-Evil P.E. Teacher...


We're the stereotypical bitches of Glee!
The only part of the show that was remotely interesting to me was Down Syndrome Girl, which may seem a little too "Corky" from Life Goes On, but actually kind of works. Too bad they had to go and spoil it by building a hokey mystery as to why Chaotic-Evil P.E. Teacher could possibly want to put her on the cheerleading squad (especially when the predictable answer is a retread plot device that has been used in a billion other television shows for faux-drama heartstring pulling)...


ZOMFG! Why is the Chaotic-Evil P.E. Teacher being so nice? Yep! Exactly why you'd think she is.
And, of course, what would the show be without the big musical number finale? We'll never know, because the writers are just that predictable. But to be EXTRA tacky and manipulative, lets take the Featured-Kid-Of-The-Week cliche (Wheelchair Boy) and build a musical number of love and acceptance... by making everybody sing Proud Mary in... you guessed it... WHEELCHAIRS! Wheee...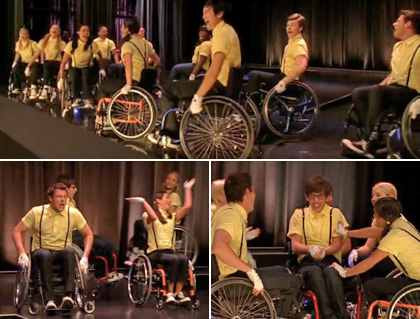 Uhhh... yeah. Really, really, didn't like Glee. Didn't "get" it at all. Though, to be fair, I am not a part of its target audience of musical-lovers. Except... even without the musical numbers... the stereotypes, cliches, predictability, and gag-inducingly obvious emotional manipulation would kill it for me. Oh well. It's perfectly okay that everybody doesn't like the same things. On the contrary, in this case it's critical for maintaining my sanity.

And that will have to do it until next week...