As I was pouring through the hundreds of emails piled in my inbox, Hilly emailed me to ask if I had watched The Simpsons last night, which I had not. After she mentions that Betty White had a cameo, I became obsessed with seeing it. A quick trip to the iTunes Store reveals that episodes aren't sold there, so BitTorrent it is. I remain dumbfounded as to why television studios are this fraking stupid. Here I am gladly willing to pay money for something that they have, and yet there's no way to buy it. I will, of course, buy the Season 18 DVD set when it becomes available (I buy all The Simpsons DVDs) but this is ridiculous. I cannot help but wonder if the execs at FOX Studios get together with Matt Groening at the end of each week and burn a big pile of money, since they obviously have no interest in maximizing their acquisition of it.
In any event, Betty has done it once again. Her brief appearance on the show after Homer has become one of the paparazzi was priceless...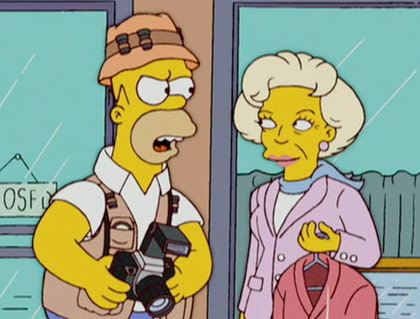 Speaking of priceless, my beloved Elizabeth Hurley is making waves because of her stunning appearance at Elton John's birthday party...
And photos of her Indian wedding ceremony have finally surfaced...
Elizabeth Hurley... delicious on any continent!
Speaking of delicious, is it wrong that I actually want to see the latest Will Ferrell comedy, Blades of Glory?
Every time I see the previews, I laugh. And tonight I watched the Comedy Central "inside look" on the movie and want to see it even more. This is quite disturbing to me, because I'm pretty sure that I would normally avoid this kind of crap like the plague.