After yet another three hours driving, I'm back home. For a day.
And since I have limited time to get my act together, I am trying very hard to get caught up with work, re-pack my suitcase, read blogs, and sort through the 137 emails jamming my in-box. One of these emails was from somebody saying "mind your own business," which I thought was odd. I mean, usually when I get emails like this, people will cram in all kinds of profanity and at least tell me what it is I said that they didn't like. This one left me clueless.
So I did a little digging, matched the IP address to my server logs, then tracked the referring link.
It seems some journalist guy linked to Blogography in an article he wrote about the awesome new logo for the Milwaukee Admirals hockey team. For reasons unknown, he thinks my name is "Jersey" even though my name and photo are at the top of my sidebar on every page. Turns out both myself and Brandon (from Sports Logo Pundit) are being linked so he can show how there are some people who like the logo despite a vocal group of Milwaukeans who hate it...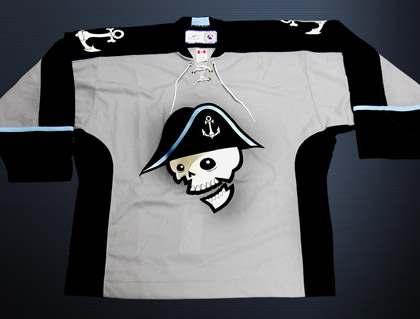 Oddly enough, the journalist guy DIDN'T link to the entry I wrote about how much I love the logo... which means many people who come here from his article just turn around and leave because they aren't finding anything about the Admirals' new look. The internets are confusing that way.
But this one guy managed to track down the entry, decide that I'm full of crap, then goes to the trouble of telling me to "mind my own business" but doesn't tell me why.
And now I have no idea why I just wasted my valuable time to figure that out.
But I was happy to learn that Milwaukee Admirals merchandise sales have increased 600% (and the season doesn't even start until October). Sweet! I can't wait for my jersey to get here, and will probably buy even more logo crap when I'm back in Milwaukee later this year.
In television news... BETTY F#@%ING WHITE WILL BE ROASTING WILLIAM SHATNER ON THE NEW FRIAR'S CLUB ROAST ON COMEDY CENTRAL ON AUGUST 20th!! Holy crap! BETTY KICKS ASS!
Looks like The Shat truly will be hitting the fan on Sunday. Hopefully I'll be home again by then.