I don't get sick very often, for which I am most grateful. On those rare occasions I do get sick, I don't like to talk about it. I can't stand listening to somebody else's health problems, so why would anybody want to listen to mine? I've just never understood these people who like to get together and discuss all the bizarre crap that's wrong with them. Especially in public. I'm always the guy wanting to scream "NOBODY CARES IF YOU HAVE HEMORRHOIDS, BITCH!" whenever I come across these absurd conversations which people happily have in restaurants or the mini mart. Some things should be kept private.
But I just can't help myself.
Last night I had the worst case of flaming diarrhea farts ever...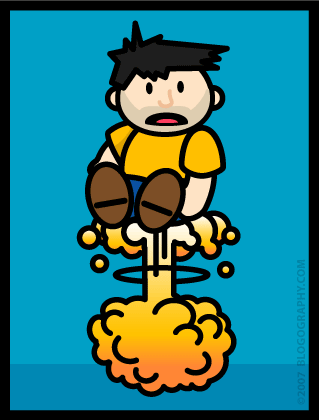 Seriously. There were moments I didn't know what was going to happen, and other moments where it felt like my ass was on fire. The entire evening is a blur of one horrible moment after another. And the worst part is that I have no idea what caused it. Nothing I ate could explain the drama going on in my bathroom. No Super Bean Burritos. No Cabbage Milkshakes. No Double Prune Danishes. No Pints of Guinness. It was a total mystery. My ass was rebelling against some unknown offense that I still don't understand.
When I finally went to bed, it was because there was nothing left in me to expel. The only thing I was filled with was dread at the thought of waking up and having breakfast the next morning. What if it started all over again? As a safety precaution, I consumed a bottle of Pepto Bismol and a half-box of Imodium.
But everything turned out akay in the end (heh heh). I woke up, had breakfast, and my day was pretty much normal.
If only I could erase the memories.
In less nasty news, OMFG! Geeks of Doom is reporting Variety as saying that we're going to be seeing a Lego Batman videogame in 2008! Just when I think that the Lego Star Wars videogames were about as cool as things can get... this happens. The Lego Batman toys are super-sweet (combining two of my favorite things ever!), and I can't wait to see how they translate into a game. Just hearing this makes me want to start playing Lego Star Wars all over again.
I mean, holy crap! It's Lego F#@%ing Batman... IN A VIDEOGAME!!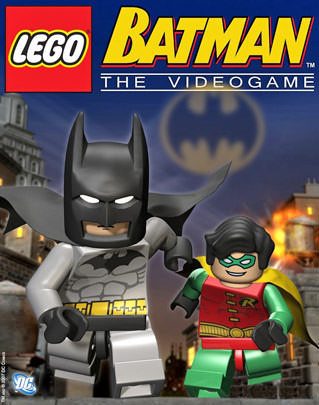 And that's all she wrote.
Unless you want to read about how confused I am by the configuration of Adobe's new "Creative Suite 3" bundles, which I've put in an extended entry...
I love Adobe. Their products allow me to express my creativity with a freedom that is unprecedented. I have been using Adobe programs like Photoshop and Illustrator for over 15 years now. Other programs, like InDesign I've adopted over rival applications from day one, based solely on previous positive experience. So when Adobe bought out Macromedia, I was hardly upset. The tight integration of essential tools like Flash and Dreamweaver into the Adobe product line would be a very good thing.
But it turns out this is only half true.
I'm sure the Macromedia programs themselves will be fine under Adobe. What I don't get is the way Adobe has chosen to bundle their new applications. If you are a user of both Adobe Creative Suite 2 and Macromedia Studio MX, you can't get all of the programs they contain in any one bundle. Well, you can, but it's the "Master Collection" which no Mac User is probably going to want, because they would already be using Apple's "Final Cut Studio" for video production, and don't need all the Adobe video apps.
Here is a list of Adobe (and former Macromedia products) I use...
Photoshop
Illustrator
InDesign
Acrobat Pro
Flash
Dreamweaver
Fireworks
Contribute
With that in mind, look at this product matrix for the new Adobe Creative Suites 3. Specifically, note the lack of overlap between InDesign, Fireworks, and Contribute in the bundles...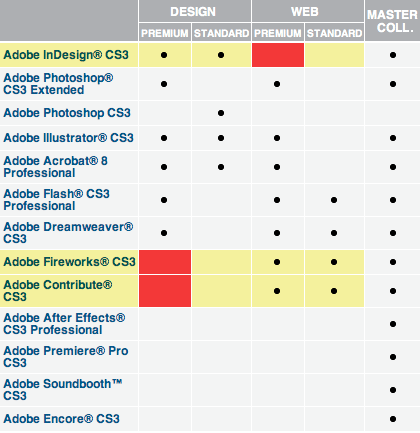 If you happen to use all three programs, as I do, your options become murky. I suppose you could upgrade "Design Premium" ($440) and then upgrade Fireworks ($149) and Contribute ($79) for a total price of $668, but this doesn't seem fair. As a registered user of BOTH Adobe Creative Suite 2 and Macromedia Studio MX, why shouldn't I be able to get a bundle discount on all the programs they comprise? Why isn't there a combo bundle for $500 or something? It doesn't make much sense to me (what, are Fireworks and InDesign users mutually exclusive?). I'd hope that this isn't a slam against Mac customers who use Final Cut Studio so Adobe can push the "big bundle," but who knows?
Fireworks has always been a bit of a hassle due to lack of integration with Illustrator and Photoshop... but now that it HAS been integrated, I want it pretty bad. It handles vector graphic conversion for web nicely (which ImageReady does not) so it's probably more useful than it's ever been. That just makes the bundle configurations so much more puzzling.
Anyway, I've got my pre-order in for "Design Premium." It's supposedly being released in April sometime, which is fantastic. I am tired (oh so VERY tired) of the non-stop crashes that plague Illustrator and InDesign on Intel-based Macs.
And lastly, a moment of silence for Adobe GoLive (which I've used since it was CyberStudio GoLive 1.0, now replaced by Macromedia Dreamweaver) and Macromedia Freehand (which I rarely used, replaced by Adobe Illustrator)... both now gone from this world.
Here's hoping this evening is flame-free.