It's Bullet Sunday and I'm another year closer to death!
• Thanks! Well, shucks. Thanks to everybody who was nice enough to leave birthday comments. Thanks to everybody who sent birthday emails and eCards. Thanks to everybody who called and sent birthday text messages. Thanks to everybody who sent me birthday presents and cards. Thanks to everybody who wrote birthday wishes to me in their blog entries. I am so very grateful to everybody, and am most pleased that I seem to have fooled so many people into thinking that I am somehow deserving of such kindness and generosity.
• Behind. The bad thing about goofing off all weekend is that you get behind on email and blog reading. The bad thing about drinking all weekend is that you have no desire whatsoever to get caught up on your email and blog reading once you get back home...

• Panera. Living in a smaller city is kind of sad in that your dining choices are so limited. As an example, there is no place to get Indian food in the entire valley. We have fifty Mexican restaurants, but not one Indian restaurant. We are getting a bit lucky that some of the better chains are making their way to Wenatchee... there's an Applebees and a Red Robin here now (in addition to all the usual fast-food shops). But there are restaurants I really like which have not yet arrived. I'd kill for a Johnny Rockets. I'd love a Chili's. And then there's IHOP, Olive Garden, and TGI Friday's, all of which I would enjoy as dining options. But my latest obsession is Panera Bread. This weekend I was able to eat at their Alderwood location, and had one of the best sandwiches ever... the Panera Mediterranean Veggie which is described as "zesty piquant peppers, feta cheese, cucumbers, lettuce, tomatoes, onions and cilantro hummus on our Tomato Basil bread" (I hold the cucumbers). To say it was "delicious" is an understatement of massive proportions. Now I'm going to spend the next month craving another one. In some ways I dread the idea that Wenatchee will ever get these restaurants, because I'd probably weigh 500 pounds from eating at them all the time.
• Manning. Who could have guessed that Peyton Manning would be so good hosting Saturday Night Live? I just wish that they would give the President Bush impersonations back to Will Forte (instead of Jason Sedakis). It's not that Sedakis is bad, it's just that Forte offers a more sympathetic blundering to his parodies which I find funnier...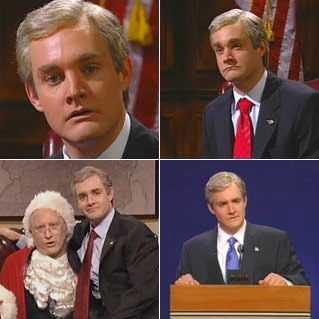 Photos swiped from WillForte.net
• Done. Argh. I was going to write more bullets about being gifted the latest iTunes episode of Lost, running across somebody whom I thought was dead, planning my first real vacation in 10 years, finding $40 I didn't know I had lost (in a very unlikely place), why aquamarine is a crappy birthstone to have, and a meme about magazines, but it's 11:55pm and five minutes isn't enough time to do any of that. So I guess it will all have to wait for another time. Though I have about 120 blogs to read and 211 emails to look at, so I have no idea when that might be. Probably never. I need to hire a blog ghostwriter or something.