I'm hungry.
And it's not the kind of hungry where you just eat something to make it go away. It's the kind of hungry where you are more interested in the experience of eating than just having a full stomach. At times like this my mind starts racing with memorable culinary experiences I've had, followed by an incessant need to list some of them (which I will, in an extended entry), followed by the sadness I feel over writing about food I've enjoyed when so many people in this world go hungry... really hungry... every day...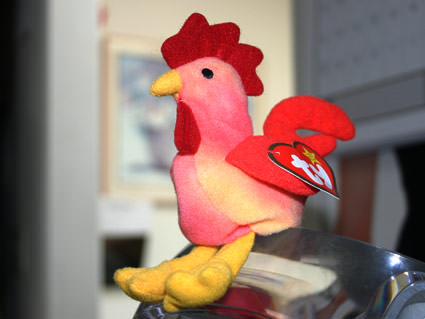 My McChicken reminder of Happy Meals and hunger.
Hmmm... errr... uhhh... if anybody knows of a good way to seamlessly transition from talking about food to talking about urinal cakes, please let me know. In the meanwhile, I'll do what I usually do, and use the "blunt force" method which involves simply starting a new paragraph.
What is the deal with urinal cakes being PINK? And it's not even a manly kind of pink... it more of a feminine pink that you'd find on panties (not that I am claiming to actually own any of these panties) or a little girl's bedspread (not that I am claiming to be uncomfortably familiar with little girl's bedding preferences)...
Every time I step up to a urinal and find a little pink hockey puck floating in the bottom, I want to scream at the injustice of it all. Urinal cakes should be BLUE... or maybe even GREEN... but not yellow and certainly never, EVER, pink. If I were forced to choose between a bathroom which smelled like rancid urine and one that had pretty pink pellets in the urinal, I'D CHOOSE THE RANCID URINE SMELL EVERY TIME!! It may be unpleasant, odor-wise, but at least I won't have to suffer the indignity of having what little manhood I posses assaulted by girlie urinal cakes.
Anyway, if you have any appetite left at all, a partial list of favorite food experiences are in an extended entry...
Ten experiences in culinary excellence that I would re-live if I had the time and money to do so...
Fly to Columbus, Ohio and have no less than three servings of "Pasta Salvi" from Salvi's Bistro. Pasta Salvi is the singular most sublime food I've ever put in my mouth. They take a heavy-cream white sauce, layer it between lasagna noodles with cheese, refrigerate until solid, slice into chunks, roll the chunks in bread crumbs, deep-fat-fry the chunks until golden brown, bake until heated, and then top with red sauce and mozzarella. I used to go to Columbus a few times a year for work, and ended up eating Pasta Salvi three times a day. If I lived in the city, I would weigh 700 pounds and live in a tent in Salvi's parking lot. I have dreams about eating Pasta Salvi, and hope to make it back again this year (fingers crossed). Orgasmic.
Drive to Spokane, Washington for two slices of "The Da Vinci" at David's Pizza with a bottle of Stewart's Orange Cream Soda. I have eaten pizza all over the world and can honestly say this is the best pizza I've ever tasted. Contemporary, hand-tossed crust is topped with red sauce, mozzarella, and feta cheese. After baking to perfection in a pizza oven, the pizza is topped with fresh tomato slices and served hot. I actually like the pizza best when it has set out and is reheated, but will take it any way I can get it.
Fly to London, England for an "Egg and Fire-Roasted Tomato Sandwich" from Pret-A-Manger. The best breakfast sandwich ever. Period. A fantastically crusty baguette is the foundation on which perfection is built. I eat them every single morning I'm in the UK. Oddly enough, the Prets I've eaten at in Hong Kong and New York do not have this miracle sandwich.
Fly to New York, New York for a bagel with cream cheese from Ess-a-Bagel in Midtown. My beloved Pick-A-Bagel has closed up shop, so I found a new love at Ess-A-Bagel which serves up a nice, big, perfectly chewy bagel that makes any "bagel" you can get here in Washington taste like total crap.
Fly to Paris, France and have a Belgian Waffle from the street vendor at the base of the Eiffel Tower "avec du sucre s'il vous plaît!" All desserts and pastry taste better in Paris than anywhere in the world. So much so, that I pretty much eat nothing else when I am in the city. I start with the best croissants on earth, dripping with savory butter for breakfast, then descend into a orgy of sugar-filled debauchery from there. As the night comes to a close, nothing finishes the evening better than a walk to the Eiffel Tower for a Belgian waffle from the street vendor that's across the street next to the small carousel off Le Pont d'Iéna. Something about the way they warm them up and dust them with powdered sugar makes them the best dessert ever. Being surrounded by the magic of Paris is probably the reason it tastes so good, but whatever...

Fly to Rome, Italy for Fettucini Alfredo from Alfredo alla Scrofa and gelato for dessert. The biting awesomeness of parmesan cheese, hand-tossed over butter noodles at your table for REAL Fettucini Alfredo from the restaurant that invented the dish. Once you've had the real thing, the junk you order anywhere else tastes like flavorless noodle paste with crap poured on top. And, since any trip to Italy would be pointless without having a cone of stratiacella gelato for dessert, a trip to a neighborhood gelateria is essential.
Fly to Vero Beach, Florida for a side-dish of "Smashed Potatoes" from Shutters Restaurant at the Disney Resort. I love potatoes. A lot. Usually I satisfy my craving by heading to Taco Bell for a bowl of Cheesy Fiesta Potatoes. But if I had a choice, I'd head to Shutters at Vero Beach for their lumpy, bumpy, leave-the-skins-on, not-quite-mashed potatoes that are so good they simply must have tons of butter and sour cream blended in. Or crack cocaine, which would be okay too. Hopefully it's not chicken broth, which would be bad. But these taters are so amazing the chicken sacrifice would be worth it.
Fly to Thailand for uhhhhhh... Thai food. Other than the pleasure of the people, scenery, and landmarks... the food in Thailand is amazing. From the cheapest street vendors right up to the priciest of restaurants, Thailand serves up one delicious vegetarian dish after another. My favorite food memory from Thailand was eating rice with a sweet-and-sour pineapple sauce in a restaurant that was out in the middle of Phang Nga Bay that is reachable only by boat. Talk about atmosphere. After Italy, Thailand is home to my favorite foods.
Fly to Barcelona, Spain for tapas at an authentic tapas bar off Las Ramblas. Having authentic Spanish tapas from an authentic tapas bar is an experience that's really hard to top. Being vegetarian, I stick mostly to the cheese and potato-based dishes, but there are dozens of varieties to choose from, so that's never a problem.
Fly to Edinburgh, Scotland for a vegetarian dinner of anything at David Bann's just off The Royal Mile. Though this restaurant is tied with "Greens" in San Francisco for my favorite vegetarian restaurant... the fact that it's located in my favorite city on earth gives it the edge. Everything on the menu is sublime, but I had a cheddar tart that was so good I nearly applied for citizenship. Even if you're not a vegetarian, the food here is worth the trip.
Five "local" runner-ups...
Fly to Chicago, Illinois for pizza from the Giordano's on 730 North Rush. Love their deep-dish pizza with a cold beer on a hot day. For dessert, I'd walk up the street to the Johnny Rocket's and have a Streamliner Burger (it's veggie) with no grilled onions and extra mayo.
Drive over to Seattle, Washington for a plate of "Cappellacci di Zucca" from Il Fornaio at Pacific Place. The sweet goodness of butternut squash is blended with walnut bits, tucked into ravioli pasta pillows, topped with a succulent red sauce and brown butter, then accompanied by fried sage leaves (which are magic when crumbled on top with a freshly-grated parmesan). For dessert, I'd walk upstairs to Johnny Rocket's and have a Streamliner Burger (it's veggie) with no grilled onions and extra mayo.
Fly down to San Francisco for a loaf of Sourdough French Bread from Boudin's on the wharf with plenty of butter. My favorite bread in one of my favorite cities. For dessert, I'd walk up the street to the Johnny Rocket's and have a Streamliner Burger (it's veggie) with no grilled onions and extra mayo.
Fly to San Antonio, Texas for perfect cheese & onion enchiladas on the Riverwalk with plenty of sour cream. I'd list a restaurant, but I've eaten at three different properties on the Riverwalk, and all of them were excellent. I can only guess this means that San Antonio has the most perfect Mexican food ever. For dessert, I'd take a leisurely water taxi around the loop and hop off at Commerce Street so I could walk up to Johnny Rocket's and have a Streamliner Burger (it's veggie) with no grilled onions and extra mayo.
Drive over to Seattle, Washington for naan and eggplant bharta from Maharaja Indian Restaurant on East Pike. I've had a lot of Indian food in a lot of cities, but I always come back to Seattle for my very favorite. For dessert, I'd walk down the street to the Johnny Rocket's across from Pike Place Market and have a Streamliner Burger (it's veggie) with no grilled onions and extra mayo.
Well this didn't help me out at all... now I am more hungry than I was when I started. Something tells me the peanut butter sandwich I'm having for dinner isn't going to fix this.