About the only thing I want more than for Jeremy Piven's Cupid to be released on DVD is Nintendo's new Wii gaming console. As more and more footage of gameplay with the Wii controller is released, I just get more and more anxious to have one. The only problem being that I will never have time to play it. Case in point: as excited as I was for Lego StarWars 2 to be released a month ago, I've only had the chance to play it once.
Yet, as sad as this is, my enthusiasm is not diminished...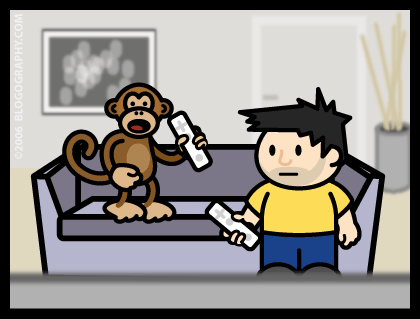 I think that if they were to come out with "Lego Star Wars Light Saber Duel" for Wii, I would probably have to stop working, sell all my possessions, then move into a studio apartment that had nothing more than a couch, a television, TiVo, a DVD player, and Wii.
I guess if you had to say goodbye to your life, that's not a half-bad way of doing it.
Though, to truly make the experience complete, they'd have to come out with "Wii Virtual Hooker." If I had that and Pizza Hut delivery, I'd never have to leave the house again.
Bleh. I need a nap...