I feel so violated! I just rode twenty-seven floors with a couple who were going at it in the elevator. Without sounding like a total prude... ew! Surely they realize that nobody wants to see that? I mean, if I were trapped in the elevator with two lesbian porn stars, maybe... but this dopey guy and his skank-ho girlfriend? No thanks. Some people should be banned from displays of public affection (and, unless you actually ARE a lesbian porn star, this means you).
Tonight's dinner was at one of the best Thai restaurants outside of Thailand... Vong's Thai Kitchen. They have a "Yellow Vegetable Pad Thai" to die for. Succulent, flaky noodles that aren't the least bit gummy! Here is what I got out of my Thai fortune cookie at the end...
If you cannot read my drunken photo, it says: "Everyone agrees you are the best". I never really doubted this, but it's nice to have proof in writing.
I woke up with mild pain in my back and only a little tenderness in my leg... so apparently I am going to survive getting run down in the street yesterday. This is a good thing, because it means I don't have to take pills (which I hate, because it makes me sleepy all day). It also meant that I got to bum around the candy expo here in Chicago. It's always a cool event, mainly because I love me the free samples of sugary treats! There were many wonders to behold, but two things stood out for me...
The first is CHOCOLATE PEEPS!! Yes, Peeps are now available cocoa flavored! I like Peeps, even though I can't eat them (marshmallow has gelatin, which is made from gross animal parts I refuse to stick in my mouth)...
Maybe it's just that I like saying "Peeps" a lot?
Next up was the PEZ booth. PEZ is a candy I love and actually DO eat. The big surprise was that they had the American Chopper guys from Orange County Choppers make them a cool bike...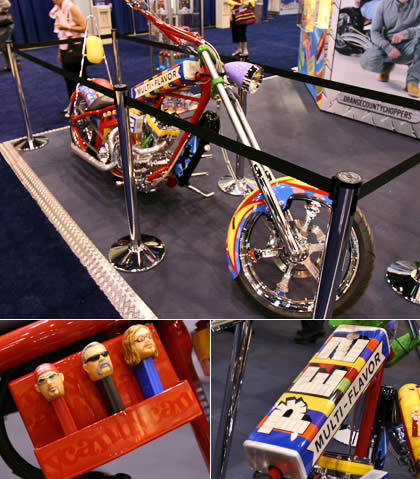 And that's all she wrote. It has been a very long day.
BUT BEFORE I GO... in deference to Mistress Eve on this most auspicious date of 06-06-06, I am hereby recognizing "Day of Slayer" by rocking out to the ever-excellent death-metal classic album South of Heaven on my iPod (yes, I know you are supposed to blast without headphones, but they would most certainly kick me out of the hotel for that!). Slay on my Mistress of Metal!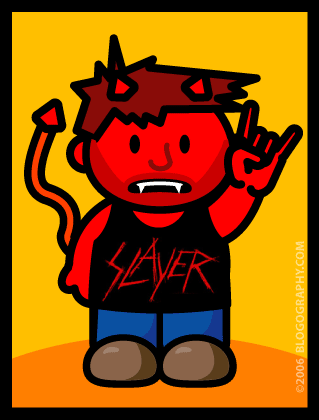 ♫ The root of all evil is the heart of a black soul... a force that has lived all eternity! ♫ A never ending search for a truth never told... the loss of all hope and your dignity! ♫