Long-time Blogography readers will know of my good friend Bad Robert. He was one of the earliest supporters of my blog, one of my very first commenters, and has been providing fodder for my entries for years. If you don't know Bad Robert, then you should read my infamous "Blue Balls Button" entry to get a feel for what I have to deal with (metaphorically speaking).
Anyway...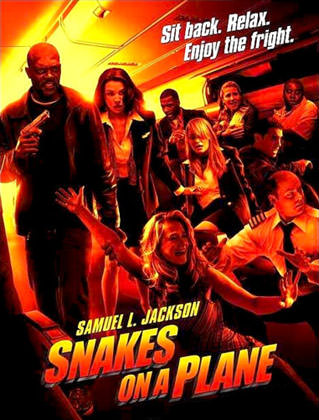 For the past few weeks, Robert has been calling me up at random times during the day and night... screaming "SNAKES ON A MUTHERF#@%ING PLANE!"... then hanging up. To say he is psyched to see this movie is an understatement of gargantuan proportions. I can only guess that this kind of insane behavior will escalate until the film actually drops in two days.
This morning as I am getting ready for work, my mobile phone rings and I see it's Robert calling. I prepare myself for being screamed at, but the actual conversation was quite different...
phone rings...

Dave: WHAT?!?

Robert: Did you know that you came up with the idea for Snakes on a Mutherf#@%ing Plane??

Dave: Errr... no? What are you talking about?

Robert: I was Google searching and your blog came up. I clicked on it, and there it was... YOU came up with the idea for Snakes on a Mutherf#@%ing Plane back in 2004!

Dave: Wow. I'm going to have to hunt down Samuel L. Jackson and get my mutherf#@%ing check!

Robert: No doubt. And don't forget who told you about it when you get mutherf#@%ing paid.
I had no idea what he was talking about until I looked through my archives.
And there it was...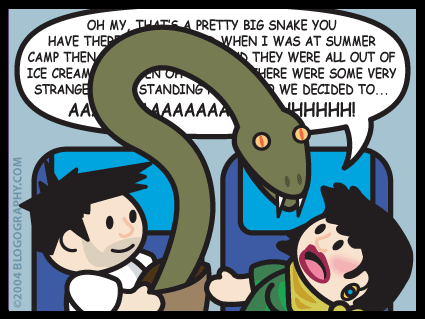 Bad Robert was right. I DID come up with the idea on mutherf#@%ing July 19th, 2004. Don't believe me? Then go and read it for yourself!
Somebody is getting mutherf#@%ing sued.
UPDATE: Turns out Robert wasn't the first to bring this to my attention... I totally overlooked the comment from Cat that was left earlier this week! Great. Now she's going to want to get mutherf#@%ing paid too!