Despite an occasional Davetoon here on Blogography indicating otherwise, I am about as non-violent a person as you are likely to meet. I don't even kill spiders that wander in my home, preferring instead to take them back outside (after feeding them tea and cakes, of course). The power to destroy is so easy... it's the pussy's way out, really. Those who instead choose to cherish life and find a non-violent path to follow are far stronger in my eyes. That's not to say I don't enjoy violence in my entertainment but, when it comes to the real world, violence should be a last resort, and despised as an act of desperation and weakness.
I tell you this so that you can fully understand that when I say I'd like to make MP George Galloway suck on a stick of dynamite so I could happily light the shit up and blow his f#@%ing head off... well, you'll know exactly how bad I feel about having said it...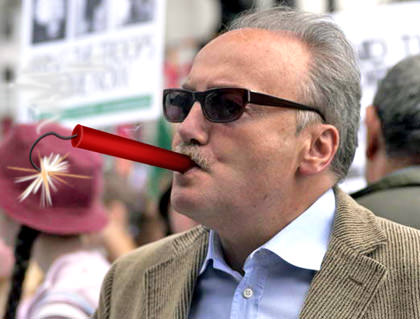 The only surprising news here is that this time the idiot in question is not an American politician. I'd say it's a pleasant change of pace for it to be some other country's turn to be embarrassed by a politico-asswipe, but I'm trying to be diplomatic here.
As a "Member of Parliament" in the UK, you'd think that he would have even a semblance of respect for his British countrymen who were ordered to serve in the Iraqi war... but he has absolutely none. I mean, once your own government has elevated the enemy to martyrdom, it's kind of a morale killer, if you know what I mean.
I am, for the most part, not happy with the idea of war. But this has absolutely nothing to do with whether you are pro-war or anti-war... it's about supporting some brave soldiers who are in serious danger not because they love the idea of treading into a war zone and possibly getting killed... but because they are just doing their job. Right or wrong, YOU f#@%ING SUPPORT THOSE WHO ARE BRAVE ENOUGH TO FIGHT FOR YOU AND YOUR COUNTRY! Even when you disagree with the politics that guide them. I mean, this may not be the war that these guys signed up for, but they're still your home team, and kicking them from the sidelines while they're struggling to survive and you're safe at home makes you a total pussy.
As a soldier trying to stay alive, there's nothing quite like your enemy getting a pep talk from your own government to ruin your day. I shudder to think what sort of mayhem this might incite against allied troops as they try to get through this horror. I hope they know that for every totalasslickingdumbassfucktard that has no concern for their well-being, that there are legions of others who support them. Be safe. Come home soon.
For the whole sad story, visit the BBC.
Movie Quotable of the Day:
"Just when I thought you couldn't get any dumber... you go and do something like this and totally redeem yourself!"
Yesterday's Answer:
Raising Arizona
(1987) with Nicolas Cage and Holly Hunter.