This weekend I received no less than EIGHT emails from Blogography readers telling me of the "happy" news that Elizabeth Hurley was finally going to marry her long-time millionaire boyfriend, Arun Nayer. It was kind of nice, because everybody tried to break the news as gently as possible, and pass along their condolences.
And, though there is -zero- chance that I would ever end up dating Elizabeth Hurley, it still kind of stung a little bit. The world's most beautiful woman was going to be off the market...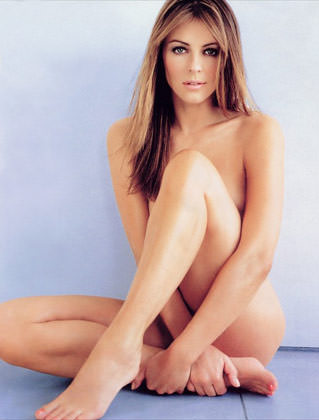 First she's removed of Project Catwalk, and now THIS?!? Not a good month for Elizabeth Hurley stalkers such as myself. But then, just as suddenly as it happened, things started to change when I check my Elizabeth Hurley news feeds...
Liz Hurley has dismissed rumours that she is planning to wed millionaire boyfriend Arun Nayer.

The actress was reportedly spending time looking at possible venues for the ceremony in the English countryside, but Hurley is quick to deny she has any marriage plans.

She said: "It's not true, it's all fiction, fiction. I'm in the country at the moment and I have about 50 helicopters circling overhead, but all I've done it feed the chickens and water the flowers."
And then I get the news that Elizabeth Hurley has been chosen to be the new face for Jordache...
NEW YORK, July 21 /PRNewswire/ -- Jordache will unveil a national advertising campaign featuring model and actress Elizabeth Hurley. Shot by famed photographer Michael Thompson in his NY studio, the campaign features Hurley clad in classic Jordache Jeans, edgy with a whip and the iconic Jordache horse. The first ad will run in national publications beginning in September and will run through the holiday season.
Liz with a whip? Well doesn't that sound delicious! Jordache's web site is all blurred out, but if you dig around the internet, you can find a tiny little picture of what's coming...
Oh yeah. That's the ticket. Add that to the second round of "Got Milk" ads that are starting to hit...
And, of course, there's Elizabeth Hurley's Swedish ads for MQ where we get to hear her utter the words "Swedish Penis Pump"...
And all the world is right again.