Oooh. Yet another ball-scorching heatwave of a day.
A good day to die.
Which I very nearly did because some dumbass in a pickup truck almost ran me over as I was walking to the bank. He took off from a stop light and never once looked forward. He was instead looking off to one side the entire time. I dunno... maybe he saw something shiny and was distracted? Whatever. All I do know is that he wasn't looking where he should have been, and would have run me down right there in the crosswalk had I not been paying attention. I literally had to jump out of his path to avoid getting splattered.
Why does this keep happening to me?
I really do need to get my Dumbass Books printed, because I would have loved to staple a copy to a brick, throw it through his rear window and imbed it in the back of his stupid head...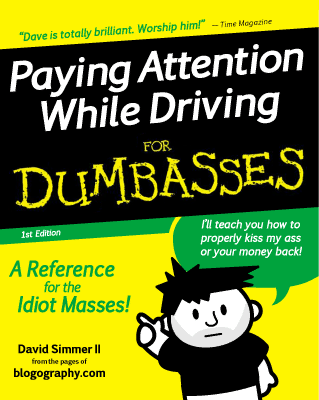 Oh how I am getting tired of living in white-trash rural America.
On Sunday I went to the grocery store. On my way back out, I noticed a guy in the passenger seat of a car screaming obscenities to a woman who was getting out of the driver's side... just two spaces down from me. She wasn't taking it lightly, because she was yelling it back as good as she was getting...
CRACKER BOY: STOP BEING A BITCH! JUST GIVE ME THE F#@%ING MONEY SO I CAN GET THE F#@% OUT OF HERE!!

CRACKER BITCH: SHUT THE F#@% UP! I'M NOT GIVING YOU SHIT!!

CRACKER BOY: F#@%!! F#@% THIS SHIT!!
I slowed down a bit, because I was seriously worried that the guy was going to jump out of the car and start beating on her or something. But, after they screamed for a minute longer, I heard THIS as I was putting my groceries in the trunk and the woman headed off to the store...
CRACKER BOY: MOM! MOM!!! COME ON! GIVE ME THE F#@%ING MONEY!

CRACKER BITCH: YOU CAN GET A F#@%ING JOB IF YOU WANT YOUR F#@%ING MONEY!!
I mean, holy crap!
This is how he talks to his mother?!? He looked like he was still in high school!
If I were to have mouthed off like that, my dad would have beat the shit out of me to within an inch of my life.
At least I HOPE he would have.
Parents simply aren't passing out much-needed ass-kickings anymore. I weep for the future.