Because I've been busy with work and processing T-shirt orders, I'm running behind in my email replies and haven't had much time to respond to my comments (though, rest assured, I treasure each and every one I get, and DO read all of them when I approve them). But the other day I got an email which kind of bothered me, and I thought I'd put it out there before I lose any sleep over it.
Basically, this guy told me that my blog isn't very funny, and if I want to write a humor blog that I should try writing more amusing entries.
This really puzzled me because at no point have I ever claimed that Blogography is a "humor blog". I write what I write. Sometimes funny things happen to me, so people might think of this site as being humorous from time to time... but I don't sit down and think "I'm going to be funny" when I write.
So I wrote back to the guy and asked him what the deal was. Turns out I am up for some kind of "humorous blog" award, and so he showed up here on a day when I was ranting about Windows Vista and couldn't find the funny he was looking for.
I've been up for awards before (and have even won some) I just never talk about it here, because I don't blog to enter contests or win awards. This doesn't make me ungrateful... I am really honored that anybody finds Blogography entertaining enough for something like that... it's just not something I want to spend my time thinking about.
But, since people are going to come here expecting something funny now, I thought I had better not disappoint them. Unfortunately, nothing humorous has happened to me lately.
Except this dream I keep having which is kind of funny...
You know that dream when you are walking down Fifth Avenue in New York City eating a banana and suddenly you realize that you're totally naked and you've grown to giant size? And then you notice that the entire city is populated by monkeys who are all screaming and running away from you? And for some reason the sky has turned all green with pink clouds and you are walking on water, but it's not really water because it's solid? Yeah, that's the one...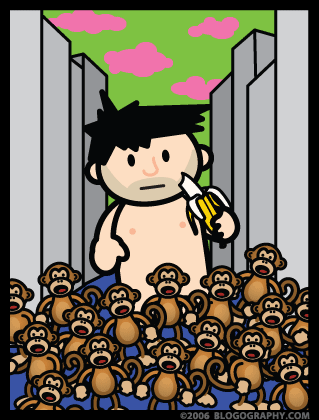 Anyway, when I have that dream, it doesn't end the normal way where the monkeys start dancing around singing Madonna's "Holiday"... oh no... for me it's totally different.
For me, the monkeys all of a sudden decide to attack with purple lightsabers like the one Samuel L. Jackson uses in those awful Star Wars prequel movies. But just as they are about to slice you up and steal your banana, A giant Elizabeth Hurley head appears in a beautiful white light! And then little sparkles shoot out from her glorious aura and magically give you laser vision (which is kind of like Superman's heat vision). So now you can zap the filthy little monkeys before they eat your banana...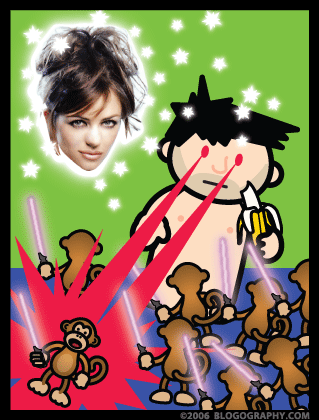 Then, just as the last monkey disappears, you suddenly find yourself floating up into outer-space! But then the planets and stars turn into giant gum-balls that bounce around you. And since you really like gum, you try to reach out and take a bite, but you can never seem to touch them... they're always just out of reach....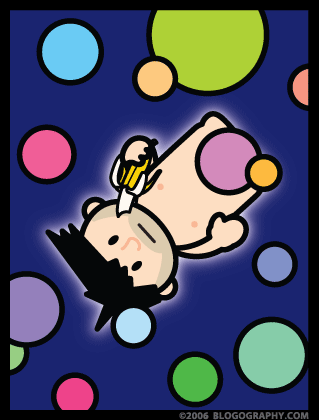 And just as you become frustrated at your lack of gum-based chewing satisfaction, you wake up still holding the banana from your dream. But instead of being alone there is a crack-whore laying next to you that looks suspiciously like Ann Coulter. And then, just before you can start screaming because Ann Coulter is in your bed, you look again and it's not Ann Coulter after all... but a horse's head! Just like in The Godfather! But it isn't a severed head from a dead racehorse, it's a LIVE horse...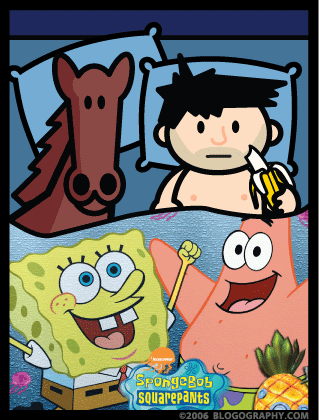 And wait for it... HERE'S THE FUNNY BIT... the horse turns to you and says "can I have a bite of your banana?"
And then you realize that you DIDN'T wake up, but you were STILL DREAMING!!
HA HA HA HAAAAAA! THE HORSE WANTS A BITE OF YOUR BANANA!! Isn't that totally the funniest thing you've ever heard?!? I slay me!!
Whoa! I should try to be funny in my blog more often!