I've studied quite a few languages off and on... German, Spanish, Japanese, Portuguese, French, Italian, Thai, and Swedish... to name eight. Out of all of that, only Italian and Japanese really took hold enough for me to offer passable conversation to native speakers. All the others just kind of faded away.
And while all languages are interesting in their own way (and provide a fascinating insight into those who speak it)... German has the word "schadenfreude" which earns it a special place in my heart.
Schadenfreude is "shameful joy" and is used to describe those who find pleasure in the misfortune of others. Like when somebody you don't like breaks their arm and you feel happy about it... that's schadenfreude.
INTERLUDE

Every once in a while a local school or college calls me up to ask if a student can "shadow" me for a day or two so they can see what it's like to be a graphic designer. If I have the time, I always say "yes" because heaven only knows I would have loved to have had that opportunity when I was in school.

Most of the time, it's okay. The student observing me is grateful to be there. But two years ago I got a guy who already knew everything... he wasn't satisfied with observing, he decided he was going to school me on what's what. Skippy (not his real name) liked to talk a lot about how talented he is, and was very fond of working the words "old school" into the conversation when discussing how I approached my work. I just ignored him, knowing full-well that he had a lot to learn about reality in the graphic design business.

END INTERLUDE
So guess who called me today?
Turns out Skippy finished up school and got himself a design job! Unfortunately for Skippy, he found out the hard way that sometimes "old school" isn't such a bad thing. Sometimes "old school" is just another way of saying "time-tested and proven". Sometimes when you cut corners in your work, you aren't being creative or innovative... you're just being sloppy and lazy.
And so now Skippy wants my advice. He's on the verge of tears because he's taken a bunch of short-cuts to finish a project, and everything has gone terribly wrong. Can I tell him what to do? Can I help him out of the jam he's in?
And there it is, that feeling of schadenfreude that has me wanting to say "suck it, fool!"
But, of course, I'm just too nice of guy for that. I ask him to send me the project so I can take a look, and am horrified to see what a mess he's got himself into. There's really nothing I can do. In order to help him out, I'd have to start over from scratch and I just don't have that kind of time.
So I break the bad news to Skippy... he's boned. I offer a few bits of advice, then give him my condolences and hang up the phone.
It's then that I feel really, really bad about the schadenfreude.
But only for a minute.
I am such an old-school bastard.
UPDATE:
I am getting a little bit of "link love" where people are misunderstanding a few things here. Primary of which is that I am "old school" because I don't know how to use the newer tools that are available in "modern" graphic arts programs (like Photoshop and Illustrator). People are assuming that I stubbornly stuck in an "old" way of doing things, and refuse to learn anything new.
This is not the case. I always keep current with new software versions and the magical new features that come with them. The point that I was trying to make is that while these new tools ARE useful for some situations (and obviously I do use them when it makes sense)... sometimes just because you CAN do a thing does not mean you SHOULD do a thing. Sometimes the "old" way of doing things is the best way. If you are interested in some examples, I've put them in an extended entry...
Okay then, as a "for instance"... Photoshop has a tool called "Magic Wand" which allows you to select a range of colors without having to manually draw something up. There are also "masking tools" available which are fancier versions of the "Magic Wand". I rarely use them, because usually you want a "clean" selection, and it's better to use channel selections or the pen tool. That way you don't have camera noise or film grain giving you fuzzy selections...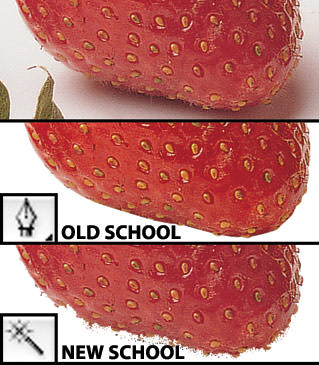 Now, I've exaggerated here a bit to make a point (using multiple selections with the Magic Wand tool in a smaller gamut would give better results)... but the principle is the same. The Magic Wand is not really appropriate for a situation like this but, since it's easier and faster, it's the first tool many designers reach for. Here is a case where "going old school" gets you a better mask, better results, and you can always go back and paint back the little fibers into the mask if you need them.
Another "new school" toy is called the "Healing Brush"... it's a wonderful timesaver for touch-ups on smooth surfaces when you have a good hi-res image, but I see many people using it in places where it produces blurry little welts that ruin the natural texture of the item...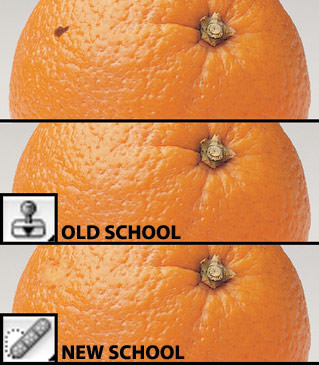 Again, this is a bit exaggerated (the new "Patch Tool" would probably handle it fine), but the point is that the "old school" clone stamp is a much better choice here because it allows you to paint in the texture without any blurry edges or strange color shifts that rough surfaces produce with the Healing Brush. But, again, the Healing Brush is much faster and doesn't require much thought to use, so a lot of people reach for it when they really should be making a different choice.
In the end, it's all a matter of the situation at hand. Yes, sometimes the cool new toys are a real timesaver and produce excellent results. But it's not always the case, and learning to know when NOT to use them is critical to get professional results. And if that's what people want to call "old school" then I am not bothered by the term one bit... old school or new school, I use whatever approach will produce the best possible results for my client.