I'm getting some nice emails from people who are finally getting their shirts this week, many of whom have been waiting quite a while. I feel bad about all the delays, and can only hope it was worth the wait. What I am wanting to do is fix the store so that it shows inventory quantities. That way, people can see if they'll be getting a shirt right away or have to wait a bit. It would also be nice to come up with a solution that calculates exact shipping charges, so nobody pays too much (this is a BIG problem for international shipments, which can be billed too much or too little by $5 or more). If wishes were fishes.
Anyway, I don't know if it is apparent from the $8.95 price tag, but I don't make much money on these things... once everything is factored in, I get about 50¢ to $1 per shirt. Considering how much time it takes to package and process the shipments, I am actually operating at quite a loss. But I don't mind one bit. I never got into this with the intent of making money, it was always just for the fun of it. And when I see pictures of people having a good time while wearing their shirts, it's all worthwhile...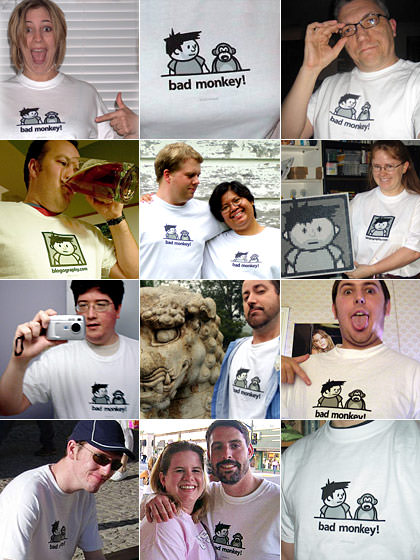 There will, of course, be a new design for my Blogiversary III Celebration come mid-April. And once again I'll be giving away a bunch of free shirts (among other things) to people who enter the contests (just to warn you... this time you may have to work for it, so put on your thinking caps!).
And, while we're talking about shirts, time for some Q&A...
Where can I get your "Healthy Boobies" Breast Cancer Awareness Shirt? This was a limited-edition shirt that I designed, but had no part in manufacturing (I don't even own one!). The shirt was a success, however, and helped raise nearly $1000 during Breast Cancer Awareness Month... quite an achievement considering only 50 were ever made! If there is enough interest, I may make a limited edition shirt this October and donate all the money to The Susan G. Komen Foundation. I'll keep you posted.
Why can't I buy a "Dave Cafe" shirt like in all your DaveToons? Because the Hard Rock Cafe would probably sue my ass! I love the Hard Rock, and would rather that people head to their local cafe and get a "real" shirt than anything I would come up with.
How do I get an "Artificial Duck" shirt? They are currently not for sale, but may be resurrected one day. The logo is really too good to not be on a shirt, so I definitely want to print them again. I'll take a look at it after Blogiversary III is over.
Why are your shirts in black and white? I want color! For the current designs, I just thought that they looked better that way. I did experiment with color, but kept coming back to the B&W. The good news is that there may be some color options coming up...
I'm a GIRL and want a GIRL'S SHIRT! How can I order a baby doll T or fitted women's shirt? Well, right now you can't. The simple truth is that having to keep an inventory of many shirt styles in various sizes would bankrupt me. HOWEVER, I have talked to my printer about custom ordering them along with my "regular" orders and it doesn't seem to be a problem. So I am thinking of having a "pre-order store" next time, and letting people order sweatshirts, baby dolls, fitted shirts, long sleeves, or whatever. When it comes time to order the Blogiversary III stuff, I'll let everybody know.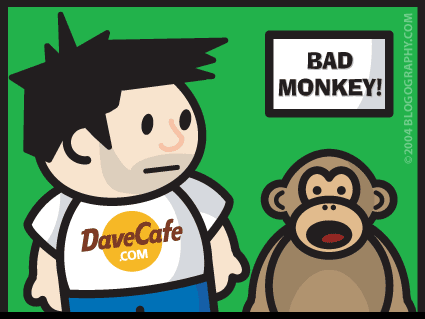 What does "Bad Monkey" mean... who is this "Bad Monkey"?? There is no secret meaning to Bad Monkey. The very first DaveToon I drew was in reference to that evil little monkey in the movie Outbreak who infected everybody with the ebola virus. Not only that, but monkeys have been known to spit and throw their poo at people, which makes them bad indeed!
Who prints your shirts? That would be Ad-Fab Ink... the best screen printers I have ever had the pleasure of working with (and there have been quite a few over the years!).
I was told by (insert name here) that they got a shirt for free. I want a free shirt! There are five ways to get a free shirt... ONE: Get lucky from leaving a comment here on Blogography (every 1000th commenter gets a free shirt, assuming you leave a valid email address so I can contact you, and aren't a comment troll who got deleted). TWO: Win a contest during one of my Blogiversary celebrations each April. THREE: Be one of the first twenty people to make a tax-free donation of $100 or more to Doctors Without Borders during a disaster relief drive (contact me if you're interested). FOUR: Order a shirt that's out-of-stock for 4 weeks or longer. FIVE: You are Elizabeth Hurley, Kristen Bell, or Betty White and ask for one.
Alrighty then. I am off to wash a giant pile of dirty clothes that has accumulated over the past week of craziness. Something is starting to smell funny, and I want to take care of things before it comes alive and strangles me in my sleep. Just my luck it would be a Bad Monkey T-shirt... oh the irony...