I love a good map.
Historical maps, world maps, city maps, street maps... it doesn't matter. I just think that maps are cool to look at, and I've accumulated quite a few of them over the years. Mostly from places I've been, but also from places I want to go (like the Aegean) and places I will probably never go (like the planet Mars). I even like these newfangled internet maps like MapQuest and Google Maps. Sometimes I wish I had a GPS so I could see myself on a map wherever I am. Because that's how much I love maps.
My map passion began in a very unlikely place... an album cover.
In 1984 one of my favorite bands of the day, The Thompson Twins, released their latest work titled Into The Gap. In addition to unforgettable 80's musical favorites like Hold Me Now and Doctor! Doctor!, the back of the album cover had a very cool treatment of the Thompson Twins logo by the artist Satori...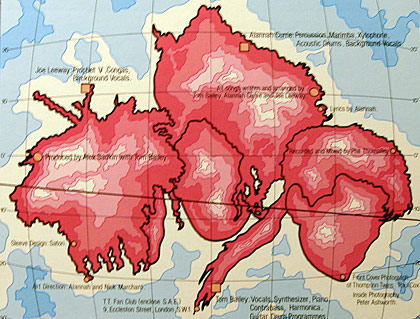 He had turned it into a map! And then he put the album credits as cities on the map!
This fascinated me. I had never thought of maps as art before, but here was an incredibly cool artistic statement that inspired me to take a look at "real" maps. And I was hooked. From that moment onward, I was a cartography whore.
So much so, that I started creating my own maps. Sometimes of real places, like this map of the Hard Rock Cafe run Perry and I took...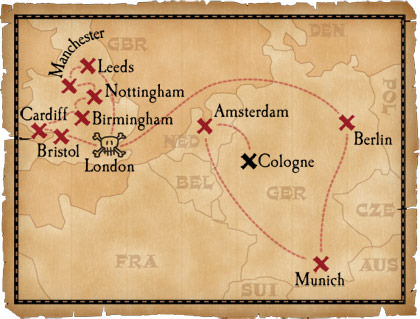 Other times I make maps of fake places, or of fake places that should be real. Like the sovereign nation of Davenia...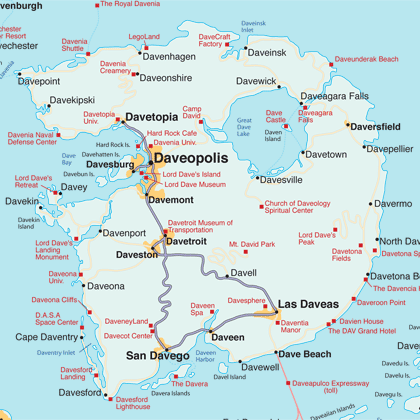 I drew this map back in 1998 for the relauch of "DaveWorld", which never happened (close-ups of the map can be found in an extended entry).
So what's all this leading up to? Glad you asked...
One of the greatest map inventions of the 20th century was the laminated roadmap. And the best of these was "FastMap", which was manufactured by the HM Gousha Company. These fantastic travel companions are always in my car, ready for use at a moment's notice. They are low-profile, single panel height, accordion-style maps that are brilliant both in execution and design. And, because they're laminated, they wear well and don't rip apart like paper maps. Eventually, map giant Rand McNally came out with their own laminated maps, but they were pale imitations that folded out to HUGE dimensions and were difficult to use in a car. The leaner, meaner FastMap was a much better choice.
So can you guess what happened next?
Rand McNally bought out the HM Gousha Company in 1996. This was a smart move, because now Rand McNally could have access to the wonderful FastMap catalog, and release this superior product under the Rand McNally name!
But I think we all know that's not what happened. Rand McNally promptly discontinued FastMaps in favor of their own INCREDIBLY CRAPPY AND PRACTICALLY WORTHLESS PIECE-OF-SHIT laminated maps. This means that my beloved FastMaps, which are now falling apart, cannot be replaced thanks to the dumbass bastards at Rand McNally (whose web site has sections that are not Mac-compatible, by the way).
Needless to say, I am not happy about this. And, to add insult to injury here, I couldn't buy a new Washington State map from Rand McNally even if I wanted to... they're out of stock. Somebody at Rand McNally needs a serious bitch-slapping.
Anyway, more Davenia maps are in an extended entry, if things like that interest you...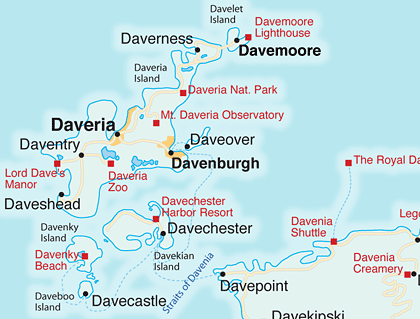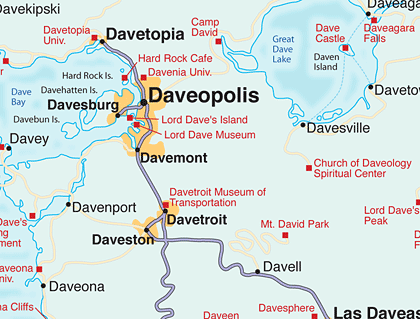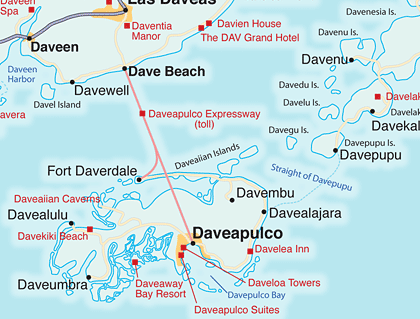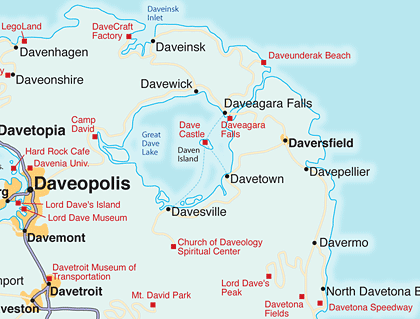 See, told you it should be a real place. I'd rather be in Daveapulco.