Posted on July 13th, 2014

Smoke is in the air and so are bullets... because Bullet Sunday starts... now...

• Spoilers! Since I have no desire to see yet another flaming pile of shit Transformers movie that's not about Transformers, I jumped right on io9's "Spoiler FAQ" for Transformers 4. Sounds just as heinous as I knew it would be. Even if you have no interest in this turd of a film franchise, Rob Bricken's comments are pretty epic. If you want an entertaining read that encapsulates everything that's wrong with modern movies, it's an article absolutely work reading.

• Don't Come! But... but... I've already been to Belgium!
Antarctica has been at the top of my travel destination list for years. Now I just don't know. Tourist crowds? In freakin' Antarctica? Blargh.

• Murder! I would like to add my outrage to all those people condemning dinosaur hunters for murdering these magnificent creatures...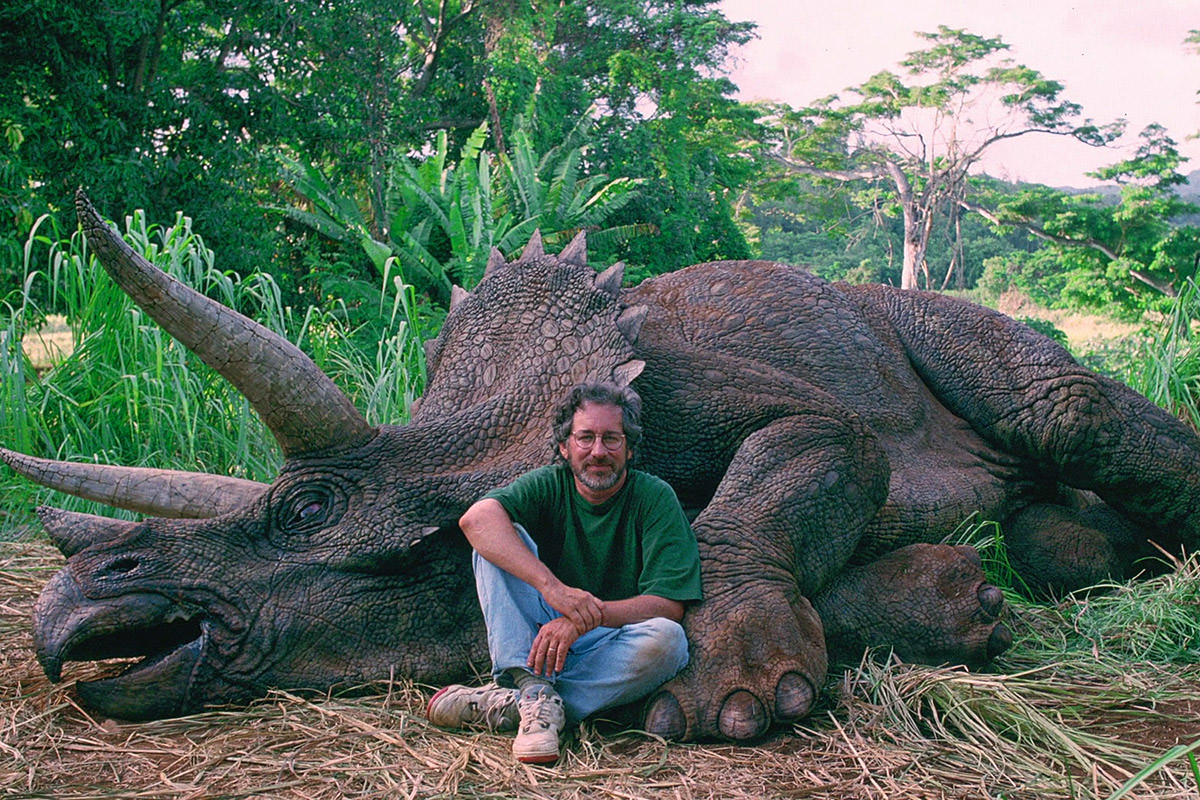 Photo © Universal Pictures
What a bastard! NOT COOL, STEVEN SPIELBERG!

• Shawn! Started out my day listening to Jay-Z and found myself Googling him to see what he's up to (besides Beyonce). Ended up watching about 20 Jay-Z interviews on YouTube. He is awesome in all of them. This is probably my favorite. Not many people can out-Letterman Dave Letterman...
It's nice how Jay-Z feels the need to keep reminding us that he's cooler than 99% of the people on earth.

• Pepe! Click here for some wisdom from a true leader... President José "Pepe" Mujica....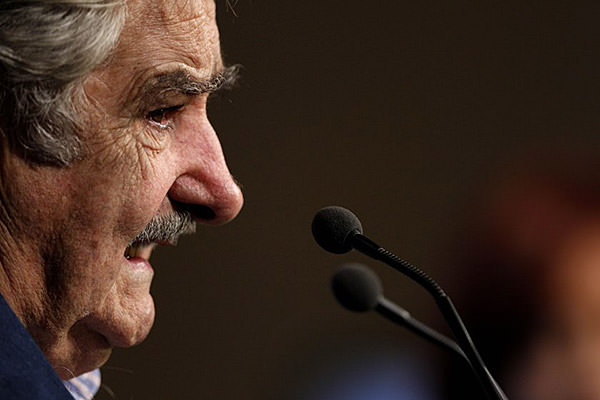 Photo © The Associated Press
They saved the most telling quote for last on the secret to happiness...
"To live in accordance with how one thinks. Be yourself and don't try to impose your criteria on the rest. I don't expect others to live like me. I want to respect people's freedom, but I defend my freedom. And that comes with the courage to say what you think, even if sometimes others don't share those views."
Sounds oddly familiar... a pity politicians in this country aren't so forward (er, backwards?) thinking when it comes to imposing their criteria (or, more likely, the criteria of the lobbyists who have bought them off) on the people they claim to represent.

• Thanks! Have you thanked your parents today?
And, to the woman hosting this video... marry me?

Now I suppose I should try to get some rest before The Week From Hell rears its ugly head. Blargh.
Posted on September 9th, 2012

Save your pity over my being stuck at an airport for four hours... because Bullet Sunday starts... now...

• Know. I so rarely just toss a link up on my blog... that's what Twitter and Facebook are for... but I read an article titled "25 Things I'd Like My Sons to Know" and was inspired to do just that. Much of it applies not just to sons, but to people everywhere...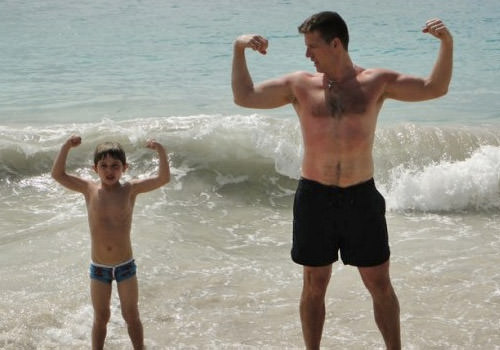 Photo from Tom Matlack's wonderful article.
If you want to have a little more hope for the future, follow that link. And to prove that Tom Matlack's genius isn't a fluke, here's another: "Raising Boys (A Dad's Advice for Moms)."

• Sleepless. Any attempt to get some sleep last night was futile seeing as how there was a party going on down the hall until 2:30am. As background noise, I probably could have ignored it is not for a screaming cackle by some drunken hag who could just not shut the fuck up. Absolutely everything was funny to her, and I had to listen to her continuous screeching laugh for hours. This alone would have made my final night in Chicago unbearable, but when I got up two hours later there was no hot water at the Hyatt. I don't know what it is about me, but I seem to attract hot water failures.

• Aero. But there was good news from my travels today... when I got to the airport, I was totally psyched to see that, ZOMG!, I would be flying on the Mickey Plane!!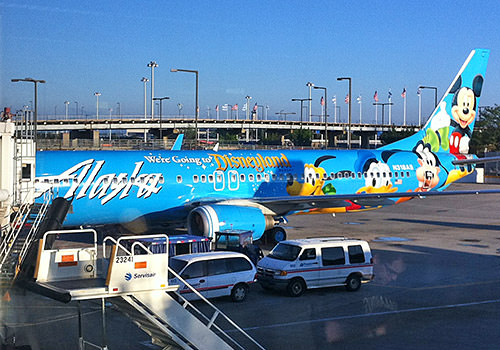 And just when I thought things couldn't get much better? UPGRADED TO FIRST CLASS! As a Delta elite flyer, this rarely happens on Alaska Airlines, so it was a complete surprise. As always, the best part of flying First Class is the warm nuts...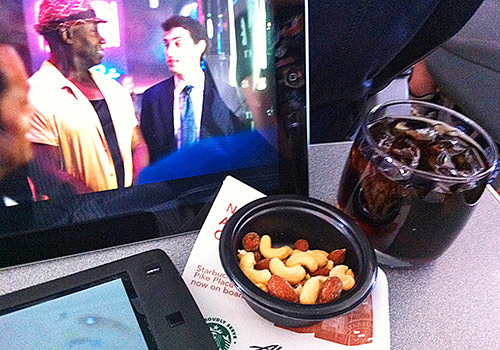 Yes, I know,
I TOTALLY WIN AT LIFE!!!

• Livery. This trip was lucky for planes, because my flight to Seattle on Thursday was on the Horizon/Alaska Air Huskies Plane...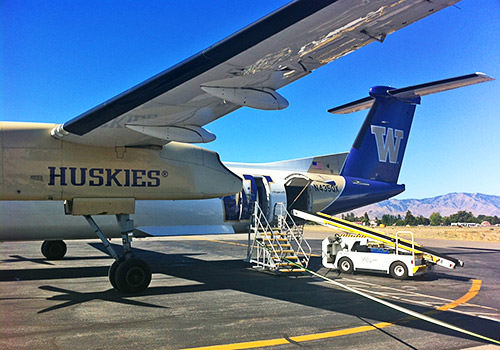 Alaska Air has so many cool liveries on their fleet, but the one I'm most dying to fly is their "Salmon-Thirty-Salmon"...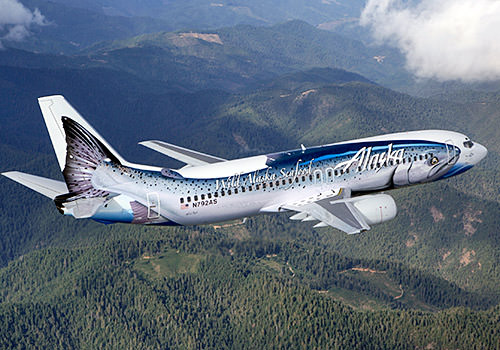 Has to be one of the coolest planes ever made. One of these days I need to see how I can track it down for a ride.

• 'Cago. As Chicago is one of my favorite cities on earth, it sucks pretty hard to go there and not be able to spend any time exploring the place. And since I've been there dozens of times, seeking out the frivolous non-touristy stuff is where the fun is at for me. And the only frivolous thing I made time for was visiting the new LEGO store at Water Tower Place...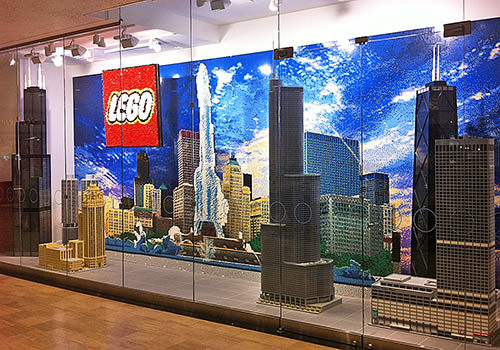 Kinda a disappointment. I mean, sure, they carry a large line of wonderful LEGO products, but it's kind of a boring layout compared to the old one. Oh well. It does have the benefit of being located next door to that obscenely popular American Girl store that makes those creepy little dolls I want to burn with fire.

• Coverage. Every time I get to Chicago, I can't help but marvel at the shitty data coverage AT&T has there. Seriously, it's so bad as to be unusable. If you manage to get anything from the internet at all it takes fucking forever, but most times the connection just times out...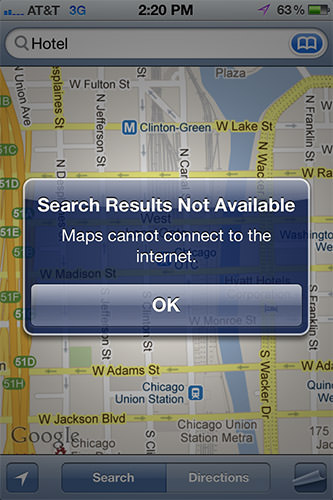 How in the hell can the third largest city in the United States have such embarrassingly bad cellular service? At least I can make a phone call here. In Las Vegas (one of the largest tourist attractions in the country) not only is the data shit, but every call I make gets dropped. Every. Damn. Call. I have no idea why AT&T doesn't get off their stupid asses and fix this shit, because it's frickin' embarrassing. If I didn't have to travel outside the US, I'd switch to Verizon. I dunno. Maybe Verizon's international iPhone coverage is something I should look into.

• Limits. And lastly, from the "It's About Damn Time" file, Texas is raising the speed limit on a 41-mile stretch of highway between Austin and San Antonio to 85 MPH. Yes, I know that this is a real cause for concern when it comes to safety. Yes, I realize that there will still be idiots who drive 45 and hold up traffic. Yes, I understand that there are few roadways straight and flat enough to handle 85. And, yes, I get that there will still be people that will only use this as an excuse to go 95. But, dammit, I just don't care. Upping speed limits is something I approve of...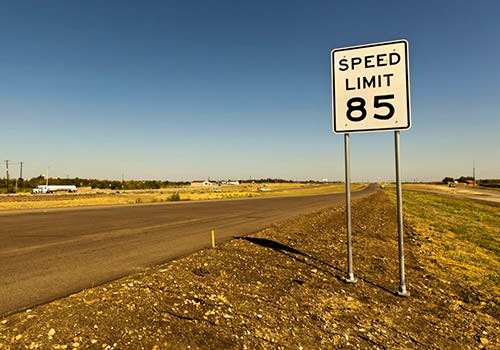 Photo by Ricardo B. Brazziell from AP Photo/Statesman.com
Mostly because I think it's fucking insane that you can get pulled over and ticketed for going 10 miles above the speed limit when there are murders running around free. Yes, dangerous drivers should be stopped and fined. No argument there. But is ticketing someone going 65 in a 55 really the best use of police resources if the driver is handling the speed safely? I'd argue the moron driving 40 in a 55 is the bigger danger. In any event, There are stretches of highway in Eastern Washington that could really benefit from an 85 MPH speed limit, I'm just sayin'.

And... my flight starts boarding in 15 minutes, so I guess I should wrap this up. Good thing too, I'm just about out of bullets...
Posted on March 11th, 2010

If there's one behavior I've learned which has proven to be the most useful throughout my life, it would probably be "see for yourself." I know that sounds trite and simple (maybe because it is) but it's also true.
It's following this "golden rule" which has led me to such amazing experiences as visiting the Egyptian Pyramids and walking along The Great Wall of China. But it has also forced me into less literal interpretations, where my mind has been opened to new ways of thinking and finding new truths where I was once ignorant. Like that movie which critics keep telling you sucks, but you go see for yourself and end up liking it.
Today I was catching up with the internet while I was on telephone-hold hell, and ran across a company mentioning how they had been the victim of an unfair verbal attack. I kind of like the company and what they do, so my first reaction was "Yeah. YEAH! THAT ASSWIPE CAN BURN IN HELL!! HOW DARE HE ATTACK THIS COMPANY" But my mind slowly drifted back to my mantra to "see for yourself" and so I started investigating the "asswipe" in question, reading up on things he had written and looking into the things he's done.
Much to my shock and horror, I ended up really liking what I found.
No, I didn't agree with absolutely everything he says and does but, looking at the big picture, he's my kind of person. Smart, funny, opinionated, open, and a little bit caring too. He ended up being just like the people I enjoy having as friends. And once I realized that, I tracked down the actual source where he "attacked" that company I like, and found out that the situation was not quite as simple as I had been led to believe. On the contrary, by the time I had made my way through it all, my mind had changed completely. I was now turned around 180-degrees and agreeing with the "asswipe" guy.
It's not the first time it's happened. I'm sure it won't be the last.
A part of me just hates it when my initial instincts and reactions are wrong, but there's also a kind of perverse satisfaction I get when discovering that I've learned something new... the hard way.
Sometimes you just have to see for yourself.
The reward is often worth the extra effort.