Posted on September 28th, 2011

My flight didn't leave until late afternoon so I took the opportunity to sleep in late, explore the resort, and have a nice lunch.
Mission accomplished.
I didn't really need a third day at Uluru, but seeing this area was so important to me that I booked it anyway... just in case the weather was bad, my flight was delayed, or some other unforeseen circumstance interfered with my plans. I've been traveling way too long to expect everything to go perfectly (even though it really did). Even so, I actually wish that I had more time so I could visit Kings Canyon and see Alice Springs, but there's more to Australia I have yet to explore.
Before leaving for the airport, I went to the hotel lookout for a last glimpse of Uluru...
...and said my goodbye to that magnificent giant red rock.
Posted on September 27th, 2011

At this point, I'm into day two of being covered with flies all the time. No mosquitoes, thank heavens (I was told that's the biggest problem when visiting Uluru), but more bugs than you'd ever care to encounter. After a while, you kind of get used to them swarming you constantly, but you never get used to the flies crawling on your face. Particularly up your nose and on your eyes (where I guess they're searching for moisture or something).
On more than one occasion I found myself regretting that I didn't get an Aussie Cork Hat or a Bug Net Hat... no matter how stupid they make you look. They exist for a reason.
Anyway...
As the tour had us viewing Uluru (Ayers Rock) at sunset last night, they had us viewing Uluru at sunrise this morning. For which I had to get up at 4:30am. It was nice, but not 4:30am-worthy spectacular...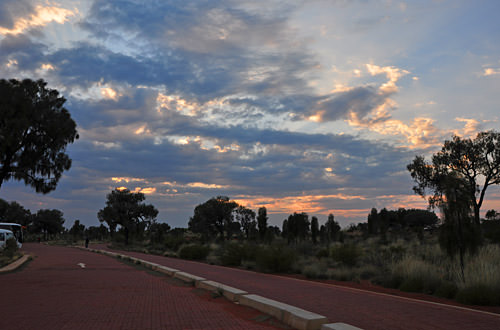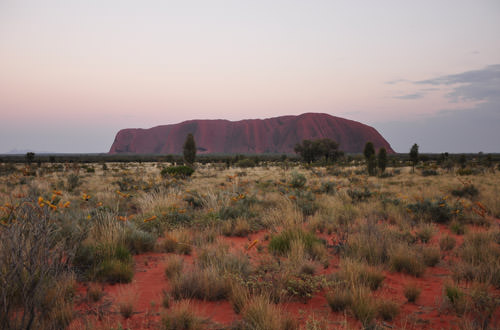 And to prove I was there at that godawful time of morning, a photo of me ready to go back to bed after sunrise...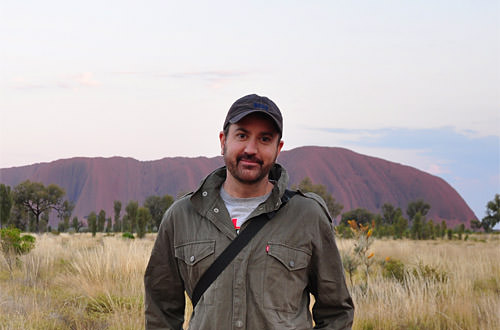 And then it was time to hike all the way around Uluru, which was a fascinating 2-1/2 hour journey. The rock looks completely different depending on where you view it. Some areas are sacred and not allowed to be photographed, but I picked out a few of the hundreds I was allowed to shoot...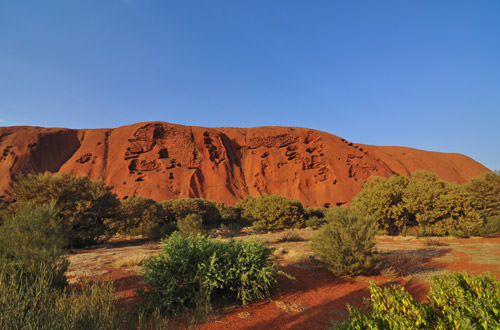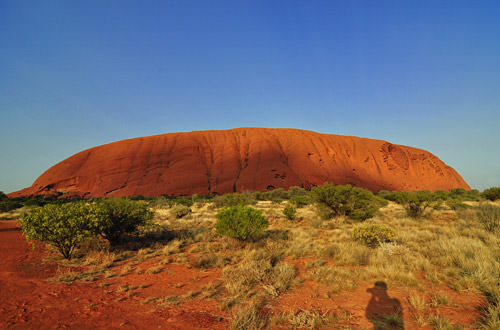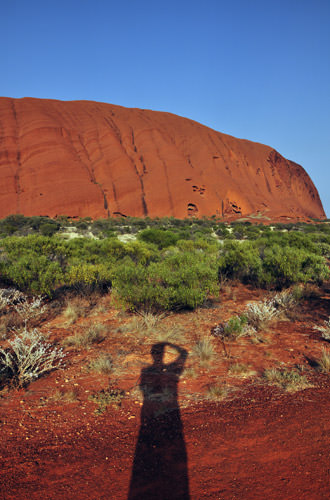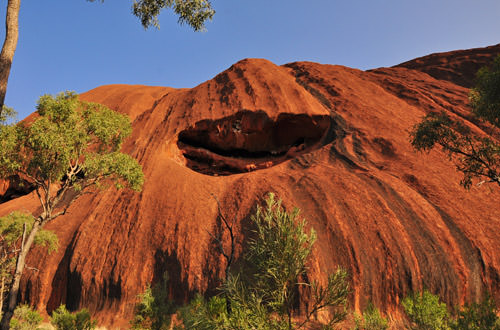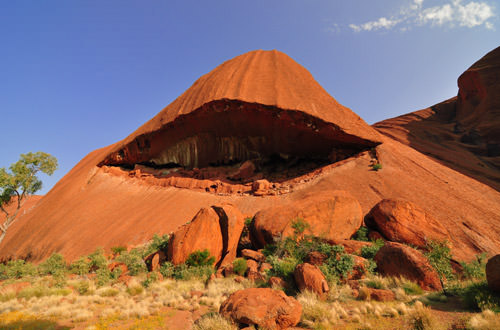 Once my blisters had blisters and I had made my way around the site, it was time for a visit to the Uluru Visitor Centre which was a look into some aspects of Aboriginal culture. Most of their way of life is highly complex and secretive, but even the basics are fascinating. What I found particularly interesting is how their stories and teachings are place-sensitive. Meaning that you can only speak of some events at the place where they happened. If a story takes place at Uluru, but then moves to a different location, you will only hear about the part that's at Uluru. In order to hear the rest, you have to travel to the place where the story continues. Also, men and women live completely separate lives, so all aspects of a story can change depending on the sex of the person telling it. Remarkable.
The tour ended after lunch, at which time I decided I hadn't spent enough money (ha!) so I signed up for a helicopter flight over Kata Tjuta (The Olgas) and Uluru (Ayers Rock). It was kind of a bummer, because most of your time is spent getting there and back, but what precious little time you do spend at the sites is pretty impressive...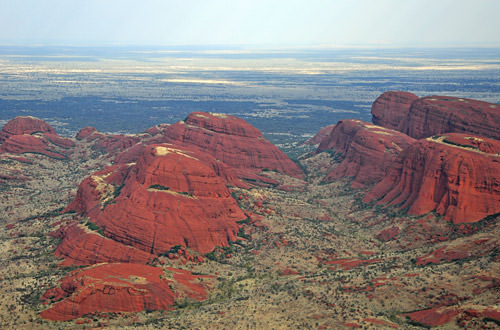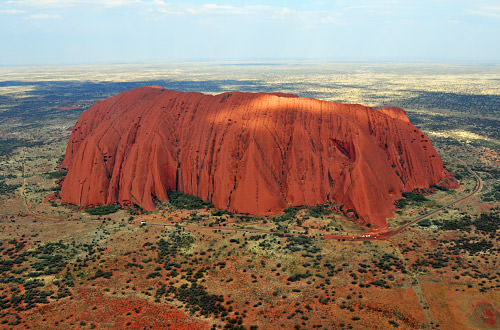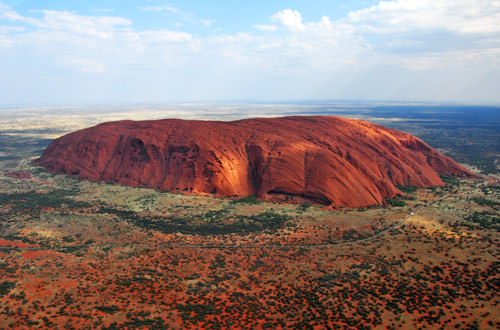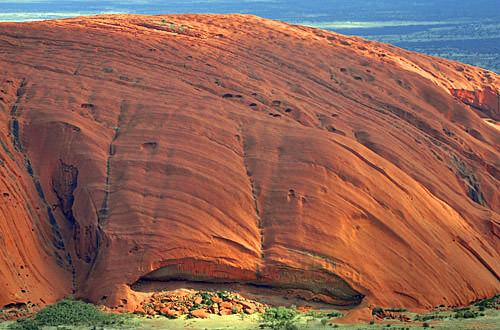 Some cloud cover had rolled in, which made the already deep red color even deeper. Those are some very sexy rocks.
This area of Central Australia is known as "Red Centre" which is not quite an accurate description as of late. Over the past two years, unprecedented rainfall has caused the ground to really green up. This makes the rocks look even more foreign and strange, but in a good way.
My original plan was to take in some kind of sunset dinner at Uluru tonight, but I am pretty much Uluru-ed out now. I'm also thoroughly exhausted with blisters in places on my feet I didn't even know I had.
And so... my vastly overpriced bed in my massively overpriced hotel room is calling...
Posted on September 26th, 2011

Alrighty then. Now that I'm back to civilization, bugs didn't carry me off, and I have internet once again... I suppose it's time to start getting caught up on my trip to Uluru (aka Ayers Rock).
After a 3-hour flight from Sydney I landed at Ayers Rock Airport, then hopped the bus to the Ayers Rock Resort where my tour group was waiting. After purchasing my $25 park ticket, we headed out.
Surprisingly, the first stop we made was not Uluru, but Kata Tjuta... another giant rock formation in the neighborhood...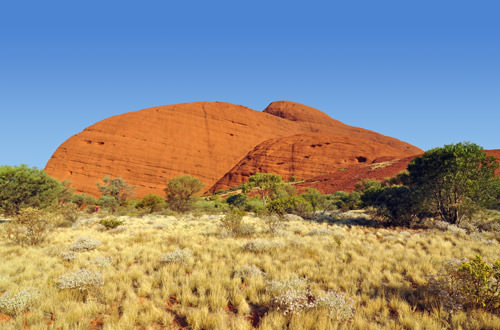 A photo can't do it justice, but that's all I got for you.

Yes, it's really that red. My camera is set to "vivid color" and has a polarizer, but this isn't Photoshop trickery.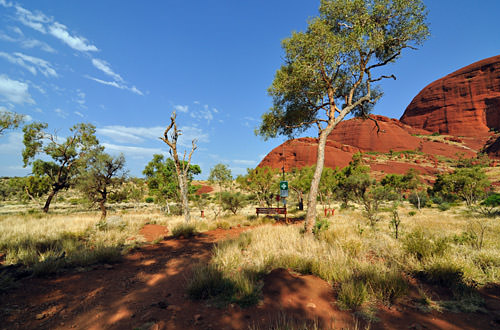 The trail for the "Valley of the Winds" walk.

Saying goodbye to Kata Tjuta as we leave the area.

Next it was at last time to head to Uluru for the sunset...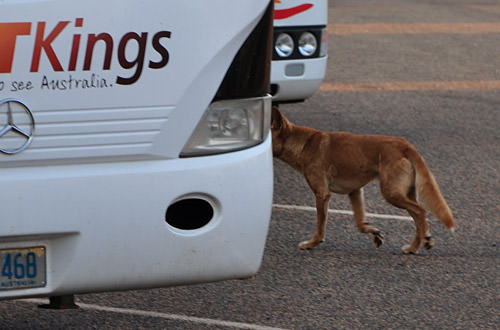 A dingo ate my baby! Then boarded this bus...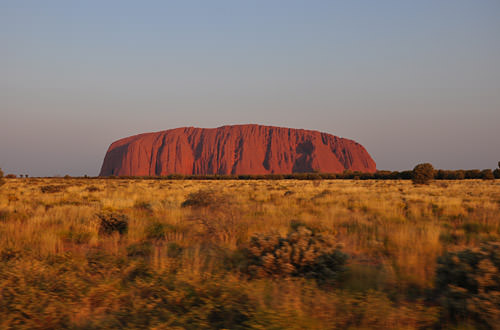 Uluru as the sun is low. Note the haze in the background.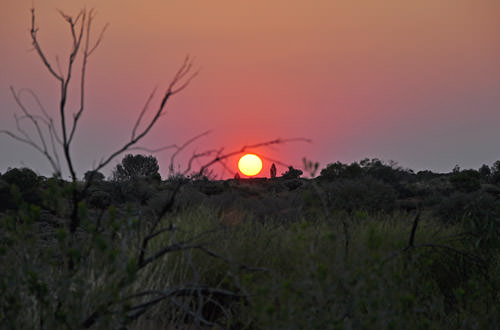 That haze is actually smoke from bush-fires in Central Australia. Scary, but makes a pretty sunset!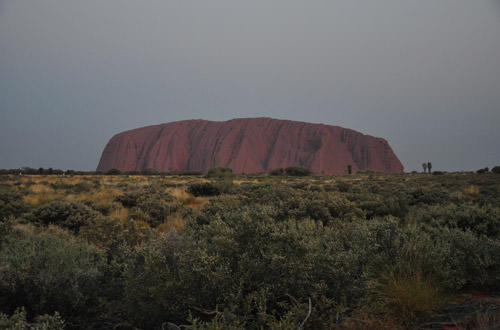 Uluru turns purple after the sun goes down... which doesn't show too well in this photo.

From there it was back to camp for dinner and an early bedtime. Tomorrow, it's time to get up-close-and-personal with Uluru.
Posted on September 26th, 2011

Alas, there's no wi-fi at Uluru (aka Ayers Rock) to upload any photos. Guess that gives me something to do when I get back.
P.S. If you never hear from me again, it's because I was carried off by an army of bugs in the middle of the night. One thing they don't tell you in the travel brochures is that The Outback is overrun by bugs. Lots of bugs. A massively huge number of bugs. A vast array of bugs in astounding numbers. Bugs!