Back in the late 80s when my friend Doug and I were in Kauai, we looked at a map (yes, this was before Google Maps because I'm old) and saw a massive beach on the Western side of the island called "Barking Sands" and decided to go. Little did we know that Barking Sands Beach is a part of the Barking Sands Naval Base, home of the Pacific Missile Range Facility. We were (of course) halted at a fence and told to turn around and vacate the premises. Then were told that there was a public beach north of the facility if we wanted to go there. It was called "Polihale Beach" and we decided it was better than nothing after having driven all the way across the island.
If you look at it on a map, you can see what the deal was...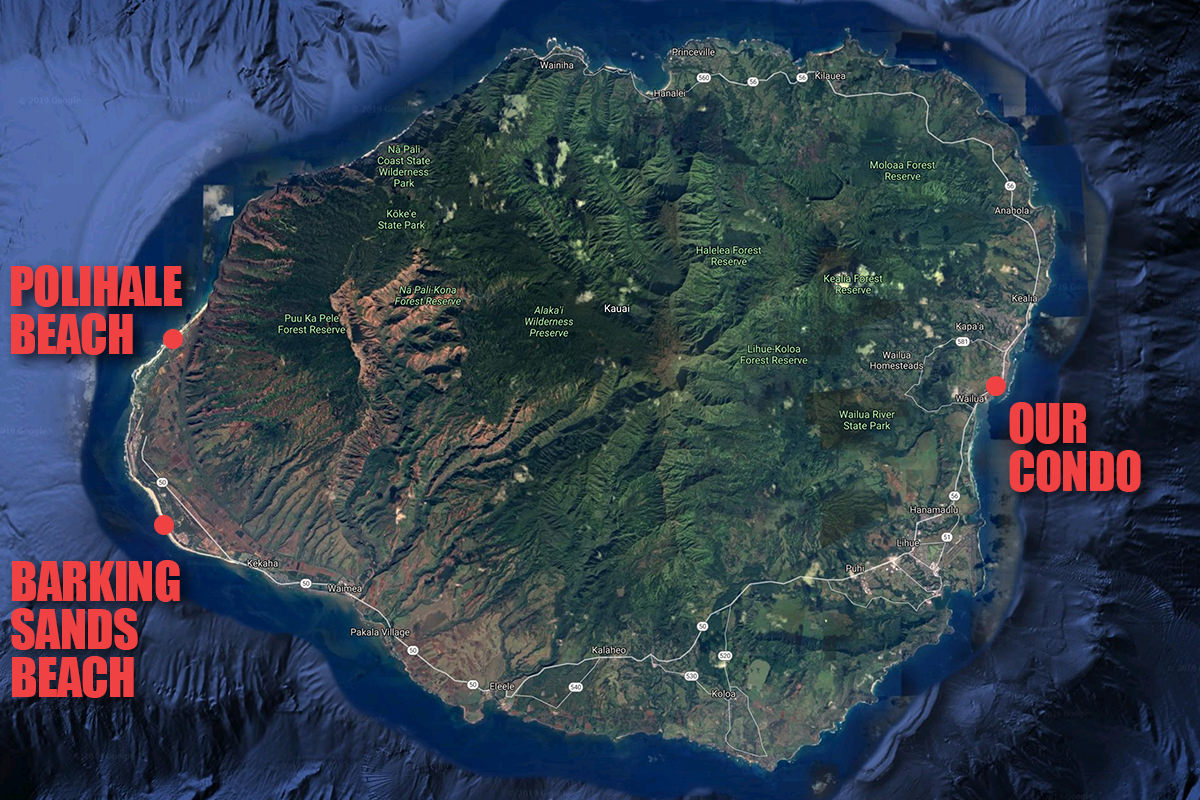 Map From Google Maps
Problem was... our map was pretty vague about the area. We ended up taking a very wrong turn and ended up headed inland. When we tried to turn around using a drive into a sugar cane field, we were met by a guy with a gun who told us to get the hell off his property.
And so we did. Quickly.
Just one of many bizarre misadventures we we got into on that trip.
Once we got back to the road we needed to be on, we eventually spotted a road that looked like it maybe kinda possibly wouldn't get us shot... so we headed to the beach. This was an undeveloped off-the-beaten-path situation, so once we saw water we just pulled off the road and parked in an area where it looked like we might be out of the way.
This Google Maps satellite image may or may not be where we actually ended up, but you can get an idea of what I'm talking about...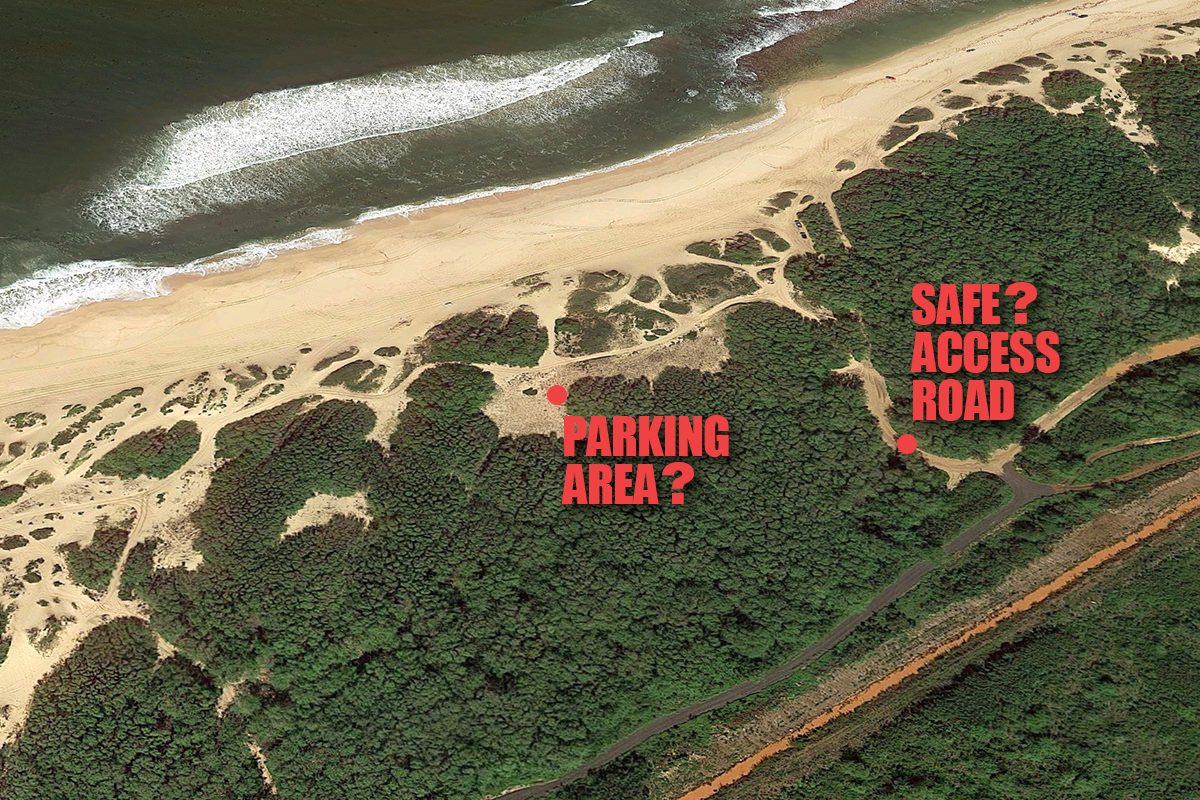 Map From Google Maps
After parking, we headed to the beach.
Just as we turned the corner, we ran across a couple who had attempted to drive their rental SUV ONTO THE BEACH.
Needless to say, they immediately became stuck. Then they made things worse by slamming down on the gas pedal, which only dug the car deeper into the sand...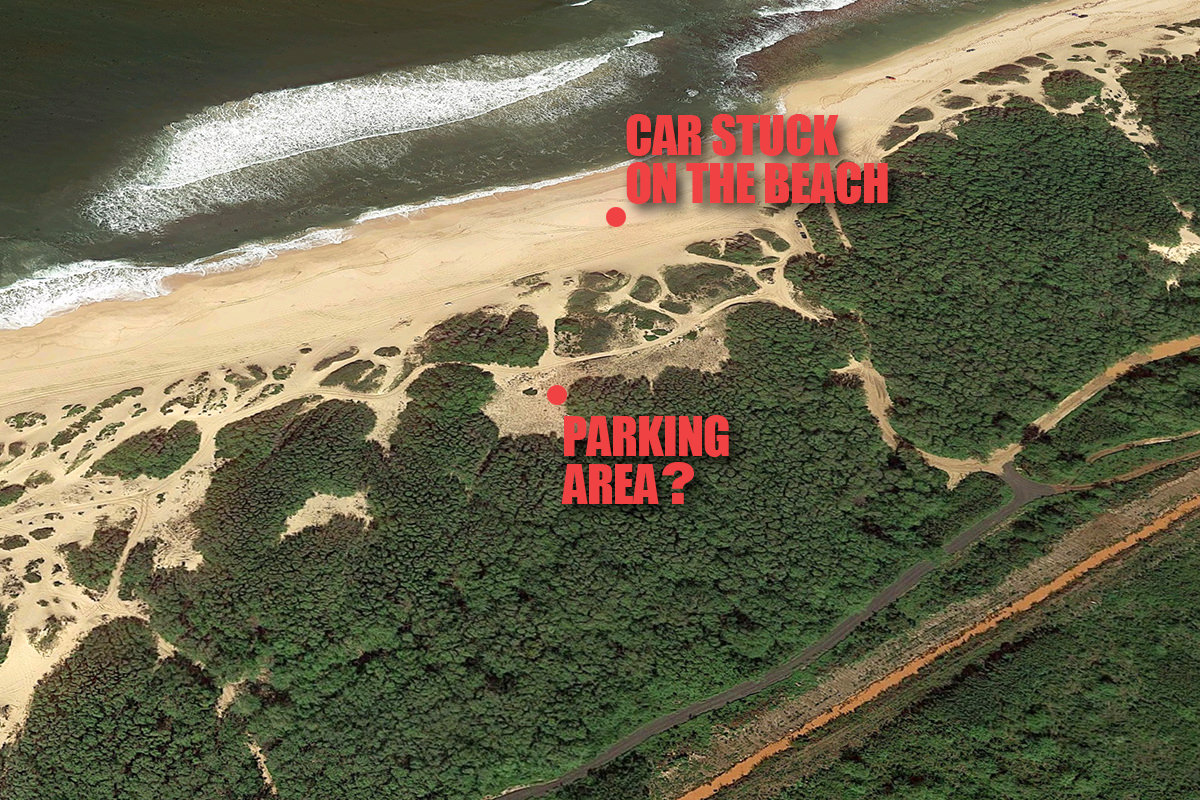 Map From Google Maps
Apparently they didn't get the memo on why you don't want to drive on sand with a vehicle not designed for that purpose.
As we approached we saw that a woman was seated in the passenger side of the SUV fuming. A man was attempting to dig it out with a frisbee. A futile effort if there ever was one, because the SUV was sunk up to the floorboards. The only way he was ever going to get off that beach would be if somebody parked off the beach with a winch and pulled him off of it.
As we passed, the guy looks up at us and says "Hell of a day, isn't it?" And Doug was all "Um. Yeah." Because the only thing going through both of our heads was how we were going to escape if this guy asked us to help him dig his car out. But he never did. So we walked up the beach, which was quite nice. Beautiful golden sand with turquoise waters and hardly any people...
One of the (many) things I love about Google Maps is that you can literally pinpoint where I took the above shot...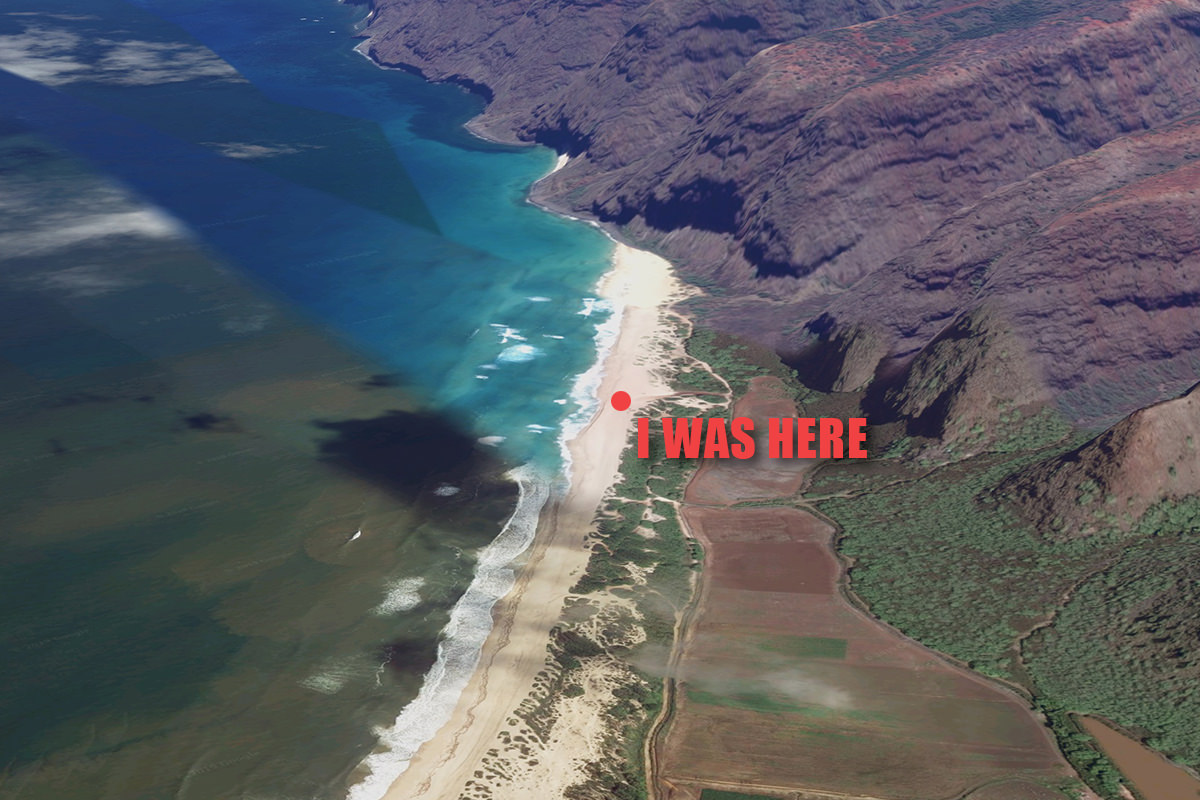 Satellite View From Google Maps
It's not a great beach for swimming thanks to the waves, which were rough, but pretty to look at otherwise...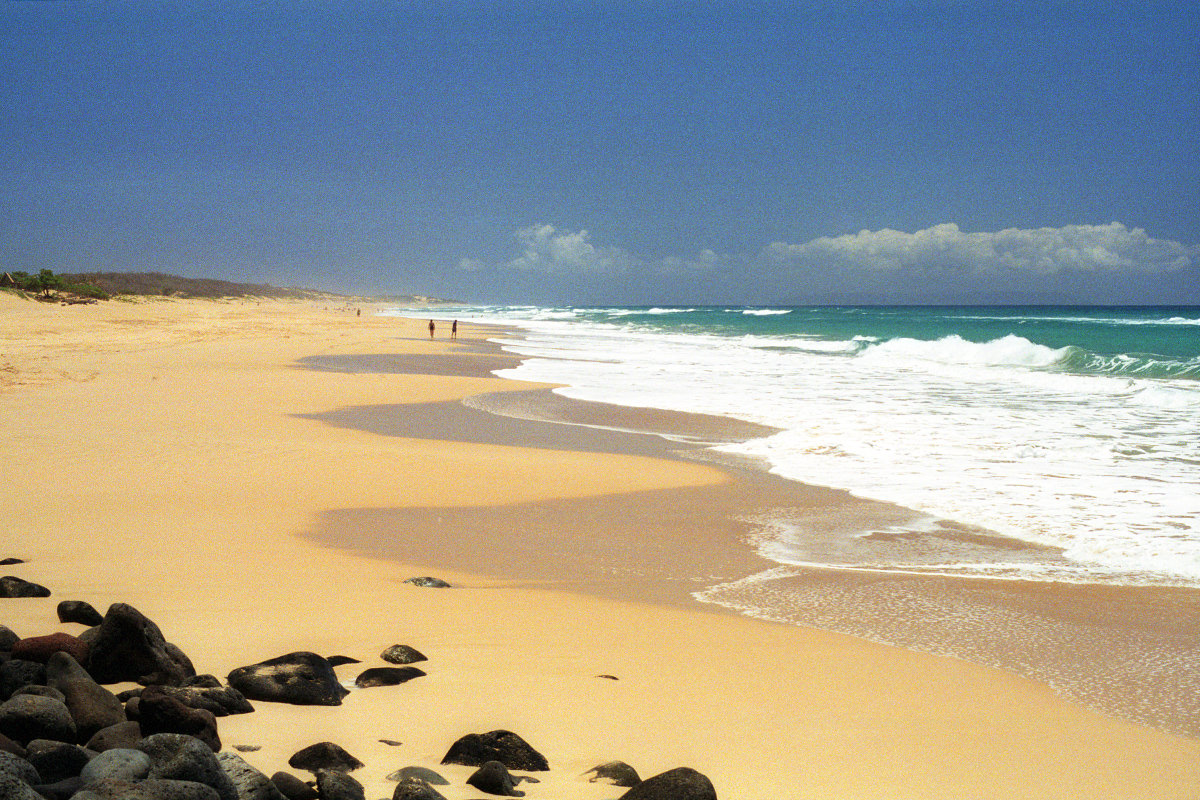 I did not take a photo of the guy digging his SUV out. This was before the days of being able to sneak a shot with a mobile phone, and I really didn't want him to get pissed at me for exploiting his misfortune if I were caught... so I restrained myself. In the shot above, he is just to the left out of frame.
Wow. These shots I took really are from the 80's. Just look at that film grain when I zoom in...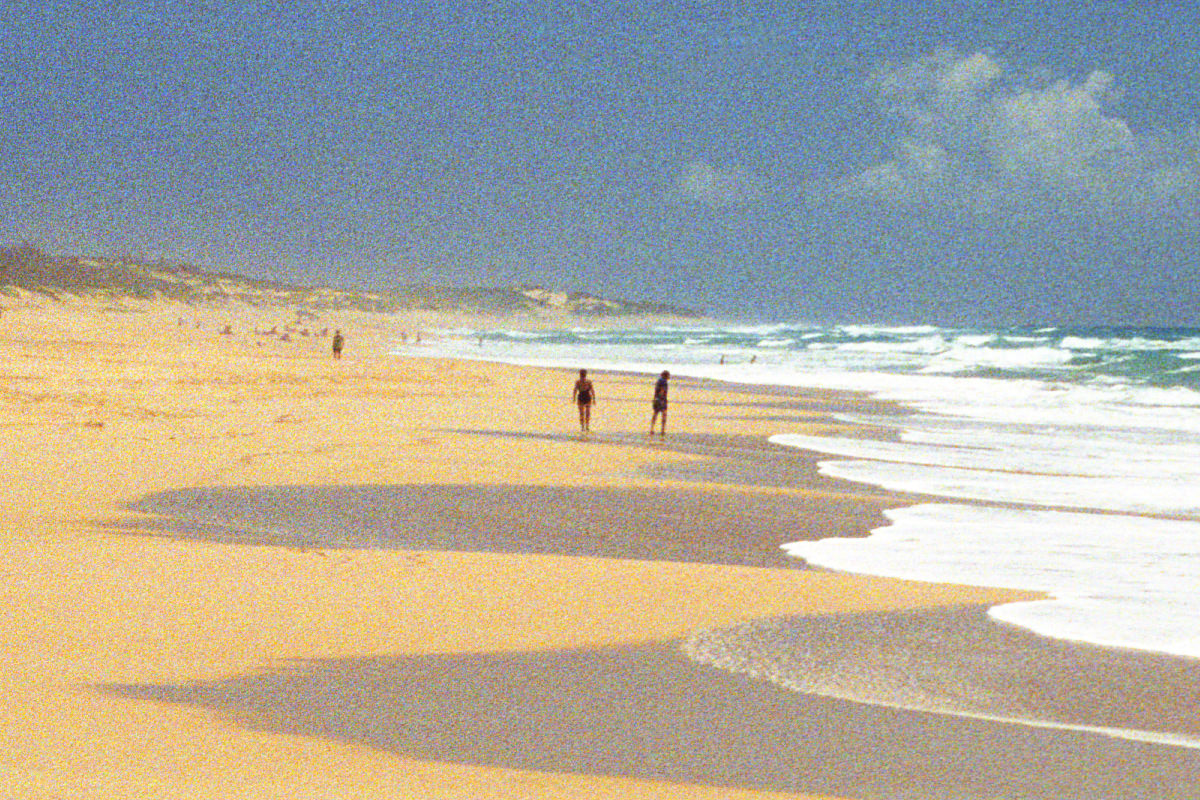 Anyway... After twenty minutes of bumming around, we walked back to our jeep. The guy was still there attempting to dig the SUV out. A part of me wanted to ask if we should call a tow truck for him when we got back to civilization, but I didn't want him getting more pissed than he already was. Instead we took a long loop around him. We were on vacation, after all. If he had shouted out to us as we walked by, we absolutely would have called AAA for him (or whatever) but, well, you know...
Once we made it back and climbed into the jeep, Doug turned to me and said "Hell of a day, isn't it?" And then we both laughed our asses off because we're mean that way. But, hey, at least we know better than to try and drive in sand, amirite?
Fast forward to a couple years later. The movie Total Recall had just come out. It featured a scene where Arnold Schwarzenegger wakes up in a cab being driven by a robot. After some confusion as to how he got there, the Johnny Cab robot says "Hell of a day, isn't it?"...
I don't know if Doug was with me in the theater when I saw Total Recall. I'd like to think that he was. He probably was. Or maybe he wasn't and I talked to him about it later after we had both seen it. I honestly don't remember. What I DO remember is laughing my ass off when Johnny Cab said "Hell of a day, isn't it?" Because that's exactly how the guy digging out his car said it. The people in the theater probably thought I was insane, but it was damn funny in a "You Had To Be There" kind of way.
Over the years, every once in a while when we saw each other, one of us would inevitably say "Hell of a day, isn't it?".
Last week I ran across a story about a car that had been driven out onto the beach, then abandoned in the face of Hurricane Dorian because it got stuck...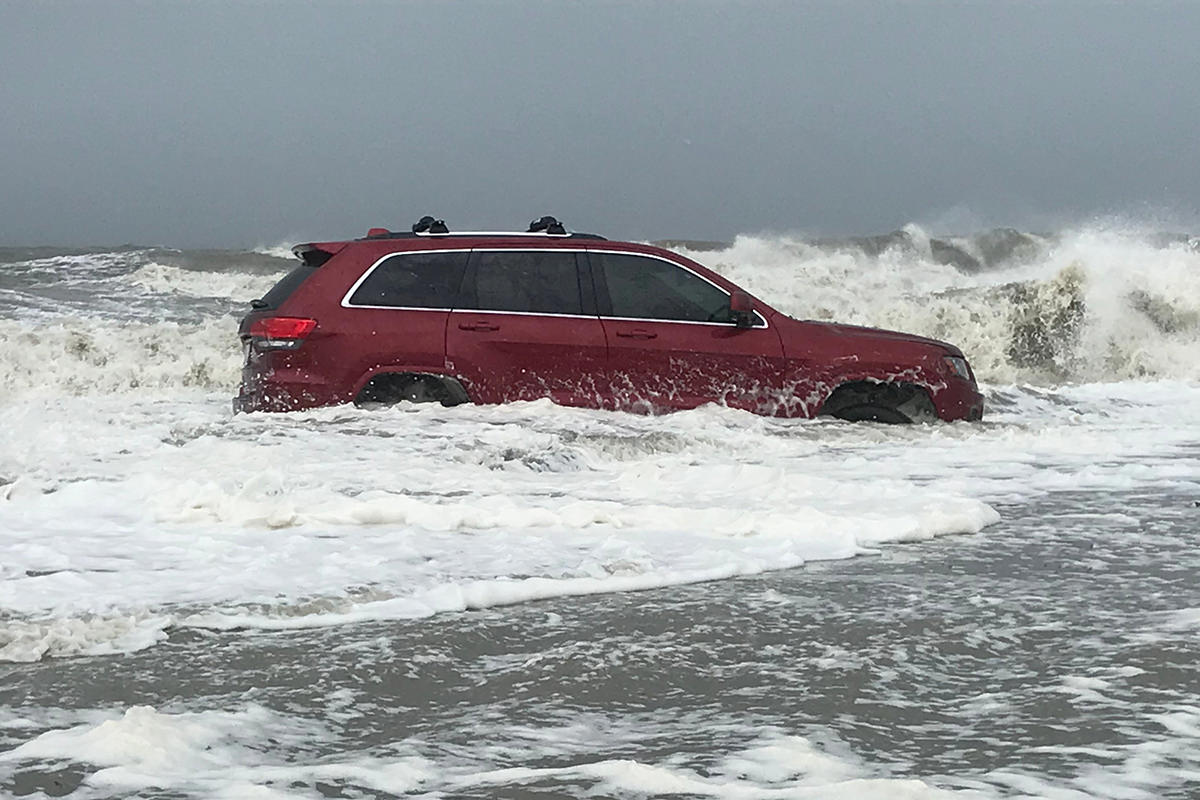 After it was discovered, social media happened. Because of course it did. Then #JeepWatch2019 took over. The meme was popping up everywhere...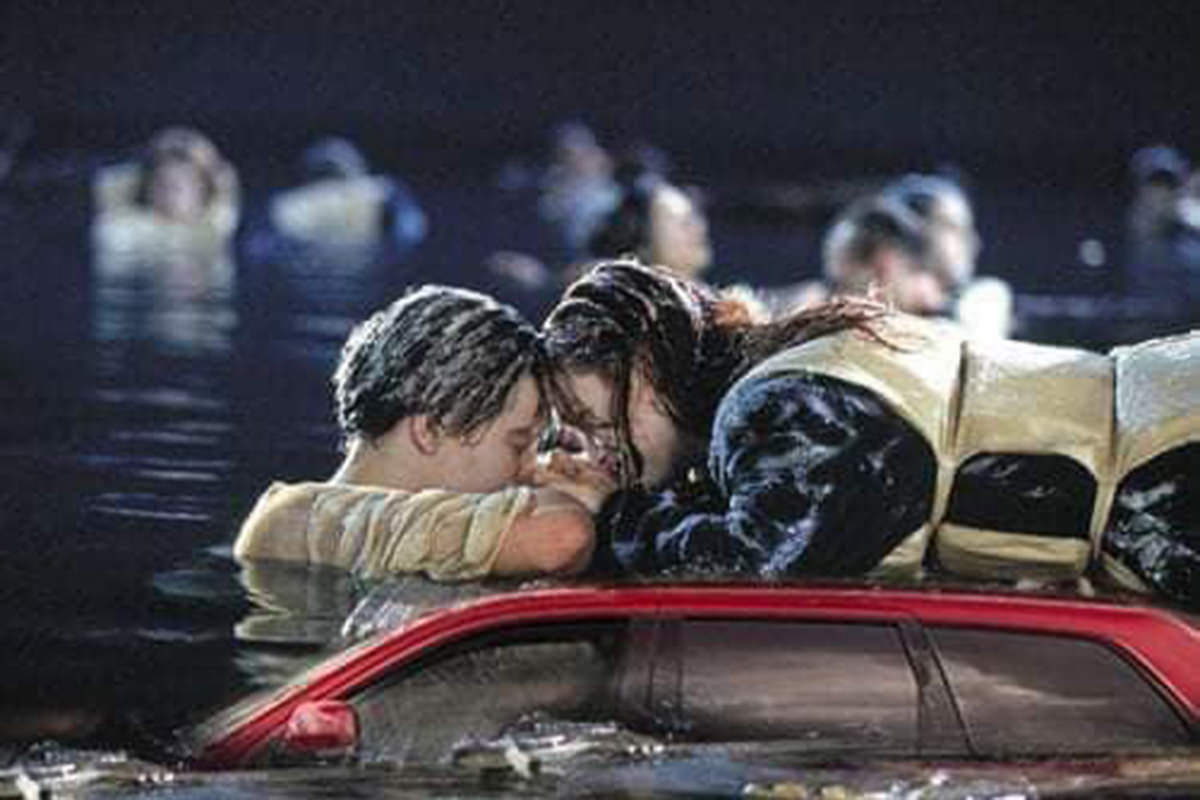 Now, as you can imagine, the minute I saw this my first instinct was to create my own meme and text it to Doug...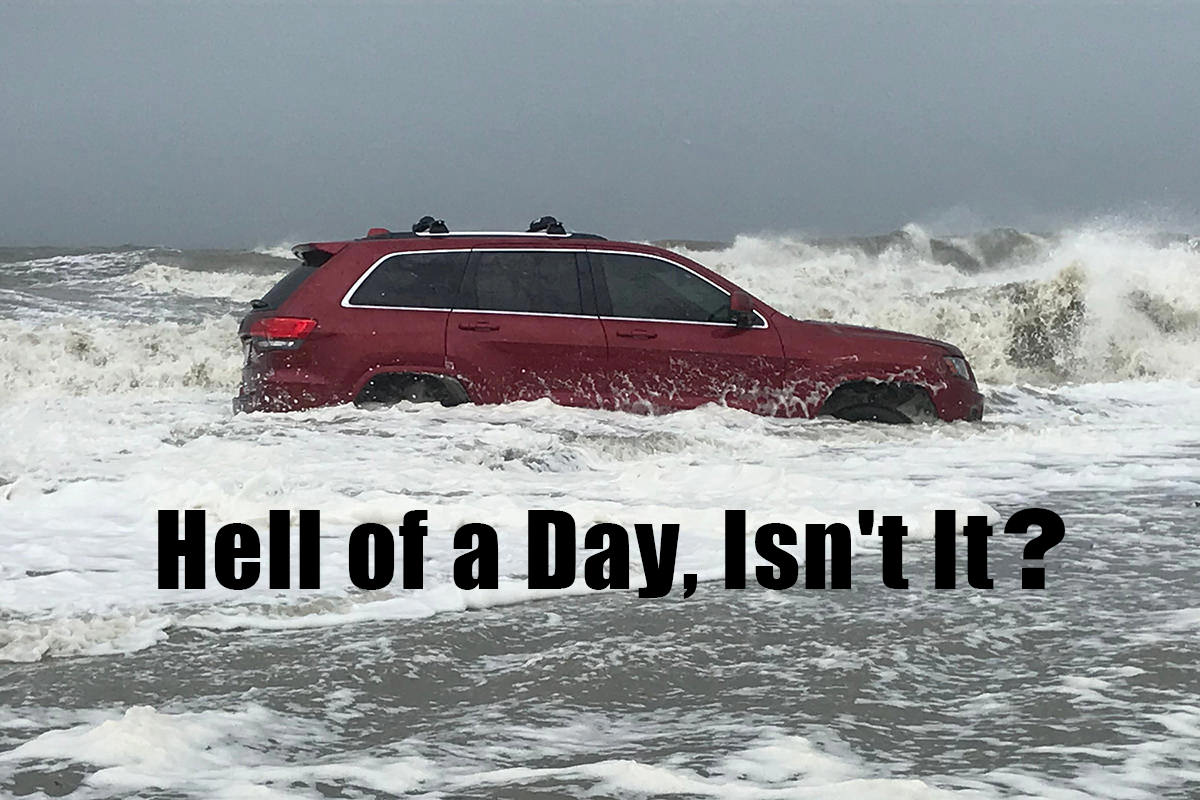 Except I couldn't.
It took me a minute to remember that Doug is gone.
That's one of the worst things there is, isn't it? Having a shared experience that only one other person on earth could possibly relate to... but for them to no longer be around to share it with? Not even the guy who was trying to dig his SUV out of the sand with a frisbee that day can possibly know what it that moment was to us. My writing this long-ass blog entry can explain what happened, but it's not the same as having lived through it. There was only the two of us.
And now there's just one of us.
And while it's a funny memory for me... knowing that I will never again have that one person to laugh about it with is a weight that came crashing down on my head like a ton of bricks. And it's weird, isn't it? How I never heard about a car getting stuck on a beach when it could have meant something hilarious... but now that it can't, I'm probably going to be hearing about it happening all the time? Because isn't that the way these things go? Maybe it's just how The Universe likes to dick with us. Or maybe it's how our brains like to dick with us by noticing things only after they've become more hurtful than hilarious? Heaven only knows that a Google Image Seach for "Car Stuck on Beach" sure turns up a lot of photos of it happening.
Today I found out that they were finally able to rescue that SUV from the beach after the hurricane passed. I still have no idea how the guy at Polihale Beach, Kauai ever managed to get his SUV off the beach.
Hell of a day, isn't it?