Welcome to a very special The Walking Dead edition of Bullet Sunday!
As I mentioned yesterday, when I travel for work I have to go a day early to be sure I arrive on-time. What I didn't mention is that I also stay an extra day later just in case my work time has to be moved. Like it did today. Instead of starting on the job this morning, I'm instead starting tomorrow morning... leaving me with a free day to do whatever. So after getting caught up on some other work, I decided to explore the beautiful rural Georgia countryside... which just so happens to be filled with locations from The Walking Dead comic book! I've been meaning to do this for a while, but work always comes first and I've never had the time.

• Map! Luckily for me (and every other fan of The Walking Dead comic), somebody has created a very cool Google Map overlay with updated information of location from the series (WARNING: MAP CONTAINS MAJOR SPOILERS!). This makes it easy to plan a trip to see some of the sights. I decided to focus on those around the Thomaston area where I'm staying...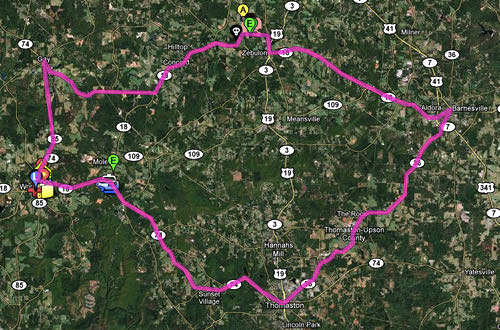 I could have gone a bit further north, but many of those locations are private residences and the like, so I restrained myself to the more public locations.

• Woodbury! Introduced in issue 27 of The Walking Dead, Woodbury is a critical location where a lot of stuff goes down (for those watching the television series, this is a ways off). While the town in the comic book is quite a bit different than real-life Woodbury, it's still worth a visit. Seeing the actual place makes the comic come to life. Like many places I've seen in the area, the Woodbury Police Dept. was decked out for the holidays, which is kind of nice...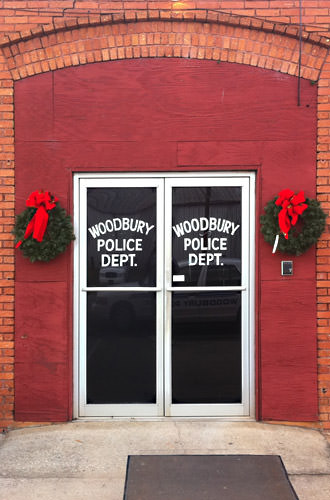 But the most interesting thing about Woodbury to me was to be found in front of the Woodbury Pharmacy...
Soda pop machines! (in the Pacific Northwest we say "pop" but I'm originally from California where it's "soda" so I usually merge the two... here in Georgia, everybody says "Coke" for most every soda pop type beverage). And it wasn't just any kind of soda pop they were selling... there was a lot of really cool flavors, some of which I have never heard of before, including "Grapico" and "Sunkist Peach"...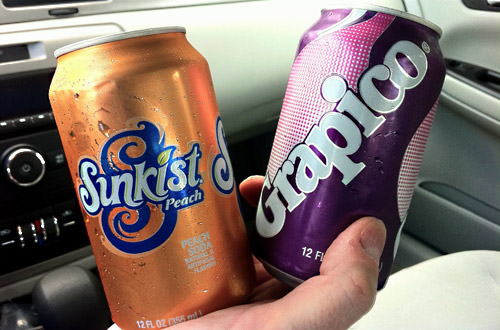 But the best part? The sodas were cheap! Fanta cans were 40¢! Pepsi product cans were 50¢! Bottles were just $1! I haven't seen it this inexpensive in a very long time. Interestingly enough, there was a steady stream of cars stopping at the pharmacy to use the soda pop vending machines... even though the pharmacy itself is closed on weekends. As I sat there drinking my peach and grape fizzy drinks, I saw some pretty interesting people show up for their non-Coke Coke fix.
Woodbury has a rather sad number of empty (abandoned?) buildings, some of which were very cool to photograph...

• Gay! As I headed to my next location, I stopped off in Gay, Georgia, home of the Cotton Pickin' Fair twice each year...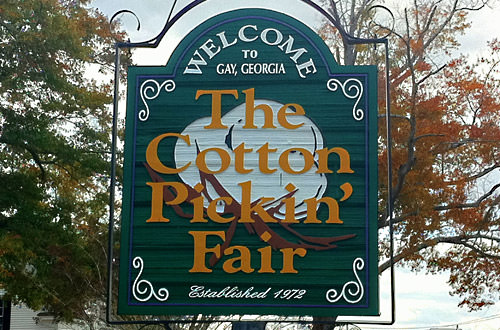 The city of Gay has a very small population, but they still have a Town Hall building...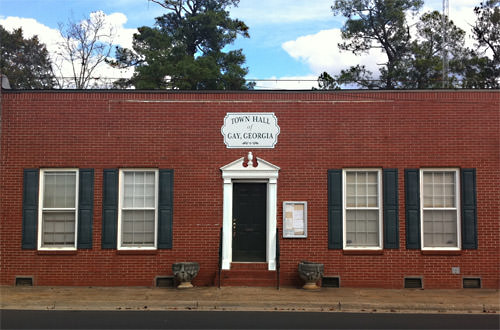 • Concord. I had no intent of stopping along the way to my next destination, but as I passed through the small city of Concord, I saw something that changed my mind...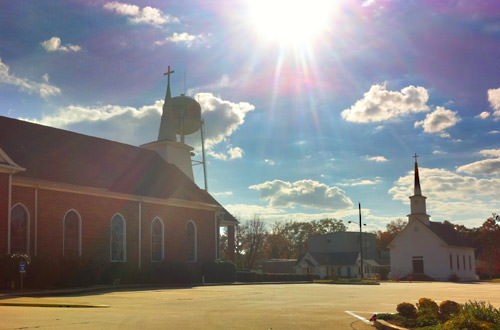 It's the Concord United Methodist Church facing off with the Concord Baptist Church at high noon! It was a bit strange how they were built not facing the main road... but instead facing each other. I'm sure there's a story there, but I can't guess what it might be...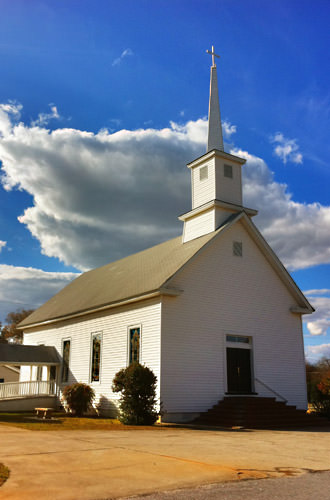 • Zebulon! I remarked on Twitter that "Zebulon" sounds like a town that has been taken over by space aliens. Because, seriously, doesn't "Zebulon" sound like an alien overlord right out of Planetfall or something? Despite the rather odd name, the town itself is quite nice, with the beautiful Pike Co. Courthouse Square and charming shops. But I was not here for Zebulon, I was here for "The Prison"... AKA "West Central Prison"... AKA "West Central Pre-Release Center of the Georgia Department of Corrections"...
Introduced at the end of issue 12, "The Prison" is arguably one of the most important locations in the entire run of The Walking Dead so far (and is probably going to be introduced in the second season of the television show). The sheer volume of story that happens here dominates the first 50 issues of the comic, and to see it in person... even just from the outside... is kind of chill-inducing...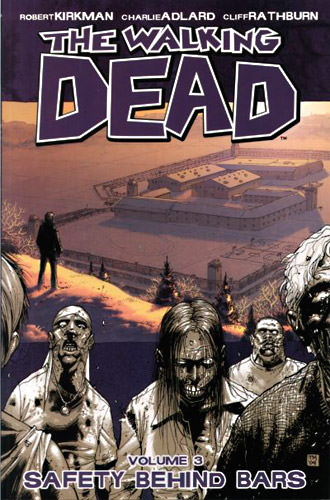 I drove next door to a sports park so I could see the location from the vantage point of "Hershel's Garden." Again, it's quite different from the prison in the comic, but seeing the location still adds atmosphere to the story...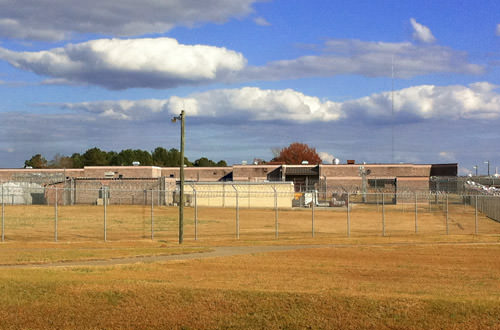 That's it for The Walking Dead Bullets... but I've got more in an extended entry!
→ Click here to continue reading this entry...