This morning I had still more problems with my DSL. It seems every time I turn around my internet is either busted or unbelievably slow. And, of course, Verizon doesn't give a shit. Oh they put on a good show of wanting to provide good service, but it's all a time-wasting sham. I tried calling this morning and got disconnected. I called again and somehow ended up in the mobile wireless department. After 30 minutes of trying to talk to anybody, I had to give up so I could go to work.
I get home tonight and, SURPRISE, internet is still down. So once again I have to call and, basically, waste an hour of my life with my service provider to get things straightened out... kind of... while paying them for the privilege!
It's things like this that drive me insane when the whole "Net Neutrality" debate rears its ugly head...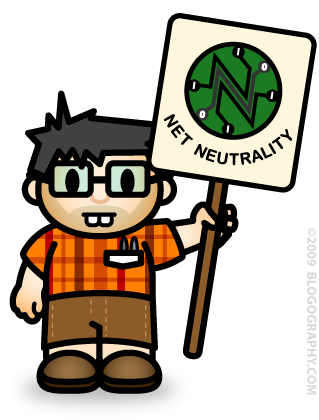 Not content to merely overcharge their customers for shitty service, ISPs also want to screw them over by controlling what and how they get to experience the internet...
Net Neutrality opponents consider the very idea an affront to free enterprise. I consider it an essential to maintaining my presence on the internet. Because I complain about most everything here on Blogography, and am sure to have pissed off enough corporations that have the money and/or influence to get my blog dumped in the slow lane or banned altogether.
So no more complaining about important net-influential companies, such as major Internet Service Providers like Verizon.
Oops.