AAAAAAAAAAAAAHHHHH!
So there I am innocently flicking through channels when I see Orville Redenbacher on television selling his popcorn. He's one freaky-looking guy, which would ordinarily be scary enough. But this commercial is particularly disturbing for one simple reason... HE'S F#@%ING DEAD!!
The only explanation I can come up with is that the people who make Orville Redenbacher popcorn read my Blogography entry where I don't want to eat a dead man's corn, and decided to revive him all zombie-like in a series of new commercials to get me to buy...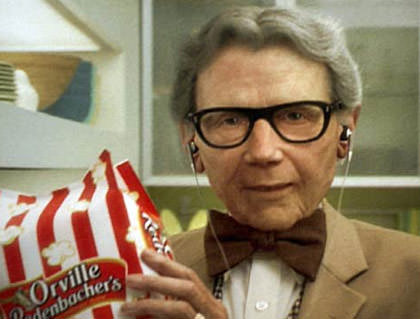 The problem is that he was always kind of zombie-like while he was alive, so the computer-enhanced version is just downright terrifying. If they made a horror film staring Dead Orville, I would be too afraid to watch. "CORN OF THE DEAD!". they could call it...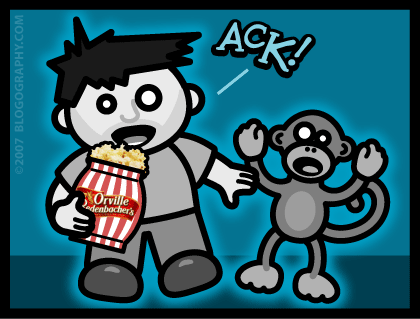 But the commercial did make me hungry.
Here is my dinner menu tonight...
A can of Coke with Lime.
Two Eggo toaster waffles with extra butter and Mrs. Butterworth's maple syrup.
A Snack-Pack chocolate pudding.
Delicious! Pudding kicks ass.
But what I really want now is popcorn.
Unfortunately I'm out of popping corn, and it's too frackin' cold out to go buy more. Bummer.

Here's another panorama photo I made using Adobe's super-sweet pano-stitcher tool in the PhotoShop CS3 beta. It's a shot of the "Field of Dreams" from my trip to Iowa. My previous efforts to stitch it together failed miserably, but Adobe's magical new software somehow managed to do a beautiful job...
At this size it's hard to tell but, even at high resolution, I can't find the seams. All pieces were warped and blended flawlessly. Bravo Adobe.
P.S. I HAD TOTALLY GUESSED THE IDENTITY OF THE MASKED WOMAN IN "UGLY BETTY!" I totally should write for television.