After the long, slow death of INSTEON (which is ongoing), I knew that I would have to make an investment in new smart home tech. This would involve replacing all my smart light switches, water leak sensors, door and window sensors, and the garage door opener. But which way to go? There's still a lot of possibilities to choose from, and you never know which one of them will die next. It's enough to drive you crazy because serious money is involved. So much so that I actually considered going back to a "un-smart home" and just manually doing everything.
Fortunately, the "Matter" smart home standard was announced, and this time it had the backing of all the major tech companies. Finally. I was all-in on the idea of open interoperability between all smart devices, so I decided to wait and see what came of it. Then, back in early October, the standard was released. As were some devices which supported it.
Matter is based on the "Thread" communication protocol, which has been around for a while. It's low-power, has excellent range, and is very fast. There are other benefits as well (such as being self-healing and not requiring a hub) so that was the direction I decided to go.
Unfortunately, to get started, I was dragged back into the world of Apple's HomeKit (which I have been calling "HomeShit" because it's just been so awful for so long). Surprisingly, Apple's smart home offerings have vastly improved. Many of the things that were missing (and there was a lot) have been added. It's still far from perfect (there is basic functionality which is still missing... like being able to construct automations for simply things like making switched turn back on if they are accidentally turned off). So, yeah, I don't have the ability to code complex cool things like I could with my ISY994i hub (which is still amazing to this day!) but at least I can do stuff like ADD A GARAGE DOOR OPENER.
Also unfortunate? Having to buy a HomePod mini. I wrote a while back about the horrendous experience I had with the original HomePod (long story short: it was shit, support was heinous, and I returned it). But Matter/Thread requires a "border router" to act as a gateway to the internet, so I spent the $95 to make it happen. The first thing I did was switch the voice for Siri to "Australian Male" because it's still the voice that gets be the closest to having HAL run my life (like he did in 2001: A Space Odyssey). The guy sounds like he must be the best-looking man on the planet, which gives me a bit of a complex, but he is still a pleasant way to interact with my home (sometimes I ask him about the weather just to hear him talk).
The first devices I ordered were the biggest hit... light switches... because I want every last switch in my home to be "smart."
At first that was going to be Lutron, because they are the "gold standard" but Lutron isn't built on Thread so I went with Eve Smart Home for most of them. The switches are ungodly expensive. And difficult to find. Fortunately I got a good discount and was able to find 26 of them, so it wasn't as horrendous a hit as I thought it would be (but still, $1000 out of my savings).
The lights in my living room and dining room are smart lights by Philips Hue. They require always-on power, so a simple on/off switch won't do. You need an always-on switch which can be programmed to control Hue lights. For these I went with Brilliant. They aren't built on Thread, but they can be upgraded to support Matter. Eventually. Maybe.
Now, I am letting an electrician install all the switches (they are deep and I want somebody who knows how to pack wires into an outlet box), but I did have to replace a couple of my INSTEON switches, so I temporarily installed the Eve switches until my electrician can get here. They are fantastic. Thread is blazingly fast. You tell Siri to turn the lights on and the task is completed before he's done telling you that he did it! This is a huge leap from INSTEON, which would have noticeable lag from when you asked Alexa to do something and it actually happening.
When it comes to the Eve door/window sensors, they are okay. Fast because they're on Thread. But, from what I can tell, they don't have breakage detection, which is a step down for me. Fortunately, I can rely on sound alerts from other devices to alert me about this, but it's still a bit of an oversight.
The Eve motion detectors are not as good as my old ones. They seem to have very narrow range and are slow to relay motion despite being Thread devices. I'm not sure if this will improve when I have more Thread devices installed so it can relay faster... or if this is a limitation of the device itself. I hope the former rather than the latter. Otherwise I'm going to have to shop for another solution.
One more thing I did that I've always wanted to do is install under-cabinet lighting. I went with Nanoleaf because it was built on Thread... and it was cheap. From what I can tell, the current crop of Nanoleaf products will not be upgradable to Matter, so I may have to replace them eventually. Unfortunate, but it only cost $30, they are blazingly fast, and they work very well with HomeKit. And they look great (even though you can't really tell in this photo)...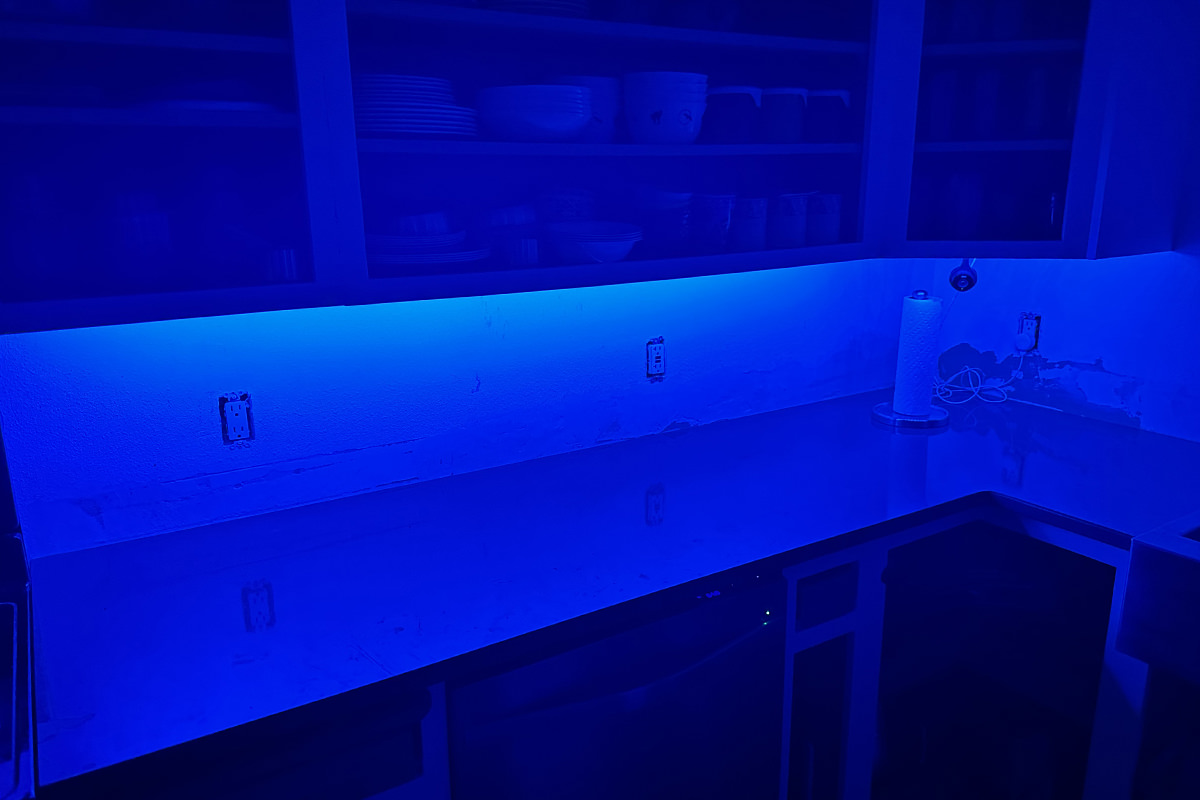 The tile installer hasn't put in my backsplash yet, so please ignore the mess!
So... so far, so good.
I am still a bit dubious about HomeKit, as it's lacking professional-level scripting and still won't link to things it needs to, but the good thing about Matter is that I will be able to eventually swap out the HomeKit app for whatever comes along. But I really hope that I don't have to. From what I understand, Matter will force Apple into fixing HomeKit and adding the functionality people need (a scripting language would be nice!). But, we'll see. If nothing else, I love Thread and am excited for the possibilities with Matter.