My nine-year-old iMac computer at work has been dying for years and finally just refused to work properly at all this past January. You could never search for anything. Apps would hang the computer for no reason. The display would black out at random. It was horribly frustrating, but I held on... working partly on my laptop and partly on my home iMac when my work machine was acting up... because I knew that Apple was going to release new Macs at their Spring Event. Which they did back in March.
My guess was that they would release an M1 27" iMac, which is exactly the machine I needed.
My guess was wrong.
Instead we got the "Mac Studio" which was in every way perfect for my needs...
More powerful than a consumer Mac, but not overly-powerful (and overly-expensive) like a Mac Pro.
NO BUILT-IN MONITOR, which I was very happy about, because it's always a shame when you have to recycle a perfectly good monitor when you recycle the computer. iMacs are horrible this way.
USB-A PORTS, which means that I can plug in my scanner, DVD-R drive, and printer without having to buy dongles or new cords.
AN SD CARD SLOT, so I can transfer photos from my camera to my computer without yet another stupid dongle.
PORTS ON THE FRONT OF THE FUCKING COMPUTER, which has been a sore spot with me when it comes to Apple ever since they started moving shit to the back of the computer. It's just senseless and stupid, and every time I have to rotate my old iMac to plug shit in I wanted to scream.
And now for the bad news... the Apple Studio Display that was to go with my shiny new computer hasn't arrived yet. It was actually supposed to arrive before my computer ages ago, but rather than ship it to me, Apple decided to hold off since my computer wasn't available yet. Then the COVID lockdowns hit China and so now the Mac finally arrived but I'm having to use a crappy old HDMI monitor that's so pixelated and low-res that I can barely work on it. Better than nothing, I suppose, but this is more than a little bit frustrating.
Design Grade: A-
The computer itself is quite nice-looking. A minimalist 1/2-height cube with pleasing rounded corners. Kinda like a tall Mac mini...
On the front of the computer is the afore-mentioned SD card slot and two USB-C ports. There was no little "lightning bolt" symbol above the USB-C ports so I assumed that they were not Thunderbolt-4 compatible (as it is on the less-expensive model). I was wrong. They are full-on Thunderbolt, which is nice, and I'm guessing Apple left off the symbol for aesthetic reasons (as they are wont to do). The SD card slot is inexplicably still the older SD-XC UHS-II standard. The much faster SD-UC standard has been out for years now, so this is kinda inexcusable given the massive size of photo and video files now-a-days. My camera is not SD-UC so it doesn't affect me... but if I ever do get a camera with a SD-UC slot, I'm going to be understandably pissed. And... oh yeah... do you want to know what's not on the front of the computer? The power button. Which means if you need it, you are groping blindly around the back. I have no idea why this is the case. Apple could have at least put it on the side near the front if they thought it was too ugly to go on the front.
On the back of the computer is that pesky power button plus all the remaining ports. On my model this means four USB-C Thunderbolt-4 ports, two USB-A ports (helleluja!), and an HDMI 2.0 port (never mind that the 2.1 standard has been out since 2017, Apple is once again using older ports for some reason). Plus 10 Gigabit Ethernet, which is nice because our offices just got rewired... and a headphone jack (surprise!). My DVD-ROM is unplugged because my two USB-A ports are taken, so I'll probably end up with a dongle for it, alas...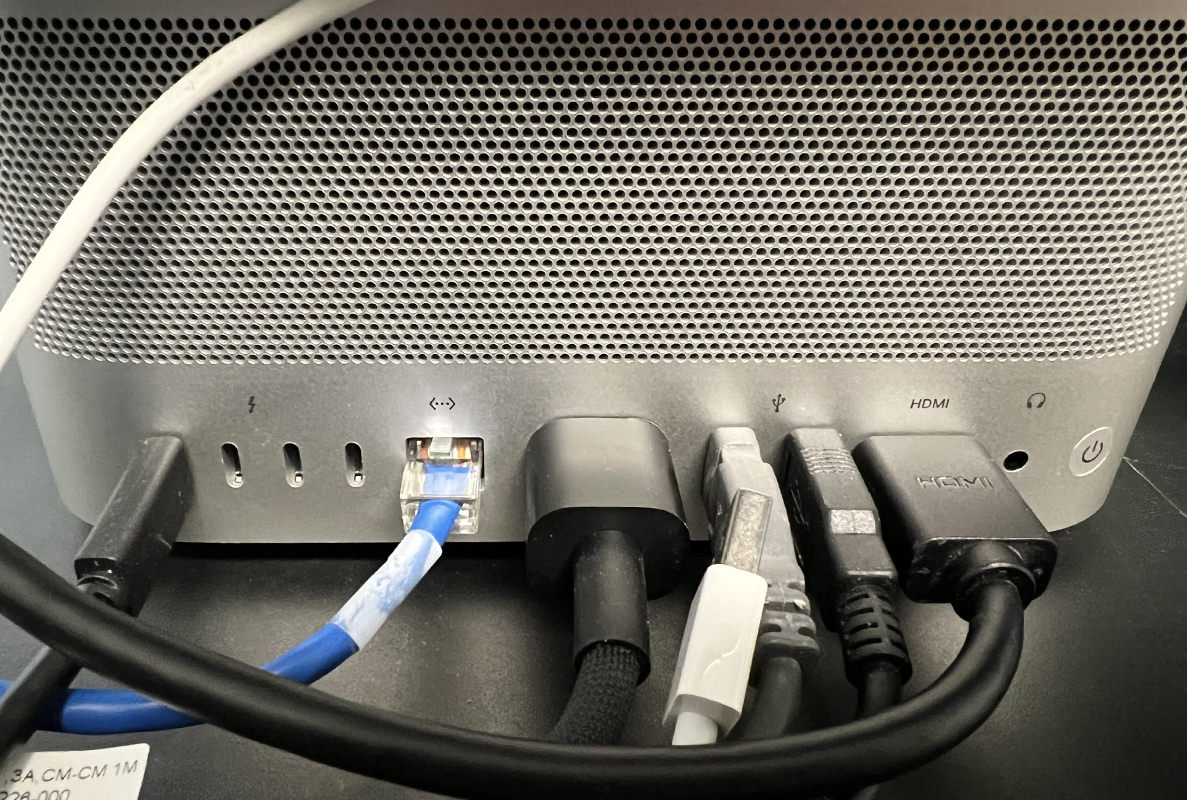 One disadvantage about the computer is that the soft aluminum casing paired with sharp edges is just asking for dings and nicks to appear. Mine arrived with a small ding on the front-top edge, so I can only imagine that it's going to end up a lot worse once I start actually using it...
The fragility aside, I have no complaints. For something that's meant to occupy the space between consumer and pro in Apple's lineup, this is about what you'd hope for.
Price Grade: B-
The computer comes with no keyboard and no mouse included in the price. You get the computer, a power cord, and a black Apple sticker (I thought that the black stickers were for "Pro" purchases, but I guess the "Studio" was deemed worthy...
For pre-configured machines you have a choice of a $2,000 model which has 32GB of unified memory and 512GB storage, plus the M1 MAX Apple Silicon chip with 8 performance cores and 2 efficiency cores for the CPU, 24 GPU cores, and 16 neural engine cores... and a $4,000 model which has 64GB of unified memory and 1TB storage, plus the M1 ULTRA Apple Silicon chip with 16 performance cores and 4 efficiency cores for the CPU, 48 GPU cores, and 32 neural engine cores. My work was nice enough to get me the ULTRA version because I needed the memory. It would have been cheaper to upgrade the entry model, but I was happy to get the more powerful machine.
As to whether the price is worth it? Well... yes and no. I think that the $2,000 model is actually a darn good bargain for what you're getting. That would be enough to satisfy mid-range power-users at a decent cost. The $4,000 model, however, seems overpriced. For that kind of money, you really should be getting the chip with 64 GPU cores (but that's a $1,000 add-on, $5,000 total). I might feel differently if there was a clear speed benefit to the ULTRA chip, but benchmarks show that it's mostly equivalent to the lesser version except in extreme circumstances, so I would have likely been just fine spending $2,000 for the base model and adding $400 for more memory and $200 for more GPU cores. But, hey, as Apple optimizes their "Metal" rendering engine to better take advantage of ULTRA, and app developers hop on board, I might end up being very glad that my employer spent the extra cash.
Performance Grade: A
The hallmark of Apple Silicon is that you get considerable power out of less energy. This is a godsend for portable Macs (my MacBook Pro with the M1 MAX chip can go all day on a single battery charge) but not as critical for desktop machines like the Mac Studio. Conceptually desktop machines will be able to put additional power to good use. But in practice it doesn't feel like more bang for your buck. I ran races between my MacBook and Mac Studio expecting the M1 ULTRA to run circles around the M1 MAX, but that's just not the case. Yes, the Mac Studio is faster, but it's not by a revolutionary amount. This may sound like a complaint... but it really isn't. The fact that Apple has managed to make chips this powerful means that the entire line gets an "A grade" from me.
Everything on my new machine feels zippy. Basic tasks happen near-instantaneously. Complex Blender 3D scenes render very fast when using version 3.1 that's optimized for MacOS X's "Metal" graphics package. Rendering video in Final Cut Pro is ridiculously fast. Needless to day, the Apple Silicon optimized versions of Adobe's Photoshop and Illustrator perform amazingly well. And as more work goes into Metal drivers (by Apple) and apps (by developers) the sky's the limit. I was happy to have a working computer. But having one as powerful as the Mac Studio feels too good to be true. Work is so much easier when you have a screaming-fast machine.
Final Grade: A-
Ultimately this is a very nice, very capable machine. And having an option for power-users which doesn't force you into a "Pro" machine that's overkill for your needs is refreshing. I won't get the full benefit from the machine until the Studio Display that goes with it arrives... and developers further optimize their apps to utilize it... but in the meanwhile I am a very happy camper.